Description
Summer is finally here,
let's celebrate in style at the beach!
They say Vancouver is a lonely city, but we are here to change that.
We are bringing together multiple meetup groups, locals and new comers for a bbq party!
New here or lived in Vancouver all your life? Looking to get meet wonderful friends? Nothing better to do? This is a way to meet some of the many people in Vancouver!
As the weather is getting nicer we're going to have a BBQ party at the beach! We had a couple fun BBQ last summer and are looking to start up this summer as the weather starts getting better.

-meet new friends
-Try some food, BBQ and dishes made by your Meetup hosts!
-Enjoy some sports and games
-Fun in the sun
-Fun activities to help you get to know other Vancouverites

What to bring:
-Water in your own water bottle
-An appetite
-A towel or blanket to sit on.
-Any games or fun activities to pass the time (Frisbee, Volleyball, kite etc...)
=============Where to meet==============

We're meeting at Kits North West point, at the picnic benches under the trees overlooking the beach and looking at Stanley park (look at the map)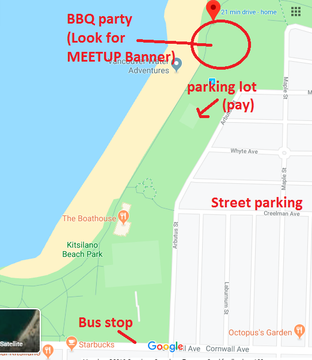 ===========Disclaimer=================

This is a group organized by volunteers. It is not a professional organization. The organizers are not in any way responsible for any participant at the event. You are responsible for yourself and your own safety, what you eat or drink. However, as a group of friends, we will keep an eye on each other.