Sales Have Ended
Ticket sales have ended
All Children must be picked up on time every day, late charges for a baby sitter will apply for parents not showing up on time to pick up. Must bring their own lunch, snacks, and water bottle. Email us at RYC@alrashidmosque.ca
Sales Have Ended
Ticket sales have ended
All Children must be picked up on time every day, late charges for a baby sitter will apply for parents not showing up on time to pick up. Must bring their own lunch, snacks, and water bottle. Email us at RYC@alrashidmosque.ca
Al Ihsan Summer Camp is like no other! From basketball tournaments to field trips at the Jurassic Forest, we'll have it all!!
About this event
Salaam Parents,
During the July session , the camp will consist of different events varying in time throughout the month instead of a steady Monday through Thursday. Please Note EIA events will be held at the Edmonton Islamic Academy 14525 - 127 Street. Al Rashid
July 9th- "Kick off Movie night" 5:00 pm-8:00 pm (Al Rashid )
July 10th - "Under the Stars" Campfire Stories 7:00 pm-9:00 pm (Al Rashid )
July 11th to 13th - "FIFA All Star" , 3 day Soccer tournament 10:00am-2:00pm (EIA)
July 14th - "Al Ihsan Fun Fair" (Carnival day) 10:00 am-2:00 pm (EIA)
July 15th -Track & Field 10:00 am-2:00 pm (EIA)
July 22nd -Bowling 10:00 am-2:00 pm (Al Rashid )
July 23rd -Game night 5:00 pm-8:00 pm (Al Rashid )
July 26th to 28th - "Above the Rim" , 3 day Basketball tournament 10:00am -2:00pm (EIA)
The August session, will be August 2nd -19th , Monday through Thursday, 10:00 am - 2:00pm. Ages 5 to12 welcome. The entire Session 2 will be held at the Edmonton Islamic Academy. Wednesdays Bus will be leaving from Edmonton Islamic Academy for all Field Trips. Reminders will be sent with all participants and regular emails.
Email us for more information @ RYC@alrashidmosque.ca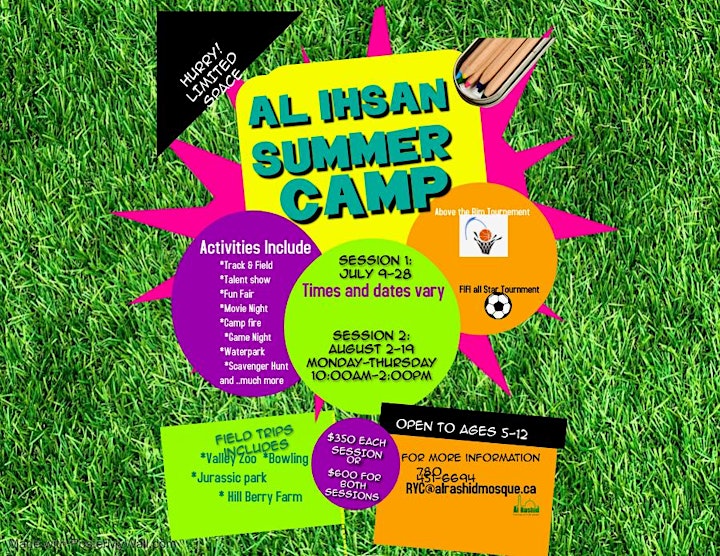 Organizer of Summer Camp 2021
Established in 1995, Al Rashid Youth Club goal is to unite the Muslim youth of Edmonton and to develop strong leaders, capable of leaving a legacy of compassion, resilience, and accomplishment. We hope to encourage and provide youth with the keys to chase their dreams. We aim to achieve this by developing and delivering programs that will encourage Muslim Youth to build stronger connections not only to Islam but with each other so that our community grows and flourishes to be one of strength, support, guidance, and success. We propel our youth into avenues that allow them to work with the Edmonton community, to grow as involved citizens and create foundations for giving back to the City and its diverse communities.