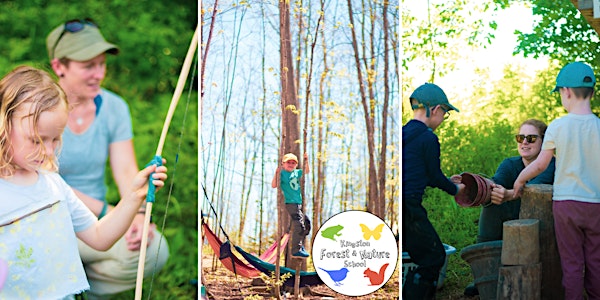 Summer Campfire Community Series for Educators
Are you an educator? Are you curious about forest & nature school? Come play, learn, grow & network with us!
When and where
Location
Kingston Forest & Nature School 3711 County Road 38 Harrowsmith, ON K0H 1V0 Canada
About this event
Gather 'round the campfire or in the shade of the trees with other nature-minded educators for a few hours of community-building conversations – this is our Campfire Community Series for educators!
We welcome anyone who considers themselves an "educator" (teacher / professor at any level, RECE / ECE, EA, student in a related program, etc.) and wants to learn more about the Forest and Nature School (FNS) model and how to incorporate it into their teaching/setting.
This event is meant to be a networking gathering that will incite growth & change in your practice, and help shape and plan future forest & nature school events for educators. You can expect:
a welcome circle with a chance to learn about the other participants
an opportunity to chat with the facilitators of Kingston Forest & Nature School (KFNS)
an opportunity to network with other nature-minded educators
guided conversations that incite change & growth
a voice in future educator events at KFNS
a few hours to feel like a kid again
*a tour of our site IF YOU ARRIVE AN HOUR EARLY (8:30am)
EACH EVENT IN THIS SERIES HAS A PRE-DETERMINED TOPIC based on the FNS Guiding Principles:
August 10 – Principles 1 & 2 – YOUR NATURE SPACES – access to outdoor spaces, small & urban nature spaces, regular & repeated sessions in the same spaces, barriers to access.
August 16 – Principles 3 & 4 – CHILD-LED LEARNING – view of the child as innately competent & curious, learning & teaching that are play-based, inquiry-driven & emergent, challenges & barriers we face as educators in sharing power with learners.
August 21 – Principles 5 & 6 – PLAY & RISKY PLAY – the power & importance of play, allowing for time & space to play, self-driven play, risky play, barriers & challenges surrounding risky play in various settings.
The cost to participate is $30/person. Your ticket also grants you 60-day access to a shared Google Drive with over 30 different nature-based curriculum packages & related resources, totalling hundreds of ready-to-use & adaptable learning activities & ideas. *If cost is a barrier, please reach out at kingstonforestandnatureschool@gmail.com.
More information, including a schedule of the day, will be provided to registered participants.
You must register in advance in order to attend.
Please read more about our location here: https://kingstonforestandnatureschool.ca/about/contact-us/
NOTE: All participants will be required to sign an assumption of risk waiver and to follow the COVID-19 safety guidelines.
COVID-19 Safety Guidelines:
A full refund will be granted if you do not pass screening and notify us by email at least 24 hours in advance.
Please email kingstonforestandnatureschool@gmail.com if you have any questions!