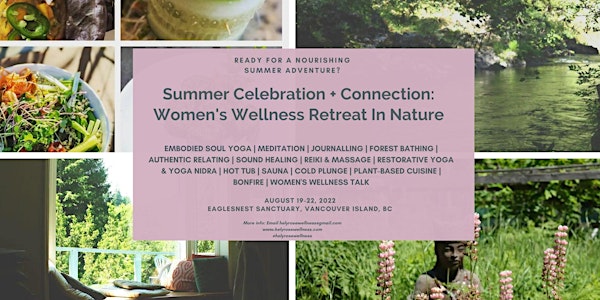 Summer Celebration + Connection : Women's Wellness Retreat In Nature
This August, join this Intimate Women's Retreat 19th-22nd on Vancouver Island to experience deep connection to self, others and nature.
When and where
Location
Vancouver Island 3060 Glen Eagle Rd Shawnigan Lake, BC V0R 2W1 Canada
About this event
This August, join this Intimate Women's Retreat to experience deep connection to self, others and nature.
Are you looking for a space to deeply connect, deeply heal and truly transform?
Are you ready to nourish yourself, and your body & celebrate the essence of summer?
Do you desire to experience a TRUE connection with like-minded women?
Join us August 19-22nd on the magical Vancouver Island, Eagles nest Sanctuary for this special retreat. 💫
Immersed in nature within the trees, this long weekend retreat will feature mindful practices for you to re-centre, nourishing modalities of holistic healing for you to refresh, and local plant-based delicious food for you to re-ground.
Designed to allow the community to come together, for us to come home to ourselves as individuals whilst exploring the authentic connection with others, this retreat is founded upon authentic expression & nourishment of your mind, body and soul.
This Summer celebration is here for us to embody the fire season of this time of year, and to celebrate the beauty of life altogether.
DETAILS!
Arrival will be at 5pm Friday, August 19th and departure will be at 10AM Monday 22nd 2022.
The weekend's Retreat will include:
* Silent Breakfast
*Opening/closing ceremony
* Embodied Soul/somatic Yoga + Daily Journalling
* Self-Love Practises & Meditation
* Restorative Yoga & Yoga Nidra
* Farm-to-table Plant-based gluten free cuisine emphasising local & seasonal foods.
* Authentic Relating Workshop + Circling
* 1.5 hr Sound Journey
* Mindful Eating + Conscious conversations
* Earth Wisdom & Forest Bathing
* Women's Health & Hormones-Your Moon Cycle Workshop
* Reiki & Massage (Extra Add on)
* Evening Bonfire & Wild Swimming
*Hot Tub + Sauna
* Deep connection, deep remembering & deep sisterhood
Transport to and from NOT included.
More Info Accommodation
Our venue for this special weekend is the serene, rustic, beautiful Eaglesnest Sanactuary. Eaglenest Sanctuary is nestled in Vancouver Island's rainforest, sits alongside the Koksilah River, includes groves of old growth trees, and is a short walk from the Kestle Trail.
We have shared rooms of different varieties on offer and also a few camping options.
Prices range from 795-900.
For more info + Images please go to my website here:
You can E-Transfer to avoid eventbrite fees :) Deposit required $350 to secure your space to helyrose@hotmail.co.uk
Team
Retreat Leader: Hely Rose Phillips RYT 500 Hour Yoga & Meditation Teacher
Hely is a RYT 500-hour experienced therapeutic yoga & meditation instructor, women's wellness coach, and ART-trained Facilitator. She offers embodied yoga & therapeutic movement practises, as well as slow deeply restful forms of practice such as restorative yoga & Nidra, + meditation.
She is passionate about providing accessible healing & nurturing spaces for individuals to reconnect to themselves, their bodies & others around them in the community.
More recently, she has become immersed in conscious communication & regularly offers circles & authentic spaces to meet yourself & others around you in the truest form.
@helyrosewellness www.helyrosewellness.com
Holistic Chef: Kami @kindlewellness www.kindlewellness.ca
Kami is a registered holistic nutritionist, and a plant-based chef located in Sidney, Vancouver Island. Kami prides herself on using natural and whole foods and works full-time as a personal chef!
She focuses on the 'whole' person (mind, body & soul) whilst helping one find balance in life.
Theda Phoenix: Sound Healer & Intuitive Masseuse
Theda is an incredibly talented musician, intuitive singer, sound-healer & masseuse, & facilitator.
Sharing her talents for over twenty years all around BC, Theda will be providing intuitive Lomi Lomi massage & a mesmerising sound journey for us Saturday evening.
Contact Theda:
@thedaphoenix
www.thedaphoenix.com
thedamusic@gmail.com
Terri Wallace : Reiki Master
Terri Wallace is a Reiki Master/Teacher living in Victoria, BC. After having her first Reiki session in 2019, Terri wanted to help others experience the feelings of well-being she felt emotionally and physically. Terri completed her Reiki Level 1 and 2 Training in 2019 and in 2020 she became a Reiki Master Teacher. Terri loves sharing the gift of Reiki with others and has created a line of Reiki infused candles designed to support others in healing of the mind, body and spirit.
Terri will be offering 60-minute Reiki Session with intuitive guidance for $100.
Contact Terri at soulconnection245@gmail.com or visit her product website at www.soulconnection245.com
Can't wait to enjoy with all of you at the retreat!