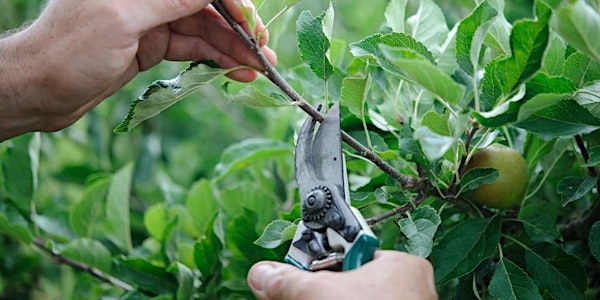 Summer Fruit Tree Pruning
Learn essential techniques for pruning fruit trees to and vines in the summer
When and where
Location
Compost Education Centre 1216 N Park St Victoria, BC V8T 3K5 Canada
Refund Policy
Contact the organizer to request a refund.
About this event
Pruning fruit trees in the summer? That's right! It can be done...and we'll show you how in this introduction to the wonders of summer pruning for fruit trees & vines.
While the majority of pruning happens in the winter, for the backyard orchardist summer pruning provides some important advantages to consider. Damage repair, size control, disease management, enhancing fruit quality and tree aesthetics are all good reasons to get up into your trees on a sunny day and snip away. Summer pruning is especially recommended for espalier and dwarf apple trees!
Instructor Bio: Tim's obsessive love of fruit trees started after joining LifeCycles' Fruit Tree Project back in 2014.
After three seasons fighting the overgrown canopies of neglected trees and getting sub-par fruit as the reward, he helped found LifeCycles' own Tree Care Service. Hoping to help tree owners better take care of their fruit trees, the new program seeks to build community stewardship through educational opportunities like the Prune Along Service, which is a session designed to teach the basic skills of pruning and fruit tree care in people's own backyards and Fruit Tree Restoration, a multi-year pruning approach tailored to rejuvenating and preserving older, overgrown, damaged, or significantly neglected trees. Tim is both a pruning instructor and part of the restoration team, in addition to managing the business and administration of LifeCycles Tree Care Services. For the past few years, Tim has been involved with LifeCycles ongoing stewardships of the Rex Welland Legacy Park in View Royal, which is home to nearly 200 fruit trees and vines growing on orcharding styles ranging from a trellised collection of heritage apples on dwarfing rootstocks to the more traditional pasture style orchard of full sized standards. Summer Pruning is an important aspect both in the tree restoration process and in maintaining restricted forms common to dwarfing fruit trees.
_______________________
This workshop is happening in person only. Any health and safety protocols will be emailed to you 24 hours in advance. The workshop will be hosted outside, please dress appropriately for all types of weather!
_______________________
Only current members in good standing are eligible to use the free ticket option as a part of their member benefits package.
There are a limited number of Pay What You can tickets available for folks who self-identify as Black, Indigenous, and People of Colour (BIPOC), and people who are facing significant financial barriers to their involvement in our programming. The Compost Education Centre is in the process of examining the ways in which our program accessibility can be improved for all members of our community. This ticket gesture is by no means a fulsome examination of the systems of oppression that exist for people inside and outside of our community. We welcome your ideas and feedback.
Please pre-register for this event.
Customers can request a refund within 30 days of ticket purchase. After 30 days refunds and workshop exchanges are not permitted due to administrative staffing capacity. Please be in touch if you are no longer able to attend but hold a ticket so we can make your space available to someone else.
You can also register for the event by calling our office at 250 386 9676 or via email by contacting office@compost.bc.ca
________________________
Accessibility info: The Compost Education Centre site has paths made of gravel (20%), and wood chips (80%). Mobility devices with wheels (such as wheelchairs, walkers etc.) are sometimes difficult to use on site, especially on the gravel paths.
There is a single-stall gender neutral washroom on site. The washroom is not wheelchair accessible and has a small step up from the gravel pathway, and another small step up from the washroom boardwalk.
________________________
The Compost Education Centre is located on unceded and occupied Indigenous territories, specifically the land of the Lekwungen speaking people—the Esquimalt and Songhees Nations. These nations are two of many, made up of individuals who have lived within the porous boundaries of what is considered Coast Salish, Nuu-Chah-Nulth and Kwakwa'wakw Territory (Vancouver Island) since time immemorial. At the CEC we seek to respect, honour and continually grow our own understandings of Indigenous rights and history, and to fulfill our responsibilities as settlers, who live and work directly with the land and its complex, vital ecologies and our diverse, evolving communities.
Compost Education Centre memberships get you free workshops, discounts at garden centres around town and more great perks! Sign up or learn more on our website.