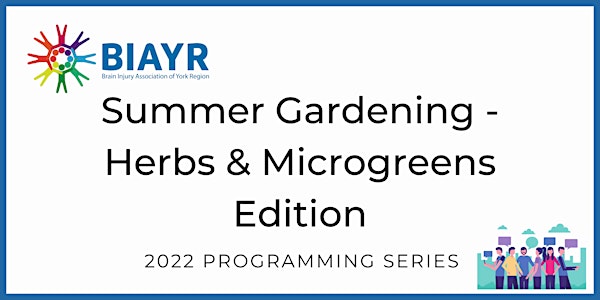 Summer Gardening - Herbs & Microgreens Edition - 2022 BIAYR Programming
Join BIAYR for this Summer Gardening Program to learn about 3 Herbs & Microgreens, and how to care, harvest and prepare!
About this event
In this four-week workshop, you will learn how to plant, care for, harvest and include Basil, Cilantro and Arugula in recipes. All from seeds to grown herbs and microgreens!
--
Week 1 - June 17
Introduction and overview of summer gardening program
Plant Care Tips & Tricks
Planting Cilantro, Basil, and Arugula
Supplies needed for week 1: BIAYR gardening package, water, pens, scissors, napkins/paper towels
Week 2 - June 24
Benefits of gardening
What is pruning and when to do it?
All about microgreens
Benefits of microgreens
How to harvest and use microgreens in recipes
Demonstration on how to harvest microgreens
Week 3 - July 5
All about basil
Benefits of basil
How to harvest and use basil in recipes
Harvest Basil
Supplies needed for week 4: scissors, bowl, paper towels
Week 4 - July 22
All about cilantro
Benefits of cilantro
How to harvest and use cilantro in recipes
Next steps
Harvest cilantro
Supplies needed for week 4: scissors, bowl, paper towels
Please note we will not be having a workshop on Friday, July 1st (Canada Day)
--
10 Gardening kits are available for the first 10 participants for pick up at Neurocore Physiotherapy (9140 Leslie Street, Richmond Hill)! On a first come first serve basis. Please contact info@biayr.org to arrange for pick up.
Packages include:
Basil seed package
Cilantro seed package
Arugula seed package
Planters
Soil
Gloves
Mini shovel
--
"Planta: Keep your plants alive"
Use the PLANTA App to track how your plants are doing and watering reminders to care for them. This app will be discussed during week 1 but download it ahead of time to familiarize yourself! The app can be found at https://getplanta.com/
--
Presentations will be provided after the workshops!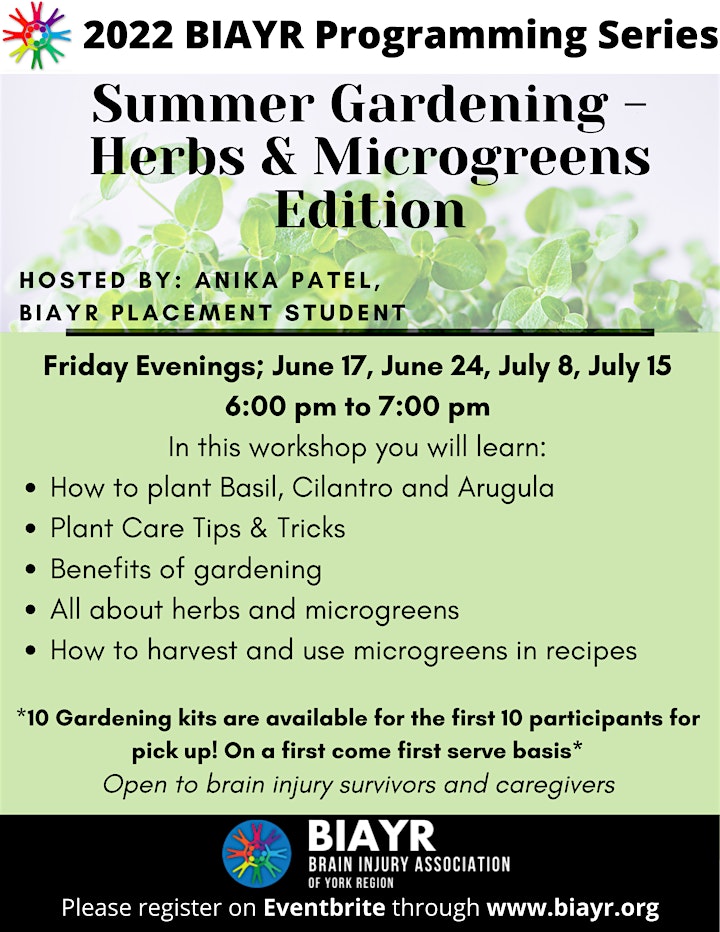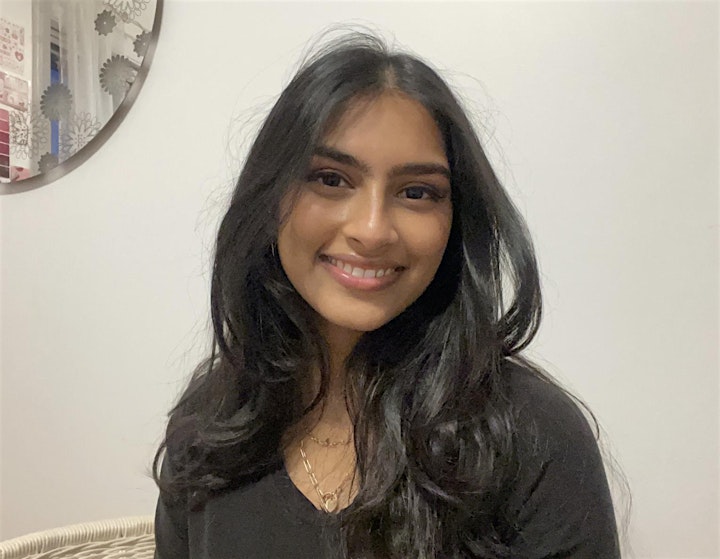 Anika is a student from Mohawk college currently completing a student placement with BIAYR. She has a Bachelor of Science from the University of Toronto, where she double majored in Biology of Health Sciences and Psychology. As a psychology major, Anika is fascinated by the brain and dedicated to learning more about mental health and how the brain works. In addition to this, Anika believes in the therapeutic power of gardening, which she has experienced firsthand. Her personal experience with gardening motivated her to develop BAIYR's 2022 Summer Gardening Program, which she is excited to share.