Event Information
Location
Enterprise 2000
Cherry Street Docks
242 Cherry Street
Toronto, Ontario M5A 3L2
Canada
Refund Policy
Refunds up to 7 days before event
Description
The Cruise is sold out!
Tickets at the dock:
If you have any tickets that you will not be using and are looking to sell, please feel free to contact me (call/text 416-882-9863) or reply to this message and I can see what I can do to make arrangements for your ticket to be sold to someone who is able and eager to attend.

As many of you already know, although the Cruise has been sold out, there are always tickets brought down to the dock for sale by those that have had cancellations within their group. There are also the straight no shows. Please contact me upon arrival and I will help you locate a ticket or tickets.

Directions using GPS:

Please enter 242 Cherry St., Toronto ON into your GPS to ensure you arrive at the correct destination.
The parking lot entrance is at Cherry and Commissioners Street on the west side. The parking fee is $20 cash. There may be some free parking spots on Commissioners Street, and cheaper parking at the TNT grocery store, just north of Commissioners.

Please note a few important points about the Cruise today.

Boarding: 1 pm aboard The Enterprise 2000. The boat is located at the south end of the parking lot.
Returning: 6pm
Special thanks to everyone who is attending as well as 1st Fridays, Carl Lyte, Eddie Williams, Kerry Lee Crawford, David & Denyse from DSi Fun Photos, the BBPA, Dwight Samuels, Mr. Fresh, DJs Nigel B, Mark Anthony, Ron C, Norman Smooth B, Mitzie Johnson, Nappys, Play De Record, A Different Booklist and friends!
Wishing you a safe and enjoyable weekend!


1st Fridays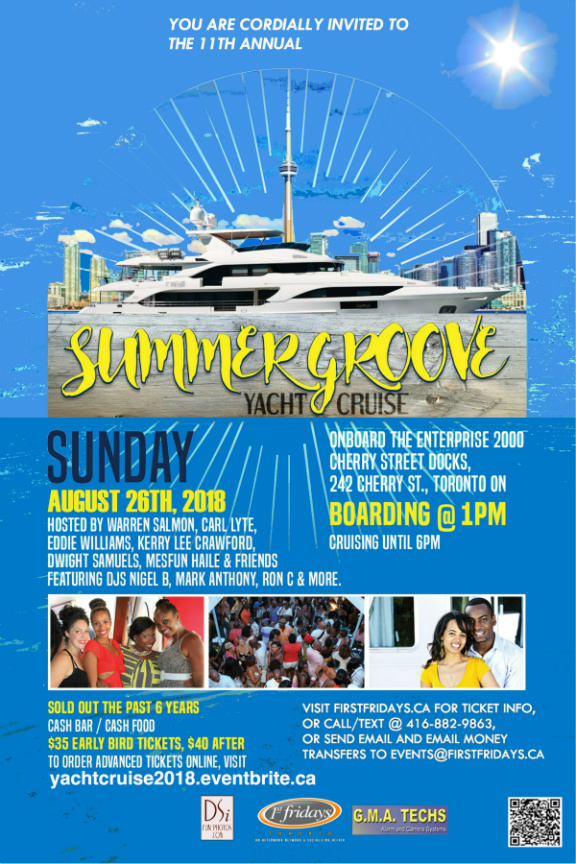 Date and Time
Location
Enterprise 2000
Cherry Street Docks
242 Cherry Street
Toronto, Ontario M5A 3L2
Canada
Refund Policy
Refunds up to 7 days before event