Rotary Club of Lake Country Summer Lobster Crawl Thru Fundraiser Friday, July 9th, 2021 Tickets on sale now!
About this event
Rotary Club of Lake Country
Summer Lobster Crawl Thru Fundraiser
Does lobster taste better when it's for a good cause? Find out!
Join the Rotary Club of Lake Country on Friday July 9th from 5-7 pm to pick up your lobster dinner. Tickets on sale now!
Order. Pick up. Head home. Enjoy
Lobster dinner
Your dinner includes a fresh, cooked whole Nova Scotia lobster (1.29-1.5 lbs.), salad, dessert & more!
Limited tickets available. Order early to get your Nova Scotia lobster! This is a drive/crawl thru event in the Beasley Park parking lot. Covid safety protocols in place.
Pick up times
Pick up times will be in batches every 15 minutes to ensure your lobster is hot & delicious. As such we ask that you select a ticket with a specific pick up time. You will receive an email reminder of your pick up time closer to July 9th.
Pick up protocol
When you arrive at your scheduled pick up time please remain in your vehicle and wait for a Rotarian to greet you. Your meal will be brought to you in reusable bags (one with lobster, one with the rest of the meal).
Covid protocols
Covid-19 is a highly contagious virus that spreads from person to person. The Rotary Club of Lake Country is utilizing WorkSafeBC recommended preventative measures to reduce risk including: using Health Canada approved disinfectants with appropriate wet/kill times; volunteer temperature checks; wearing masks & gloves; hand hygiene including washing & Health Canada approved sanitizers; cooking outdoors for superior ventilation; and compartmentalization of tasks & volunteers.
Sponsors
The Rotary Club of Lake Country would like to thank Save-On Foods for their ongoing support of the Rotary/Save-On Foods prepaid food card program supporting the Food Bank and the generous donation of food and supplies to help make this fundraiser possible.
The Club would also like to thank Castanet for their generous support in helping share our fundraiser with the community again. And a big thank you to TBC Liquor Merchants for their generous donation to help make our event even more special! You can shop online - delivery or pick up available.
Funds raised will continue to support community projects in Lake Country such as the Pelmewash Pier project and help international efforts that support women & girls, water & sanitation, disease prevention & treatment, basic education & literacy, peace & conflict prevention/resolution, economic & community development.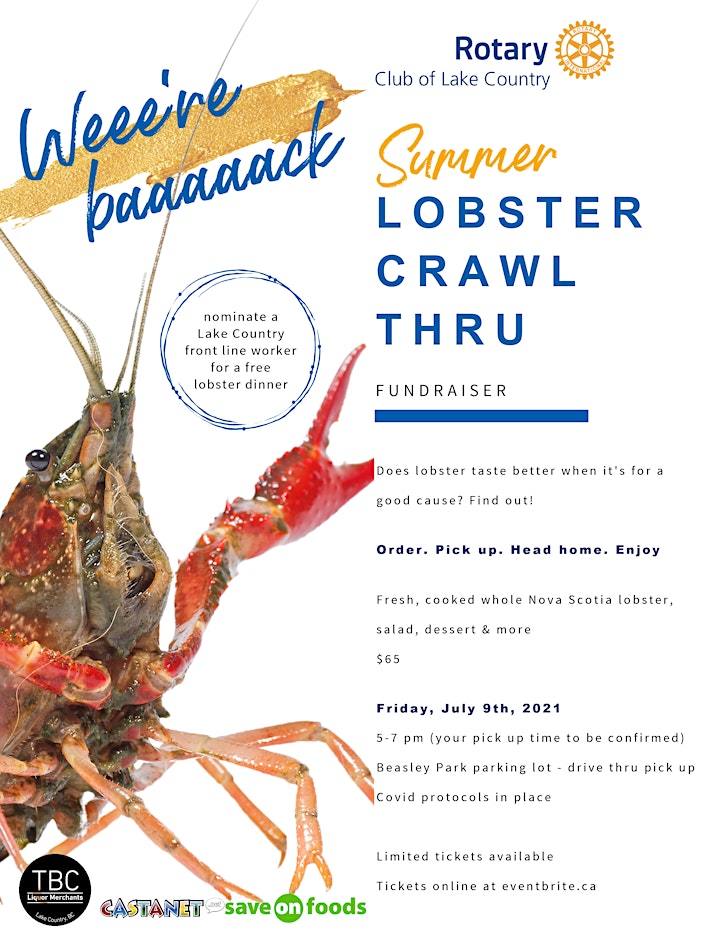 Organizer of Summer Lobster Crawl Thru Fundraiser
We're a leadership organization!
We're made up of individuals from all walks of life.
We meet regularly, get to know each other, form friendships, and through that, we're able to get things done in the community.
Together, we see a world where people unite and take action to create lasting change - across the globe, in our communities, and in ourselves.

The Rotary Club supports a variety of local and international projects, such as partnership in the Pelmewash pier project; construction of the Lake Country Food Bank building; Rotary/Save-On Foods prepaid food card program (16% face value goes to the Food Bank); Bursaries to GESS & Okanagan College students; trail building & clean up with WALC (Walk Around Lake Country); local PACs; Lake Country Skate Board Park; Beasley Park Centennial Project; Rotary International Polio Eradication Program; Shelter Boxes for International disasters; and Student Exchange programs to name a few. 
Check us out online to see what we're up to!