Description
From June to September, The Revue Cinema revisits the great blockbusters and cult classics from the SUMMER OF '89.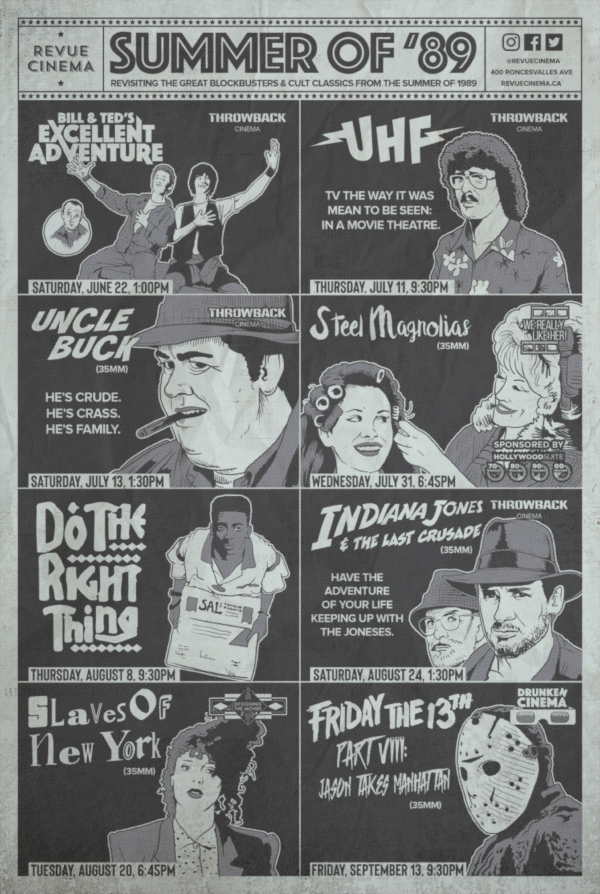 ABOUT SLAVES OF NEW YORK
USA 1989 124mins PG
Directed by James Ivory, from the screenplay by Tama Janowitz (based on her bestselling short stories)
Starring Bernadette Peters, Adam Howard, Chris Sarandon, and Mercedes Ruehl
Before there was SEX & THE CITY, there was SLAVES OF NEW YORK.
An outlier in the Merchant/Ivory canon, SLAVES OF NEW YORK is a contemporary film set in the New York art world. Aspiring hat maker Eleanor (Bernadette Peters) lives in a dead-end relationship with her painter boyfriend Stash, until she finally gets a big break from fashion designer Alfredo (Steve Buscemi). Shot on location on the Lower East Side, the movie captures the scene with madcap costume design by Carol Ramsey, and a memorable fashion show sequence featuring clothes by pioneering pop-punk designer Stephen Sprouse.
Prior to the screening, series host Nathalie Atkinson on the hats, the hair, and the insanely 80s outfits
ABOUT DESIGNING THE MOVIES
Programmed and hosted by journalist Nathalie Atkinson, Designing the Movies makes art direction, set, costume and production design the lens for analysis