Location
Muttart Conservatory
9626 96A Street Northwest
Edmonton, AB T6C 4L8
Canada
Refund policy
Contact the organizer to request a refund.
Eventbrite's fee is nonrefundable.
A trifecta of powerful healers guiding your Summer Solstice Ceremony underneath the Muttart pyramids!
About this event
WHAT TO EXPECT
In Astrology, Solstice is marked by the Sun moving into the zodiac sign of Cancer welcoming the start of Summer to the Northern Hemisphere!
During this Solstice Summer Ceremony, Sheetal will be sharing what the Astrology of this time means for the collective, and for each sign. Cancer is about family, our home, and inner foundations.
Where are you struggling to come to terms with something from your childhood? Where are you not allowing yourself to expand for fear that you may not be supported?
It is now time to shore up your foundations and shine bright for the world to see!
Join to find out more about how to use this energy for the best possible outcome and literally clear away the chains that have been holding you back from claiming your power.
Get ready for a magical evening of Astrology, SRT, and Breathwork*!
*Breathwork does ask you to dig deep, show up to, and take responsibility for your own healing, with the guidance and support of me AND any others that may be sharing in the practice with you. It is unbelievably powerful! It requires your full participation. It is one of many vital tools for navigating trauma, recovery, and healing. By joining the guided session, you are agreeing you are in a state of mental and physical health appropriate to participate. Any questions please reach out to support@mandytrapp.com.
AGENDA
5:30pm: Doors open
6:00pm: Ceremony opens
SHEETAL: Discover the Astrology of the Summer Solstice & what it means
ELISE: Receive a group Spiritual Response Therapy Energy Activation + Constellation Clearing
MANDY: Move your energy during a guided The Practice: Breathwork Session
10:00pm: Ceremony closes
Enjoy socializing and walking the pyramids until 11:00pm
WHAT TO BRING
Journal & Pen
Yoga Mat
Water bottle
Light blanket to cover yourself with (optional)
Please arrive fully fed
LOCATION
Muttart Conservatory: 9626 96A Street NW, Edmonton AB
Your ticket includes entry into the facility
The pyramids will be open for private viewing until 11pm
Free parking onsite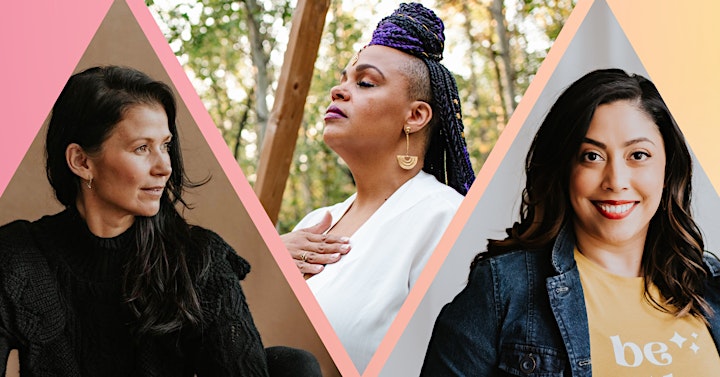 ABOUT SHEETAL STORY
Psychic Medium, Astrologer, Grief Support Counsellor
As a Psychic Medium, I use Astrology as a tool to see patterns in my clients' lives, help them to determine when the best time to do things are, and to understand what are the opportunities for growth coming in the near future.
Astrology is a science that requires much knowledge and skill when working on charts and data. Ultimately, it is only a tool to help clients navigate their own lives. The client holds the power with their free will to do what they feel is right in the moment.
Astrology can give you tools to understand what is likely to occur, or what to be prepared for. As my teacher and the famous Astrologer Chris McRae stated "To be aware is to be forearmed".
Learn more: SheetalStory.com
Clairvoyant Modern Day Oracle, a Soul Speaker, and Sage
As a full-fledged Aquarian, I am passionate about supporting the evolution of humanity!
Through my connection to the Divine, I channel past life healing, DNA activations, and messages from Galactic Source to help individuals and groups release old limiting programming and in turn shift into higher consciousness.
By awakening the memory of who we really are and clearing the DNA, we support the physical body in holding more light energy which assists in the accelerated ascension of ourselves and our Earth Mother!
Learn more: EliseBrathwaite.com
ABOUT MANDY TRAPP
Founder of Lifestyle Meditation & The Practice
Mandy will guide you to access non-ordinary states of consciousness through a unique approach to emotional and energetic healing with breath.
She opened Canada's first mainstream meditation centre in 2016, and spent nearly 20 years studying and teaching mindfulness and meditation. As a student of Dr. Deepak Chopra, she now blends ancient wisdom with modern science and helps integrate the teachings back into your own life.
Breathwork is placed alongside traditions of ancient breath practices like Pranayama and newer practices like Holotropic. It's a multi-part fast-paced breath that quickly connects you to your own energy and wisdom. If you're looking to be an active and engaged part of your own healing, breathwork can take you to where you desire to go.
Learn more: MandyTrapp.com