SUMMERTIME AT BRUCE COUNTY MUSEUM

Saturday, 1 July 2017 at 10:00 AM

-

Thursday, 31 August 2017 at 5:00 PM (EDT)
Event Details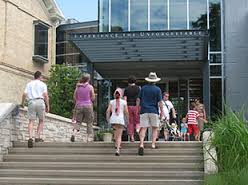 SUMMERTIME AT BRUCE COUNTY MUSEUM
33 Victoria St. N.
Southampton, ON
July and August
Mondays thru Saturdays
10:00 am - 5:00 pm
Sundays 1:00pm - 5:00 pm
Families are invited to visit the museum at their leisure during the months of July and August. Please register and PRINT your confirmation page. When you arrive at the museum advise the counter staff you are with the Autism Ontario Group and show them this confirmation.
You may visit the museum ONCE PER WEEK during the months of July and August
(Please register each month) 
There are many activities being held at the museum such as movie days, First Nations displays and Lego Fridays just to name a few.
Please visit the museum website to see a full listing of all their events
http://www.brucemuseum.ca/whats-happening/events-programs/
NOTE: 
Your safety is important to us.  Please make sure that each member of your family is aware of the rules, regulations, and guidelines of the venue and adheres to them.  As a condition of use of the event venue area and other facilities, all registrants assume all risk of personal injury, death or property loss resulting from any cause whatsoever including but not limited to: the risks, dangers and hazards of the activity, and all other recreational activities.
Note: The Potential Programme is happy to announce that we will be providing this Social Learning Opportunity complimentary.
NOTE: Supervision of children/youth at this Social Learning Opportunity is the sole responsibility of parents/guardians and caregivers; childcare will not be provided.
PARENTS/CAREGIVERS MUST REMAIN ON SITE
Due to allergies and sensitivities, please refrain from wearing perfume, cologne, aftershave, or scented products such as hairspray or lotion.
Marti Lussier, SW Community Events Coordinator
226-787-033 or marti@autismontario.com
SAISON ESTIVALE AU MUSÉE DU COMTÉ DE BRUCE
Juillet et août
Du lundi au samedi : de 10 h à 17 h
Le dimanche : de 13 h à 17 h
Durant les mois de juillet et août, les familles sont invitées à visiter le musée durant leurs temps libres. Il suffit de vous inscrire et D'IMPRIMER votre page de confirmation. À votre arrivée au musée, présentez-vous à la réception et informez le personnel, en leur montrant votre page de confirmation, que vous faites partie du groupe d'Autisme Ontario.
Durant les mois de juillet et août, vous pouvez visiter le musée UNE FOIS PAR SEMAINE.
(Inscrivez-vous pour chacun de ces deux mois.) 
De nombreuses activités se déroulent au musée : journées cinéma, expositions des Premières Nations et les vendredis Lego pour ne nommer que celles-là.
Rendez-vous sur le site Web du musée pour consulter la liste complète des activités qui y sont offertes.
http://www.brucemuseum.ca/whats-happening/events-programs/
Pour voir la version française de cette affiche s'il vous plaît regarder pour l'affiche correspondant sur la page principale 
Marti Lussier, Coordonnatrice des événements communautaire
226-787-0333 ou marti@autismontario.com
Vous désirez parler à quelqu'un en français? 416-246-9592, poste 240 ou veronic@autismontario.com
Save This Event
When & Where

BRUCE COUNTY MUSEUM
33 Victoria St. North
Southampton, ON
Canada

Saturday, 1 July 2017 at 10:00 AM

-

Thursday, 31 August 2017 at 5:00 PM (EDT)
Add to my calendar
Organizer
Autism Ontario - SW Potential Programme
The Southwest region includes: Autism Ontario Windsor - Essex ( and vicinity), Chatham and Sarnia - Lambton -Middlesex -London (and vicinity ), Perth and Huron ( Goderich , Clinton, Stratford and surrounding areas ), and Bruce -Grey (Owen Sound - Kincardine and vicinity).
 
Marti Lussier, Community Events Coordinator
226-787-0333 or marti@autismontario.com
To speak to someone in French?
416-246-9592 ext 239 or rpcprovincial@autismontario.com
 Frequently Asked Questions 
1) Do I need to print tickets or confirmations received by email to attend this event? No, you have nothing to print. Upon your arrival, you must present yourself at the registration desk . You will be asked your name and the number of people accompanying you. That's it!
2) Do I need proof of diagnosis? No, it is not necessary. Introduce yourself to the registry office and enjoy the activity .
3) Is there an entry in the cost of the activity? Almost all activities are free , because the fees are paid by the potential program , Autism Ontario , in partnership with the Department of Services for Children and Youth . If there are costs to pay, this will be indicated on the registration page when you select the number of tickets you need.

4) Do I need to be a member of Autism Ontario to register and participate? No. Being a member gives you access to other interesting possibilities, but the activities proposed under the Potential Programme are open to all families with children under 18 living with ASD in Ontario
SUMMERTIME AT BRUCE COUNTY MUSEUM