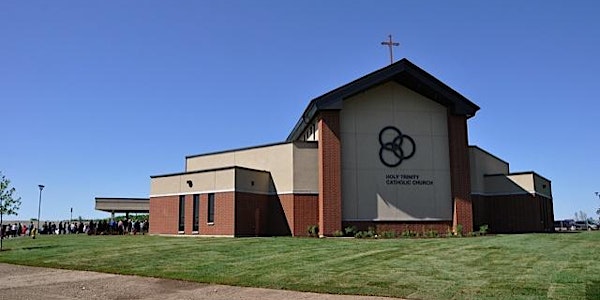 Location
Holy Trinity Parish
1420 Devonshire Avenue
Woodstock, ON N4T 0M7
Canada
About this event
The Premier of Ontario has announced all churches in Ontario are permitted to open for prayer and worship at this time. In order to maintain physical distancing, follow health guidelines, and adhere to the capacity rules, we require everyone including children and infants to be registered for weekend Masses.
It is important to remember the COVID-19 Pandemic is not over, and that everyone must continue to pay attention to the measures being put in place to limit the spread of the virus. Please read the following requirements for entry
• Entrance is NOT permitted to those who have an elevated temperature, or are suffering from a cough or cold symptoms, shortness of breath, undue fatigue, loss of appetite, muscle aches, runny nose, chills involving shakes, loss of taste or smell.
• If you are sick, you are kindly asked to stay home.
• If you have traveled outside Canada within the past 14 days you are not to enter the Church until you have completed the period of self isolation
• You are strongly encouraged to wear a mask upon entering the Church
• Everyone is to use a hand sanitizer provided upon entry into the Church
• Maintain a two metre (six foot) distance at all times in the church and on church property
• Seating is limited. Seating capacity is permitted based on government regulations at this time. Ushers will guide you to the available designated seats
What to do upon arrival/exiting the Church:
• Please adhere to the physical distancing guidelines outside the Church
• Everyone including children and infants coming to Mass must have a reservation through our Eventbrite system or through our office.
• Only 1 washroom will be accessible for emergency only during Mass time.
• Please check in with the Ushers at the door
• Ushers will seat you at the available designated seats
• When exiting please follow the direction of the ushers and exit in order to maintain physical distancing
• You are asked to refrain from socializing with others following Mass
• Offertory gifts can be put in the baskets when you exit Mass - no offertory collection will be taking place during Mass
Steps on How to Register for Sunday Mass:
• Please double check that you are signing up for the right Mass time
• Click on the orange 'SELECT A DATE' button
• Please select the date for the Mass you would like to attend and click 'TICKETS'
• Please include the number of everyone coming in your group including children and infants. Click 'REGISTER'. Please include your first and last name of the person registering for your group as well as your email
• Click on the 'REGISTER' button again
• You will receive an email confirmation. Please check your junk/spam folder if you do not see a confirmation email
• Those not able to register online can call our Parish Office to register at 519-539-0876.
Thank you very much for your patience and understanding as we navigate through the first stage of returning t Holy Trinity. We look forward to praying together as a Church Community.