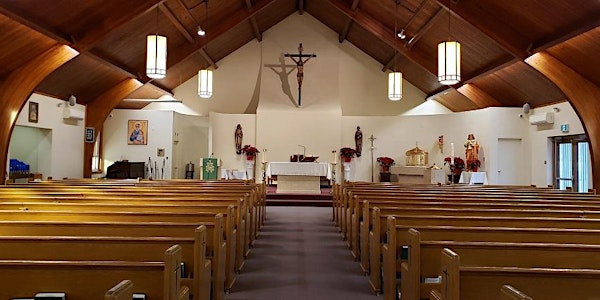 Sunday 9:00 a.m. Mass - St. John the Evangelist - Weston
Sales Have Ended
Registrations are closed
Tickets for this Mass are not available at this time. Please contact the parish at stjohntheevangelistwe@archtoronto.org for information.
Event Information
Location
St. John the Evangelist R.C. Church
49 George Street
York, ON M9N 2B4
Canada
Sales Have Ended
Registrations are closed
Tickets for this Mass are not available at this time. Please contact the parish at stjohntheevangelistwe@archtoronto.org for information.
Register for Sunday Mass at St. John the Evangelist R.C. Church - Weston.
About this event
ANNOUNCEMENT- REVISED AS OF NOVEMBER 6, 2021- PLEASE READ IN ENTIRETY
PLEASE NOTE THAT AS OF THE WEEKEND OF NOVEMBER 6/7 2021, WE WILL BE RAISING OUR CAPACITY LIMITS BY ANOTHER 30%.
IN CONSULTATION WITH THE BISHOP, WE WILL SEATING PARISHIONERS EVERY SECOND ROW RATHER THAN EVERY THIRD ROW.
SOCIAL DISTANCING WILL STILL BE MAINTAINED AND WILL BE KEPT BETWEEN DIFFERENT HOUSEHOLDS IN THE SAME PEW.
RESERVATIONS ARE STILL REQUIRED FOR UPSTAIRS SEATING. 1 SPOT MUST BE RESERVED FOR 1 OR 2 PEOPLE FROM THE SAME HOUSEHOLD. 2 SPOTS FOR 3-7 PEOPLE FROM THE SAME HOUSEHOLD. PLEASE LIST THE FIRST NAMES OF ALL ATTENDEES IN THE "FIRST NAME" SPACE IN THE TICKET RESERVATION FORM, SEPARATED BY A COMMA. (e.g. Mary, Joseph, James, Marcus)
WE WILL CONTINUE TO KEEP THE HALL OPEN FOR OVERFLOW. NO BOOKINGS ARE REQUIRED FOR THE OVERFLOW SECTION. PEOPLE WILL BE ACCOMMODATED ON A FIRST COME, FIRST SERVE BASIS.
******************************
We look forward to welcoming you back to church! Due to capacity restrictions for gatherings in Ontario, we invite you to register for seats for Sunday Mass. Please note, there have been some changes from the last time we were allowed to have Mass.
We are limited to a maximum of 32 spots in the body of the main Church upstairs in which we can seat singles and couples on each spot or families from the same household between two spots. This is done by seating arrangement. It is therefore crucial to ensure that you list when booking, the first names of all those who are attending so that we accurately seat people. We must still keep social distancing protocol, so the number of people at each Mass will depend on and differ due to the fact that there may be families, couples or singles attending. A reminder that for 1 person attending, you must book 1 seat. For 2 people from the same household, 1 seat must be booked, but both first names must be listed. For families of 3 people up to 7 people living in the same household, 2 seats must be booked but all first names must be listed.
Please note that every reasonable precaution has been and will continue to be taken by the Archdiocese of Toronto to protect your health and safety. However, there can be no guarantees of complete protection as there will always be risks of contracting viral infection through large gatherings.
Please do not enter the church if you have a temperature, feel ill or have been in contact with a COVID-19 positive individual over the past two weeks.
Additional information:
In accordance with the by-laws of the City of Toronto, the use of masks will be mandatory for church attendance. This by-law excepts all those who are under the age of 2 and those who cannot wear a mask due to medical reasons. All others must wear a mask for the duration of their time in the Church, properly worn over their nose and mouth.
There will only be one entrance into the church. Please look for signs marking the proper entrance door.
Sanitize your hands upon entry.
Please maintain physical distancing at all times. Stay 2 metres (or 6 feet) away from others.
Please follow the direction provided by ushers/volunteers for seating.
PLEASE REFRAIN FROM SOCIALIZING INSIDE OR OUTSIDE OF THE CHURCH AFTER MASS - THIS IS ONE OF THE CONCERNS FROM THE MEDICAL OFFICER REGARDING CHURCH ATTENDANCE - WE DO NOT WANT THIS TO BE AN EXCUSE FOR ANOTHER CLOSURE
PLEASE ENSURE THAT YOU ARRIVE AT LEAST 5 MINUTES BEFORE MASS OR YOUR RESERVED SEATING WILL BE GIVEN AWAY TO OTHERS WAITING. Please be aware that people have had to be turned away from Mass due to our capacity restrictions, so if you are unable to attend the Mass for which you reserved tickets, please cancel your ticket on line, or call the parish office at 416-241-0133.
Date and time
Location
St. John the Evangelist R.C. Church
49 George Street
York, ON M9N 2B4
Canada