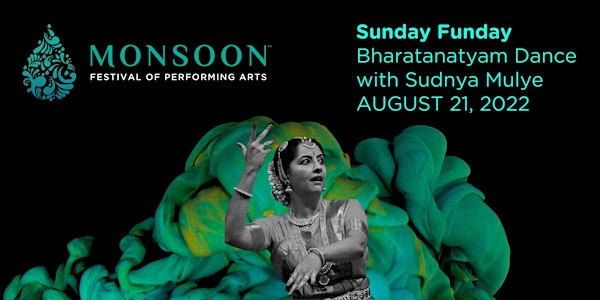 Sunday Funday - Bharatanatyam Dance with Sudnya Mulye
Make your Sunday's more fun and get your week started right by learning some Bharatanatyam classical dance moves from Sudnya Mulye!
When and where
Location
Richmond Art Gallery 7700 Minoru Gate #180 Richmond, BC V6Y 1R8 Canada
Refund Policy
Contact the organizer to request a refund.
Eventbrite's fee is nonrefundable.
About this event
Length: 60 minutes
Max Participants: 20
Ages: Age 7+
Sign-up required! No previous experience necessary.
Make your Sunday's more fun and get your week started right with some dance moves that will surely get your blood flowing! Every Sunday we've lined up a FREE dance lesson led by a renowned dance artists in a variety of different dance styles.
About Sudnya Mulye
Sudnya Mulye is a Bharatanatyam dancer, choreographer and instructor who has studied under great masters like Guru T.Soundararajah and Smt. Tangamani, Padmashri Dr. Kanak Rele, Padma Bhushan Smt. Kalanidhi Narayanan, and Guru Lata Raman. Sudnya holds BFA in Bharatanatyam and MFA in Bharatanatyam Choreography from Mumbai University and has performed extensively and won many awards in India.
As an international artist, Sudnya has performed, choreographed and taught extensively in India and North America. The scholars of the Ramayana revered her performances and choreographies on the episodes of the Ramayana epic "The Golden Deer" and "Seeta Tyaga". Sudnya has presented "Soul of Dance", "Buddham Saranam Gacchami", "Ganesha Vandanam" "Diwali" and "Married to Canada" as academy productions.
Bharatanatyam is geometrically a triangular art form and expresses universal emotions. Bharata stands for Bha- Bhakti (devotion), Ra- Rati (love), and Ta–Tapasya (meditation); the word Natyam means, "art." Visually Bharatanatyam is a dynamic, earthy, and very precise style of dance. It is noted for its fixed upper torso, legs bent or knees flexed out combined with spectacular footwork. With its stylized hand gestures, facial expressions, and footwork the dancer conveys to the audience various mythical stories and contemporary themes.
In this lesson, participants will do a warm-up and then learn and experience:
simple and intricate footwork through stomping, stretching, various jumps, gaits and foot positions
5 types of rhythms to add variety in the movements.
arm movements to add grace in the movements.
9 basic universal emotions performed with facial expressions.
hand gestures to accentuate the arm movements and to tell a story through expressions.
At the end participants will perform a short presentation.
Please Note:
Participants should wear comfortable clothes.
Should be ready to dance bare feet.
Floor needs to be clean and safe for all participants to enjoy the Bharatanatyam workshop.