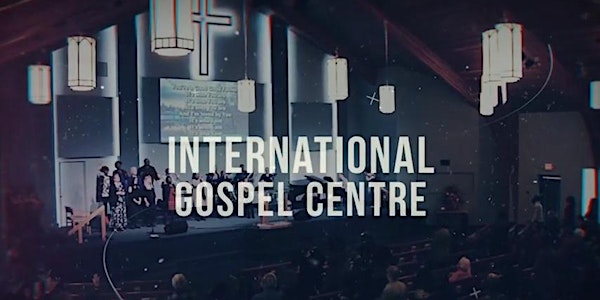 Sunday, January 30, 2022 - 10:30am Service: International Gospel Centre
Event Information
Location
International Gospel Centre
35 Charles Street East
Kitchener, ON N2G 2P3
Canada
We welcome Rev Richard Schneider back to the pulpit this Sunday! "A Spiritual Rorschach Test." Join us at 10:30am beginning with worship!
About this event
IGC will be following "Modified Step 2 Protocols" in the Roadmap to Reopen Ontario.
Youth Class is open.
Children's Ministries has been suspended until February. Children are welcome to join us in the Sanctuary.
Before reserving seats please answer the following questions:
1. Do you or anyone in your family have any of the following conditions:
Fever, Cough, Sore Throat, Vomiting or Diarrhea?
2. Have you or anyone in your family been in contact with someone suspected of having COVID-19 or who has tested positive for COVID-19 in the last 14 days?
If you answered YES to any of these questions, you are asked to refrain from attending this service and isolate for 5 days.
On July 13, 2020, the Region of Waterloo passed a by-law making masks mandatory inside public facilities and on transit. Face masks must be worn while inside the church building unless you have a medical condition that prohibits you from wearing one.
***PLEASE RESERVE ONE TICKET FOR EACH ATTENDING PERSON ***
At this time our church buses will not be operating.
We will be following the safety guidelines in accordance of the requirements from the government of Ontario. Safety protocols have been put in place for the well being of all attendee's.
Date and time
Location
International Gospel Centre
35 Charles Street East
Kitchener, ON N2G 2P3
Canada