Multiple Dates
Sunday Mass at Annunciation Parish (Aug 1-2)
Sales Have Ended
Registrations are closed
Tickets for this Mass are not available at this time. Registration for Sunday Mass opens every Monday at 10AM. You may also tune in for Mass from St. Michael's Cathedral website at 7:30AM at https://www.stmichaelscathedral.com/live/
Sales Have Ended
Registrations are closed
Tickets for this Mass are not available at this time. Registration for Sunday Mass opens every Monday at 10AM. You may also tune in for Mass from St. Michael's Cathedral website at 7:30AM at https://www.stmichaelscathedral.com/live/
About this Event
If you are bringing a family member of the same household, please choose more than one ticket per order. One ticket is required per person. Please write each person's full name. Please do NOT copy the same name from other attendee.
Thank you!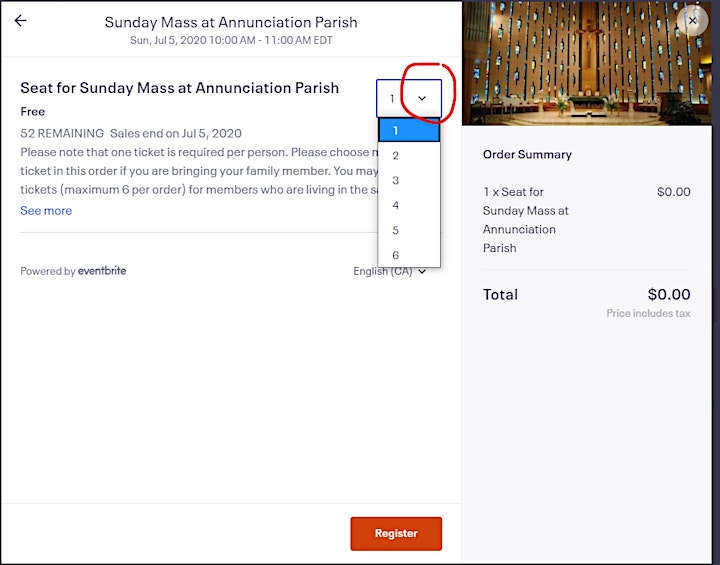 We look forward to welcoming you back to church! Due to capacity restrictions for gatherings in Ontario, we invite you to register for seats for Sunday Mass. Families from the same household will sit together, but one ticket is required per person.
Please note that every reasonable precaution has been and will continue to be taken by the Annunciation Parish to protect your health and safety. However, there can be no guarantees of complete protection as there will always be risks of contracting viral infection through large gatherings.
Please do not enter the church if you have been in contact with a COVID-19 positive individual over the past two weeks OR if you have any of these symptoms:
have a fever
feel ill or weak
sore throat
shortness of breath
lost your sense of smell or taste
sneezing or coughing
diarrhea
Additional information:
Masks or face coverings are mandatory according to City of Toronto by-law
Face shield is not a replacement of a mask.
There will only be one entrance into the church. Please look for signs marking the proper entrance door.
Sanitize your hands upon entry.
Please maintain physical distancing at all times. Stay 2 metres (or 6 feet) away from others.
Please follow the direction provided by ushers/volunteers for seating.