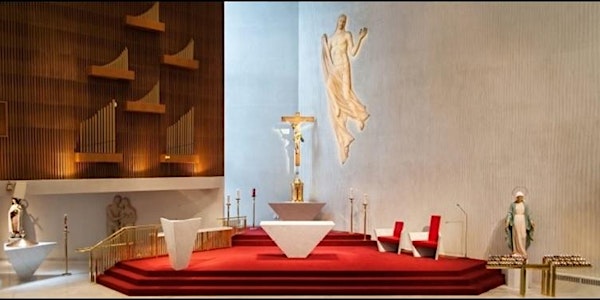 Sunday Mass at Blessed Trinity Church (Toronto, ON)
Location
Blessed Trinity Church (Toronto, Ontario)
3220 Bayview Avenue
Toronto, ON M2M 3R7
Canada
Sales Have Ended
Registrations are closed
Tickets for this Mass are not available at this time. Please chose an alternative Mass Time for this Sunday.
NOTE: For weekend mass EVERYONE (including children) MUST be registered (weekday is first come first served NO registration needed)
About this event
the faithful in the Archdiocese of Toronto remain dispensed from the obligation to attend Sunday mass. Please note that every reasonable precaution has been and will continue to be taken by the Archdiocese of Toronto to protect your health and safety. However, there can be no guarantees of complete protection as there will always be risks of contracting viral infection through large gatherings. All those attending Mass do so at their own risk. It is important for families and individuals to take responsibility for protecting themselves and others.
Weekend Mass Times: (MUST REGISTER TO ATTEND)
Saturday Vigil at 4:30pm
Sunday at 7:00am, 8:30am, 10:30am, 12:15pm and 7:00pm PLEASE NOTE THAT THE 10:30AM MASS IS LIVESTREAMED
Weekday Mass: (No registration required, first come, first served)
Weekday Mass is at 8am Mon to Sat (Including holidays) PLEASE NOTE THAT WEEKDAY MASSES ARE NO LONGER LIVESTREAMED
1. Physical distancing is to be observed everywhere on the Church property (parking lot, entrance, foyer etc.), except for members of the same household.
2. ONE TICKET PER PERSON.
* If you have 4 members in your family including yourself, please register for 4 tickets and list each family member so that each person has their own ticket.
*Anyone not registered for Mass will not be admitted. We must maintain this for everyone's safety.
*IF YOU REGISTER FOR MORE THAN 1 MASS ON THE SAME DAY, THEN ALL REGISTRATIONS AFTER THE 1ST MASS YOU HAVE REGISTERED FOR WILL BE CANCELLED. We do this because multiple registrations take away seats from your fellow parishioners who now might find a mass sold out when they go to register.
3. PLEASE PLAN TO ARRIVE EARLY to allow for timely admittance for Mass. While you are waiting in line, please stay 6ft apart.
4. Pews are marked where you and/or your family may sit. Please comply with staff seating arrangements and/or instructions.
5. The entrance is through the main doors
6. Kindly bring your own mask(s) and wear it at all times. Masks are required for entry into the church
7. Further instructions will be provided during Mass.
We thank you for your patience and understanding during this unprecedented time.
IMPORTANT: The following MUST stay home for the sake of the parish community:
Individuals with COVID-19 or live with someone with COVID-19.
Individuals who have been exposed to COVID-19 in the past 2 weeks or to someone with COVID-19.
Individuals who are ill, even with the slightest symptoms, especially fever, dry cough, shortness of breath and flu-like symptoms.
Those who have recently traveled outside of Canada.
If you have any questions, please email office@blessedtrinityparish.ca
We look forward to seeing you!