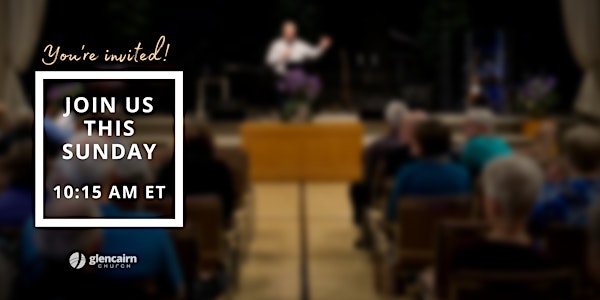 Sunday Worship Service
Sunday Service at Glencairn Church
Location
Glencairn Church 725 Erinbrook Drive Kitchener, ON N2E 3E3 Canada
About this event
We are excited to welcome you back! As we start meeting in person again, we are asking each household to pre-register the first time they plan to participate in church services. This will help make the check-in process smoother and quicker and will help keep everyone safe while meeting government guidelines and restrictions.
One-Time Registration
Whether you're a guest or you attend Glencairn Church regularly, you only need to pre-register once for our Sunday services. At every visit, we'll be asking for your name, ask you to respond to COVID screening questions, and then invite you to find a seat in the auditorium. So, you only need to register once, and you're all set!
Walk-ins Welcome
Feel like walking in? That's okay too! We'll be asking for your name and contact information at the door and will go through the same screening questions with you.
Visit glencairn.ca/what-to-expect to learn more about Sundays at Glencairn Church. We look forward to seeing you!
PS. We also broadcast our Sunday services online at glencairnmb.online.church and welcome you there as well on Sundays at 10:15am ET.
About the organizer
Glencairn Church is a community of Christians who worship in the Country Hills neighbourhood of Kitchener, Ontario and the surrounding areas. Our mission is to invite others to join us in following Jesus. Our vision is to embrace neighbours into a life-changing faith family. Learn more about Glencairn Church at glencairn.ca.