Sunil Prashara: Powering The Project Economy

Thursday, February 6, 2020 from 6:00 PM to 9:30 PM (CET)
Event Details
PMI Switzerland Chapter invites to its    Annual Member Meeting 2020
This is an open event -  non-members are very welcome to attend! 
---
We are very proud to present a remarkable man and fascinating keynote speaker
Sunil Prashara
Powering The Project Economy
In an increasingly complex and fast-moving global economy, the nature of work is changing. Technology, artificial intelligence, robotics, macroeconomics, geopolitical pressures, demographic shifts, climate change, the environment…all these impact how projects are being delivered around the world. Individuals, organizations, academia and governments are all striving for relevance – and endeavoring to bring complex strategies to life. With all this in mind, the world is becoming increasingly "projectized" – we call it The Project Economy. The traditional way of work where you join an organisation and work in one department and stay in that department for the rest of your career will not be as relevant in the future. Increasingly, people will be "deployed" for projects based on their skills and capabilities -- anywhere in the organisation. Those skills will allow them to work on specific programs and projects and activities and move and change in line with how their organisation and its needs are changing.  While technical skills will always play a vital role in successful project management, there is also an increasing need for the "power skills" that are uniquely human: creativity, leadership, inspiration, empathy. Sunil will talk about the global trends affecting how work gets done, and the role that PMI can play in preparing both individuals and their organizations to succeed in The Project Economy.
About our Keynote speaker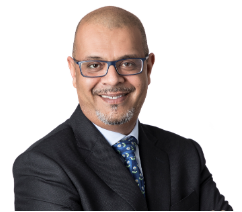 As President & Chief Executive Officer of the Project Management Institute (PMI), Sunil Prashara is the lead advocate for PMI's global organization, serving more than three million professionals working in nearly every country of the world. His primary responsibility is to implement PMI's global strategic plan with a priority on strategic focus, customer centricity and organizational agility. This includes expanding the PMI footprint globally, as well as digitizing PMI's offerings and platforms to benefit its members and a variety of other stakeholders. The plan will also continue to enhance and advocate for the profession of project management.
Sunil was named CEO of PMI in March of 2019. He brings more than three decades of valuable global leadership to PMI, with a solid track record of setting and delivering strategy, managing large scale transformation agendas, and meeting growth targets for international organizations.
Prior to joining PMI, he served as CEO of i1too Ltd in the U.K., a sales accelerator for digital start-ups, which he founded in 2016 and grew internationally. He previously served as CEO of Expereo International, and also held numerous executive leadership positions throughout the information and communications technology and telecommunications industries. His extensive multi-functional, multi-cultural, multi-geography experience includes managing sales, operations and digital transformation for companies such as Vodafone, Nokia, Accenture and Perot Systems (NTT). As a business executive, he has developed an appreciation for project management expertise, and understands from an "outside-in" perspective how PMI can expand its reach globally.
Sunil speaks Punjabi and Hindi. He is a graduate of the University of London and resides in the U.K. with his wife Kavita and two sons Kamran and Raghav. He enjoys golf, boxing, martial arts and traveling.
This outstanding speaker and event will be presented by the PMI Switzerland Chapter
as part of its    Annual Member Meeting 2020
This is an open event -  non-members are very welcome to attend!
---
Agenda
18:00   Keynote and Q&A
19:15   Coffee Break
19:30   Panel members experience 
20:40   Networking & Apero
Event Language: 
English
---
Professional Development Units: 3
1.0 - Leadership
2.0 - Strategic
Admission
This event is FREE for PMI Switzerland Chapter member


Please log in with your PMI-CH member account at www.pmi-switzerland.ch and enter the event from there, in order to order your free PMI CH Member ticket.


 

50.- CHF   for General public and PMI general members 


All guests who are not a member of the PMI Switzerland Chapter are welcome to join only for the keynote.
Please be there latest at 7:00 PM.
Cancellation policy: 100% refund is possible for a ticket if cancelled 5 days before the event.
Download / print an Event leaflet
When & Where

Swiss Re
Mythenquai 50
8002
Switzerland


Thursday, February 6, 2020 from 6:00 PM to 9:30 PM (CET)
Add to my calendar
Organizer
Questions are welcome: prasanth.nair@pmi-switzerland.ch