Origin Sunset Series ; Live Music Featuring Aidan & Mandy
About this event
Join us for our 4th Sunset Series ; Live Music Performance at Origin Wines
Featuring Aidan & Mandy : Similar but different. One listen and you'll hear it; powerful and soft, edgy and smooth, poignant and lyrical, passionate and soothing. Aidan Mayes and Mandy Cole combine these seemingly opposite elements with deft simplicity. Smooth harmonies, heartfelt lyrics, and playful guitar are the main ingredients that make up this grounded, inspiring, and talented duo.
A little bit country, a little bit folk, a little bit rock and roll, and a little bit different from everything else in the world. This might be a recognizable description of the desert region of B.C. to an outsider lucky enough to visit on occasion. Wherever the wine flows, the lake sings, and the stars shine, the sounds of Aidan and Mandy won't be far away.
Tickets are $42/Each (Non-Refundable) Will include the Sunset Show, A Picnic Blanket, and Popcorn.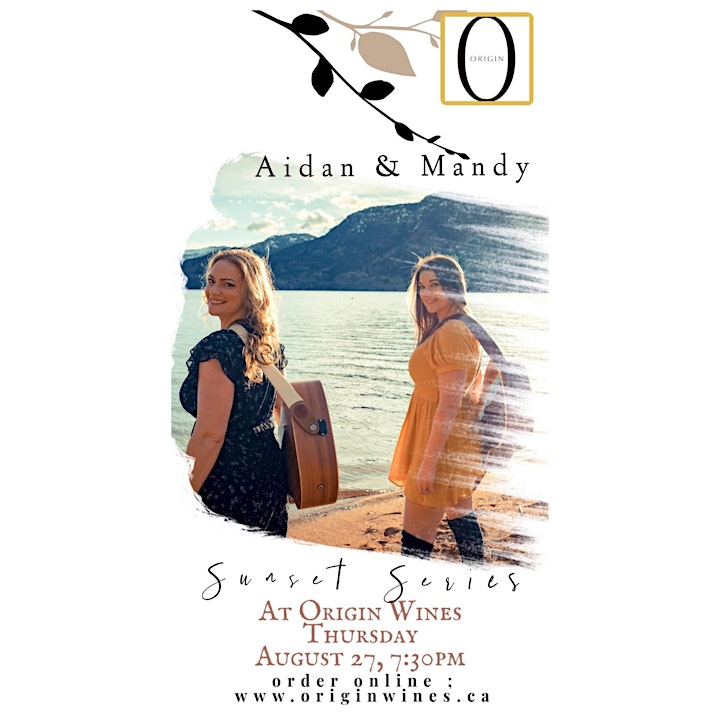 Organizer of Sunset Series Live Music : Mandy & Aidan