Introducing a Super Exclusive Indoor Bingo at London Bingo Country with only 50 people per session and a prize board of up to $16,500
About this Event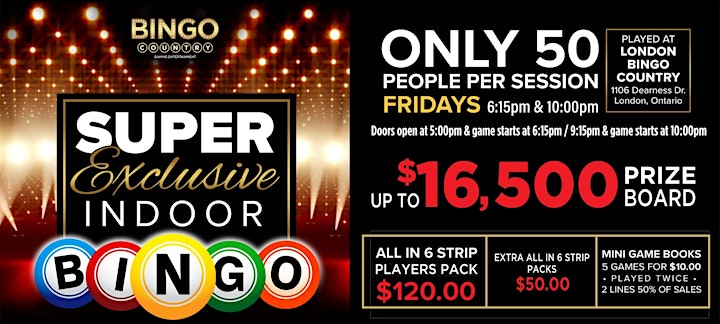 Reserve Seating: $25.00 Per Seat (CDN)
Game Date: November 27th, 2020
Game Time: 6:15PM
Place: London Bingo Country - 1106 Dearness Drive, London Ontario
$25.00 Reserves your seat for the session and will go towards your book purchase when you arrive at the hall. You must purchase a $120.00 Players Pack when you arrive on the day of the session that you have purchased.
Book Prices are
Players Pack - 6 Strip All In Book - $120.00 Extra Packs - 6 Strip All In Book - $50.00 Mini Games - 5 Games for $10.00ea - played twice
You must purchase your Reserved Seat online through Eventbrite. Sales close Friday, November 27th, 2020 at 12pm Noon, or when sold out.
LIMITED TICKETS OF 50 AVAILABLE!
Eventbrite Ticket must be presented at Bingo Country London prior to the session. Doors will open at 5:00pm and game time will be at 6:15pm
Super Exclusive Bingo Program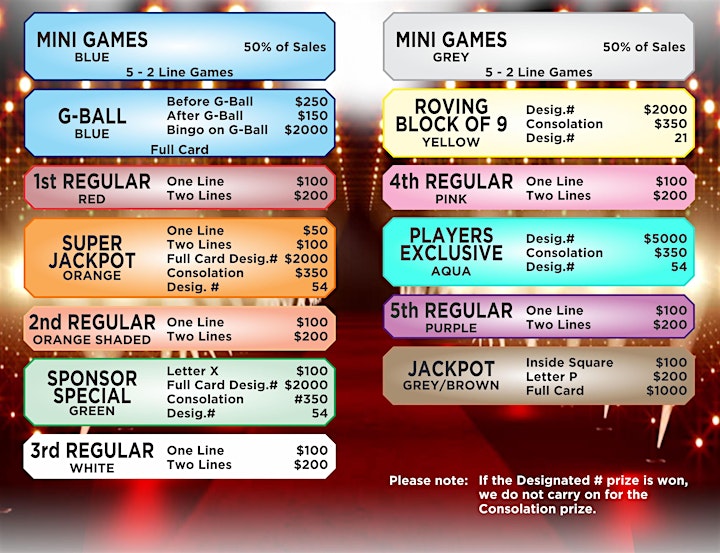 Must be 18+ to play. Guests must be able to present Government Issued Identification. Limit of 2 seats per transaction. Open to Ontario, Canada residents only.
Below find the House Rules and the prices for the Super Exclusive Indoor Bingo