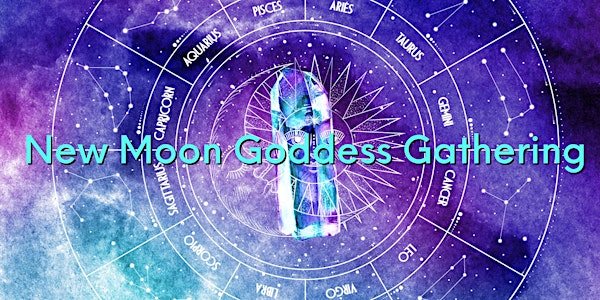 Super New Moon in Pisces Goddess Gathering
Align with New Moon, Goddess, & Crystal energy to set intentions for the next 29.5 day cycle
About this event
Each 29.5 day cycle of the moon offers us another opportunity to join with its magical energies in consciously co-creating our life. What would you like to create?
We invite you to join us virtually for one hour as we gather from 7pm until 8pm Pacific Time for the Super New Moon in Pisces on February 19th 2023 (an event playback is made available for 1 week post event to those who couldn't attend live).
We'll anchor into our centre, and connect with our inner wisdom and power. Each gathering will weave in wisdom from the moon, goddesses, crystals, essential oils, and power colours as we intentionally step into our month ahead.
We'll spend our time together exploring the unique possibility and inspiration that the New Moon presents to us. You can expect to find connection to the Super New Moon in Pisces by hearing an energy reading, hearing about the goddess connected to the specific moon energy, breathing/grounding exercises, journaling with intention and affirmation setting, as well as actions to manifest your intentions, and more.
In your registration confirmation, you will be told the goddess, crystal, essential oil, and power colour connected with this Moon and invited to bring those things into your space before the event, if you have them.
We would be honoured to have you join us.
HOSTS
Holding sacred space for these New Moon Goddess Gatherings are Denise Cunningham (of Celebrations of Light) and Caitlin Mellor-Callaghan (of Fitness Wellness Mind)
Denise Cunningham (She/Her)
Denise brings over 25 years of training and experience in the healing arts. Her metaphysical practice includes co-creating ceremonies to help people celebrate the milestones in their lives, working one on one with people as a spiritual guide, energy healing practises, writing, public speaking, and teaching Reiki. You can learn more on her Website, Facebook or Instagram.
Caitlin Mellor-Callaghan (She/They)
Caitlin is a Neurodivergent (Autistic, ADHD), Queer (Pansexual/Non-Binary), and disabled artist, writer, wellness guide, and energy worker. They help others with their healing, well-being, and embodiment on their self growth and self love journeys. You can learn more on their Website Tiktok, or Instagram, and follow more events on FitnessWellnessMind's Eventbrite Host Page.
ACCESS
We offer tickets on a sliding scale based on your giving ability. No one is denied due to lack of funds. If you're experiencing financial hardships such as not being able to pay bills, bankruptcy, homelessness, etc. you can fill out this form to request compassionate giving from the Support Fund to be sponsored into the event.
There is also an option, for those who are financially abundant, to add a donation to go toward our Support Fund. This helps support someone who is in need of compassionate giving with the ability to attend the event(s). It also helps us keep scaled ticketing as an option.
While we use the word goddess, this event is open to anyone wanting to embrace goddess energy. This includes trans, non-binary, genderfluid, genderqueer, gender-non-conforming, non-identifying, and others.
If there is a way we can be more inclusive, please email fitnesswellnessmind@gmail.com.
If you have access needs, please let us know before the event and we will do our very best to accommodate them.
PLATFORM
You will receive a Zoom link upon registration to the event in your ticket confirmation email.
You're encouraged to have your video off during the event so that you can focus on connecting to the energy. You will be automatically muted upon entry and throughout the entire event. Please note your username will be shown to other participants on your video box and if any comments are made in the chat function.
Please refrain from sharing this link as the event has a limited capacity. If a friend would like to join, invite them to register through this Eventbrite page.
To avoid delays, prepare to open the link a few minutes prior to the event as Zoom at times can take time to load. If you've never used Zoom before, here is a good tutorial.
RECORDING
Please note the meeting will be recorded and be available to watch for 1 week post-event for those who could not make it live, by request.
If you do not want your name to be shared if we are reading comments aloud, please let the hosts know prior to the event. We encourage pronouns to be added to user names to ensure the proper pronouns are used.
ATTENDANCE
The event will only run in a minimum of 3 people have registered. If 3 people haven't registered by 24 hours before the event you will receive a cancellation email as well as a full refund.