About this Event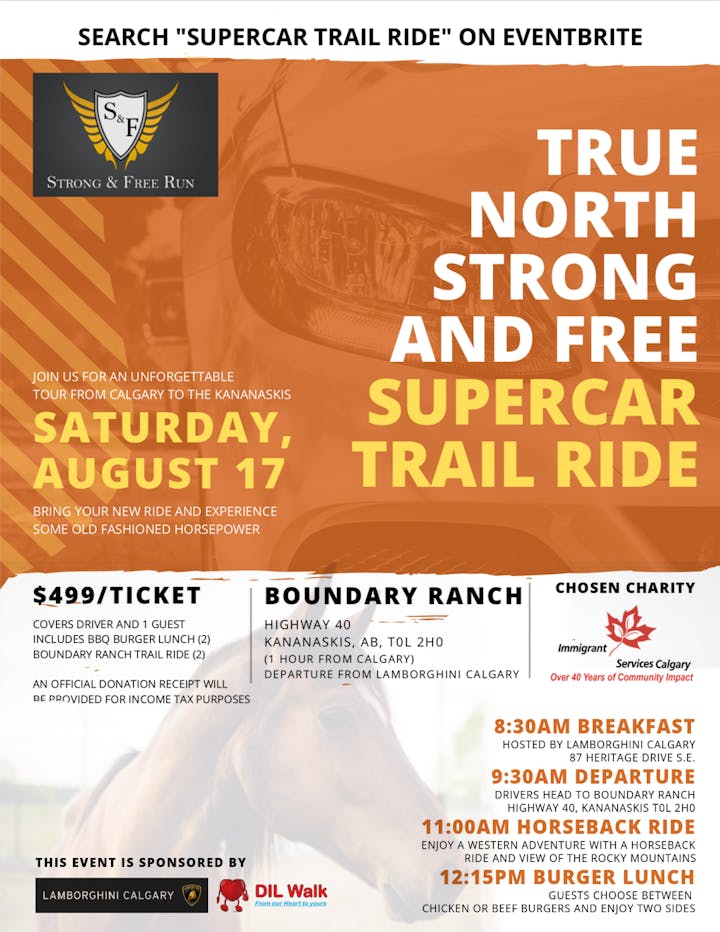 What is it, exactly?
On Saturday August 17th, 2019 ticketholders and their guests will hop into their favourite sports cars and supercars and head west together to the Boundary Ranch - a legendary resort in the Canadian Rockies. Once there, they trade in their wheels for a trusted steed and experience a timeless trail ride through the Kananaskis. After they're done enjoying the sights on a classic horseback ride, guests head back for a BBQ burger lunch down at the Boundary Ranch.
This event is sponsored by our good friends at Lamborghini Calgary and DIL Walk. An official donation receipt will be provided for income tax purposes.
Why would I do this?
It's an adventure - and one that's for a good cause. All proceeds from the Supercar Trail Ride will be donated to Immigrant Services Calgary, a valued non-profit that helps immigrants and refugees achieve successful economic, social and cultural integration and become valued contributors to Canadian society.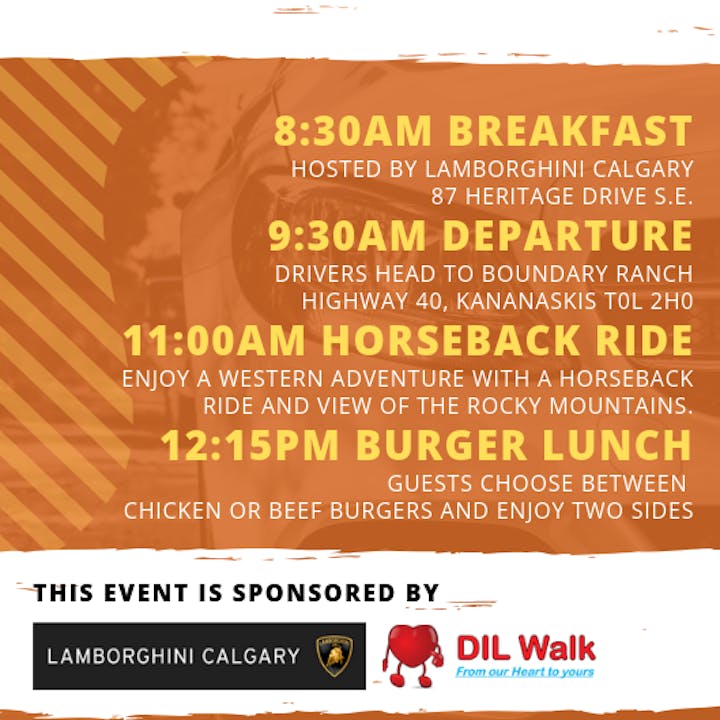 Who can attend?
This year we're making the rally open to all makes and models of cars (and people, too). This freedom is in the spirit of our chosen charity, Immigrant Services Calgary, who promote integration, inclusion, and diversity. Tickets include admittance, lunch, and the horseback ride for you and a guest.
Where do I go? When is it?
On Saturday, August 17 guests will meet at 8:30AM at Lamborghini Calgary for an "Italian" style breakfast. At 9:30AM everyone hops into their cars and heads west to the Boundary Ranch for the day's activities. After arriving, guests will have time to look around the grounds before hoping on top of their horse at 11:00AM sharp. After the ride, lunch is served at 12:15PM.
The Boundary Ranch is located on Highway 40 in Kananaskis, just one hour west of Calgary.

That's great, but the food...?
At the time of checkout, please indicate your choice of burger for the lunch. Options include:
BBQ Chicken Breast Burger
BBQ Beef Burger
and know that you also get two side dishes:
Baked potato with all the trimmings
Freshly tossed caesar salad
All lunch meals include coffee, hot tea, and iced tea.
Never been on a horse before?
That's okay! Trips are suitable for novices to experienced riders and all Trail Rides are led by trained and experienced guides. Trail Rides are at a walking pace, allowing safe riding and an opportunity to enjoy the incredible country you travel through.
Questions?
Is there something here we didn't answer? Contact colynd@immigrantservicescalgary.ca for assistance.