Description
The SUPERHUMAN Seminar! An Experience That Will Change Your Life!
It's the SuperHuman Seminar for a reason! (Click here to check out the PROMOTIONAL VIDEO )
'The Titan' MIKE O'HEARN from Los Angeles is COMING TO MONTREAL to join
'The Motivator' MATHEW PARK for an an experience that will change your life!
With special guest, Mona 'The Boss' Muresan
---
'The Titan' MIKE O'HEARN
Fitness & bodybuilding industry legend
Featured on over 550 magazine covers !
Actor and 4X Time Mr. Universe!
Founder of Power Bodybuilding
Owner of Innov8 Nutracueticals
YOU WILL LEARN FROM MIKE O'HEARN:
- FOUNDATIONAL EXECUTION OF THE BIG 3 LIFTS
- CUTTING EDGE TRAINING | BRANDING YOURSELF IN THE FITNESS INDUSTRY
- NUTRITION & SUPPLEMENTATION STRATEGIES
---
With Special GUEST:
'The Boss' MONA MURESAN
IFBB Figure Pro Mona Muresan, Successful Business Women and Fitness Celebrity.
---
HOSTED BY:
'The Motivator' MATHEW PARK
Business Performance Coach for GYM Owners and Personal Trainers.
Host of the Peak Mindset Show.
Motivational Fitness Speaker. Founder of INBF Canada
Co-founder of the RE7 Drink. Pro Natural Bodybuilder.
YOU WILL LEARN FROM MATHEW PARK:
- MENTAL STRATEGIES TO TAKE YOUR GAME TO THE NEXT LEVEL!
- POWERFUL GOAL SETTING STRATEGIES
- HOW TO BREAK THROUGH BARRIERS HOLDING YOU BACK
---
COMING TO MONTREAL !!


EACH ATTENDEE WILL RECEIVE A $75.00 GIFT BAG FROM POPEYES SUPPLEMENTS
ADD THE FACEBOOK EVENT FOR THE REMINDER === https://www.facebook.com/events/684450468425338/687443144792737 ===
Sponsored by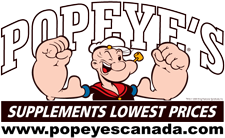 *** POWERLIFTING ***
*** BODYBUILDING ***
*** STRENGTH ***