Support for Living Well - Series for Persons with Dementia & Care Partners
Description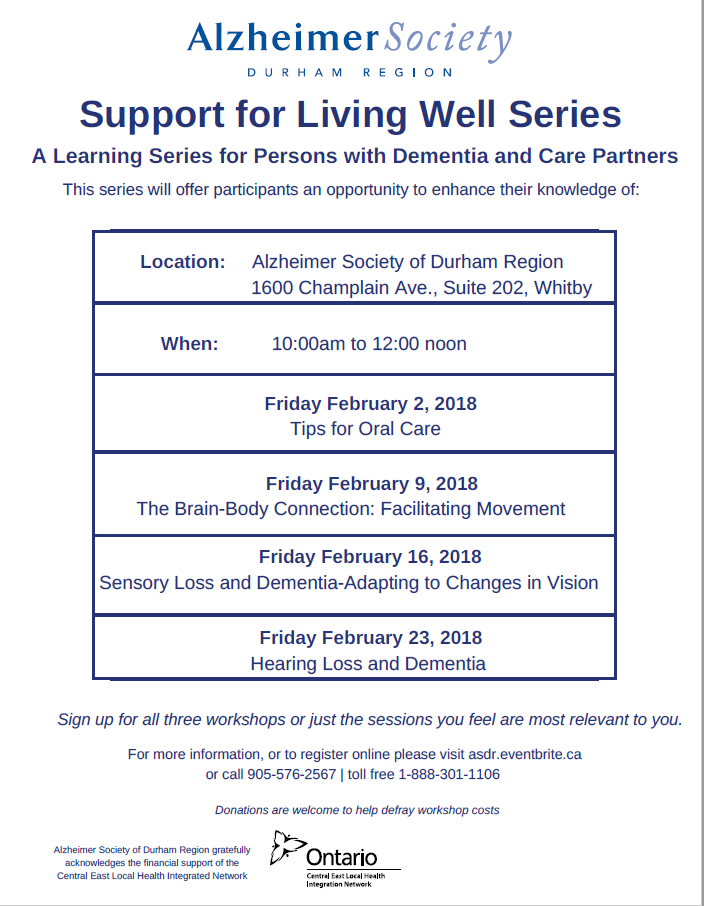 • Friday, February 2, 2018: Tips for Oral Care **POSTPONED to Friday March 16**
Presenter: Maureen Embleton is a Certified Dental Assistant with the Durham Region Oral
Health Division.
Good Oral Health is important for overall health and well-being. Her presentation focuses on giving people living with dementia and caregivers helpful tips for daily oral health care. Also, learn how to prevent poor oral health and deal with dental issues that you may be facing.

•Friday, February 9, 2018: The Brain-Body Connection: Facilitating Movement
Presenter: Logika Rasalingam and Shannon Waller, Occupational Therapists- Primary Care Collaborative Memory Services
This session will address some of the physical effects of dementia and how changes in the
brain can impact movement. It will provide practical strategies for facilitating movement,
including safe transfers, highlight the benefits of physical activity, and incorporate falls
prevention.
• Friday, February 16, 2018: Sensory Challenges and Dementia-Adapting to Changes in Vision
Presenter: CNIB Ambassador and Alzheimer Society Staff
Join us to hear how a local CNIB Ambassador is coping with vision loss. She will share tips and strategies, support and resources available in our community. Alzheimer Society staff will follow with a presentation about overall sensory challenges that many people who live with dementia face and identify a range of strategies that can help.

• Friday, February 23, 2018: Hearing Loss and Dementia
Presenter: Anna McIntosh, Canadian Hearing Society
Identifying Hearing Loss
The Relationship between Hearing Loss and Dementia
Importance of early intervention
Options for addressing hearing loss when there is dementia involved
Communication tips and coping with Hearing Loss and Dementia
What are my parking options getting to the event?
Alzheimer Society of Durham Region (ASDR) is located at the northeast corner of Thickson and Champlain Ave. in Whitby (near Pita Deli and NeuroChangers Physiotherapy). There is plenty of parking around the perimeter, some designated spots for ASDR, most for general visitors to building. Please enter doorway to the right of Pita Deli and take elevator to the second floor.
Where can I contact the organizer with any questions?
Please contact Alzheimer Society of Durham Region at 905-576-2567 or toll free 1-888-301-1106 if you have any questions at all, or prefer to register by phone.