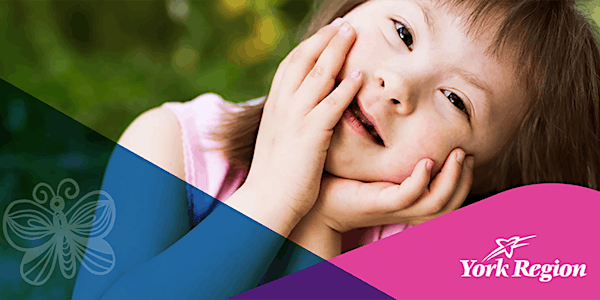 Supporting Children with Special Needs in an Early Learning Setting
Join us for this Free webinar for Early Learning and Child Care Professionals who work in York Region.
About this event
Supporting Children with Special Needs in an Early Learning Setting
This session will introduce you to Early Intervention Services.
We will share with you who we are, what we do and how we work collaboratively alongside your Early Learning team to support Inclusive practices.
Educators will learn about:
The core philosophies of Early Intervention Services
Services offered and program eligibility
How to make a referral to Early Intervention Services
Presenters will introduce the routines-based model of intervention and discuss ways to approach families who have concerns about their child's development.
You will leave with the confidence to make referrals and knowledge about the supports you may receive for children with special needs in your early learning setting.
About the Presenters:
Monica Dorgan has been with Early Intervention Services for 7 years; both as an Early Interventionist and an Intake worker. Three days after completing the Communicative Disorders Assistant program Monica began to work for the Toronto Preschool Speech and Language Services where she worked with community supports, coached parents and delivered speech therapy for 14 years. Monica's passion as advocate for children with special needs and their families propelled her desire to work for Early Intervention Services. Monica and her husband have 4 fabulous boys and 2 special American Labs, Lilly and Abby.
Katie Szabo is an Early Interventionist who just celebrated her 20th anniversary working for York Region. She is passionate about supporting children with exceptionalities and coaching parents in acquiring the skills and knowledge they need to best support their children. Katie is also a member of the neonatal follow up clinic at Southlake Regional hospital where she assesses infants who are at high risk for developmental delays. Katie along with her husband are proud parents of 3 wonderful humans. They have recently added a new member to their crew, Sawyer a French Bulldog who has won the hearts of the whole family!
For more information about this training and other professional development and training opportunities offered by York Region, please visit our Eventbrite Page or email capacitybuilding@york.ca.
York Region Children's Services