Supporting Creative Disruptions with Smart Policy. An Action Canada Public Dialogue. Please scroll down for more details...

Friday, 26 June 2015 from 8:30 AM to 11:30 AM (CDT)
Event Details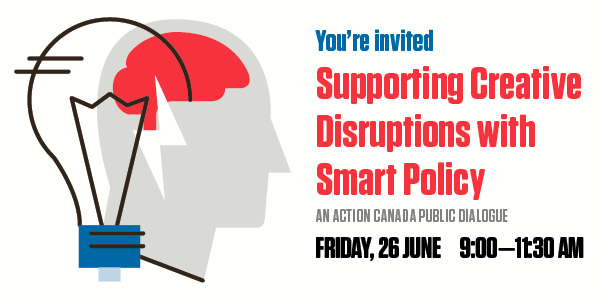 Canada has a proud history of invention. New ideas in science, technology, education, government, public and private enterprise have informed the last 150 years. Drawing on lessons from these past creative disruptions, what policies does Canada need to support future economic or societal innovations?
MODERATOR
 Natalie Chapdelaine, Program Officer, Innoweave, The J.W. McConnell Family Foundation
PANEL
 Allyson Hewitt, McConnell Senior Fellow, who rethinks and develops social innovation at MaRS Discovery District
 Mark Pauls, Energy Engineer, Manitoba Hydro, who designs and constructs facilities for tomorrow's changing climate
 Dr. Frank Plummer, Recipient of the Prix Galien, who brought Canada's National Microbiology Laboratory to new levels of international science excellence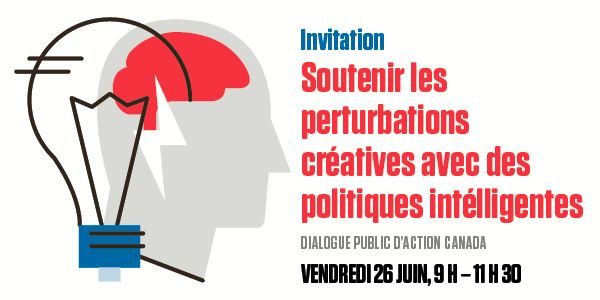 Le Canada peut être fier de son passé en matière d'invention. De nouvelles idées en sciences, technologie, éducation, gouvernance et entreprise publique et privée ont informé les 150 dernières années.  Si on tire des enseignements de ces bouleversements créatifs, de quelles politiques le Canada a-t-il besoin pour soutenir les futures innovations économiques ou sociétales?
ModÉratrICE
 Natalie Chapdelaine, Program Officer, Innoweave, Fondation de la Famille J.W. McConnell 
Tribune d'experts
 Allyson Hewitt, McConnell Senior Fellow, qui repense et développe l'innovation sociale au MaRS Discovery District
 Mark Pauls, Ingénieur en énergie, Manitoba Hydro, qui conçoit et construit les infrastructures pour le climat de demain
 Dr. Frank Plummer, récipiendaire du prix Galien, qui a porté le Laboratoire national de microbiologie a de nouveaux niveaux d'excellence scientifique internationale
Have questions about Supporting Creative Disruptions with Smart Policy. An Action Canada Public Dialogue. Please scroll down for more details...?
Contact Action Canada
When & Where

University of Winnipeg
Convocation Hall
515 Portage Avenue
Winnipeg, MB R3B 2E9
Canada

Friday, 26 June 2015 from 8:30 AM to 11:30 AM (CDT)
Add to my calendar
Organizer
Action Canada is Canada's premier leadership program. A non-partisan multi-sector fellowship, Action Canada is building a valuable network of leaders. Centered around regional conferences and teamwork projects, Fellows examine historical and current issues, hone leadership skills, and produce public policy reports. Upon completing the fellowship year, they join our network of outstanding leaders dedicated to Canada's future.