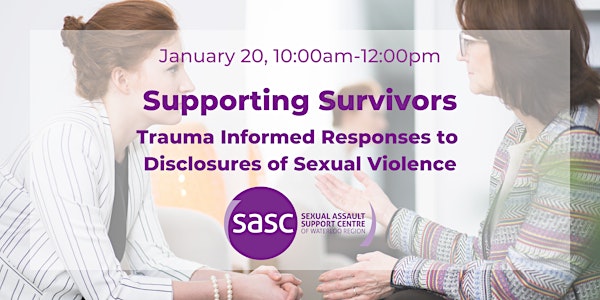 Supporting Survivors: Trauma Informed Response to Disclosure
Training to learn how to support someone who tells you that they have experienced sexual violence in a trauma informed way.
About this event
This is a virtual workshop. Once you have registered you will receive a confirmation email with the Zoom meeting link. If you have any questions please email Violence Prevention Educator, Sarah Wiley, at vpeducator@sascwr.org.
When someone tells you about an experience of sexual violence, it is important to respond in a supportive way. This training will teach you how to respond in a caring, supportive, and survivor-centric manner.
​In this workshop you will learn about sexual violence and the impact it has on survivors, an introduction to trauma-informed support, practical steps to responding to a disclosure of sexual violence, and when and how to report that disclosure if necessary. This training is great for anyone in a caring profession, social service workers, parents, students, or anyone else who wants to be a better supporter to survivors.