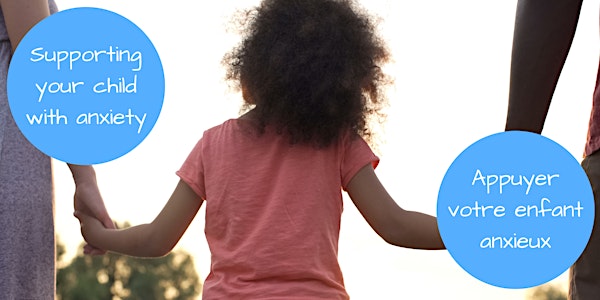 Supporting Your Child with Anxiety / Appuyer votre enfant anxieux
Are you recognizing anxiety in your young child and you don't know how to support them?
When and where
Location
Zoom Virtual Ottawa, ON K2L 4H7 Canada
About this event
Your child seems to be struggling with anxiety and you don't feel that you know how to support them with this. Join us as we discuss:
- What does anxiety look like in young children?
- What Thinking Trap have you fallen into, and is your child in that trap too?
- Building ways to cope with anxiety provoking situations.
- Ways to challenge negative unhelpful thinking.
- How to problem solve with young children.
- How parents/caregivers can help.
Please note this workshop is for adults, children do not attend.
In order to attend the workshop you will need to access Zoom (link and password in confirmation email) on an electronic device (tablet, laptop, computer, phone etc.) and a reliable internet connection.
____________________________________________________________________________
Votre enfant souffre d'anxiété mais vous ne savez pas comment l'aider? Joignez à nous pour discuter :
- Comment reconnaitre les symptômes d'anxiété chez les jeunes enfants
- Dans quel piège de la pensée êtes-vous tombé, et est-ce que votre enfant est là aussi ?
- Comment formuler des solutions pour se débrouiller dans les situations qui causent de l'anxiété
- Des manières pour transformer les pensées négatives
- Comment résoudre des problèmes avec des jeunes enfants
- Comment les adultes peuvent aider
Veuillez noter que cet atelier est pour les adultes, les enfants n'assistent pas.
Pour participer à cet atelier, vous aurez besoin d'accéder à Zoom (nous vous enverrons le lien et le mot de passe dans le courriel de confirmation) sur un dispositif électronique (tels qu'une tablette, un portable, un ordinateur, un téléphone cellulaire, etc.) et une connexion internet fiable.
*Cet atelier est offert en anglais seulement
FAQs
Where can I contact the organizer with any questions? Pour communiquer avec l'organisateur
earlyONyva@wocrc.ca
Can I update my registration information? / Est-ce que je pourai faire des changements à mes informations?
Yes / Oui
How do I join the online workshop? / Comment puis-je participer à l'atelier en ligne?
The link and password to join will be sent in the confirmation email. / Nous vous enverrons le lien et le mot de passe dans le courriel de confirmation.