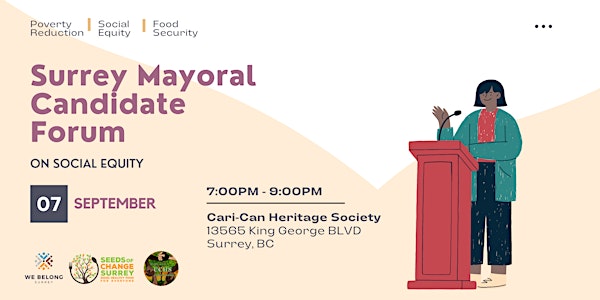 Surrey Mayoral Candidate Forum on Social Equity
Surrey Mayoral Candidate Forum on Social Equity
When and where
Location
13565 King George Blvd 13565 King George Boulevard Surrey, BC V3T 2V1 Canada
About this event
With the upcoming Surrey Municipal Election happening on October 15th, 2022, We Belong Surrey and Seeds of Change Surrey will be hosting a forum on Social Equity - we invite community members who are interested in these issues to join us! We are looking forward to positive change in our community.
As a collective of non-profit agencies and community-serving groups, we frequently see how community policies and programs can impact the lives of the people we serve. Surrey is one of the fastest growing communities within British Columbia, and has a significant amount of diversity in individual and community lived experiences. Our elected officials play a paramount role in enhancing community systems and facilitating policy change that has the capacity to positively influence our community health and wellness. This debate will center around issues pertaining to social equity and the social determinants of health and wellbeing. Topics will include:
- Poverty reduction
- Food security
- Community inclusion and services for people who are BIPOC, 2SLGBTQ+, newcomers, and people living with disabilities
- Surrey specific housing issues
On Wednesday September 7th, doors open at 6:30pm and forum will begin at 7:00pm - 9:00pm at the Cari-Can Heritage Society (13565 King George BLVD, Surrey BC)
This Forum in presented by Seeds of Change Surrey (SOCS) and We Belong Surrey (WBS):
Seeds of Change Surrey (SOCS) is a collective impact initiative that envisions an integrated and resilient local food system for everyone in Surrey. SOCS strives to foster a community that enables accessible, culturally acceptable, and affordable food for everyone. We believe food security is achieved when all residents obtain a safe, culturally acceptable, nutritious diet through a sustainable food system that maximizes healthy choices, community self-reliance, and equitable access for everyone.
We Belong Surrey is a non-partisan coalition of businesses, community organizations, and individuals who believe in a Surrey where all people are valued and belong. The coalition's foundation is the shared values of integrity, inclusion, compassion, and respect. We will ensure that these values are at the forefront of Surrey's leadership conversations.