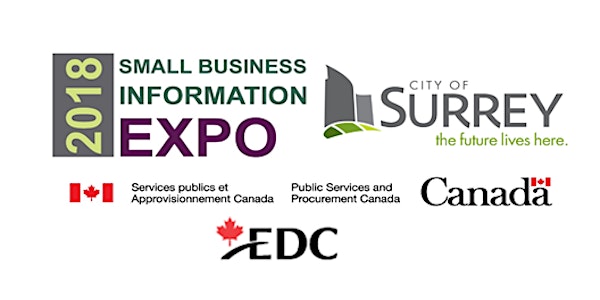 Surrey Small Business Information Expo (SBIE) 2018 - Build your Business
Event Information
Location
Surrey City Hall
13450 104 Avenue
Surrey, BC V3T 1V8
Canada
Description
On behalf of the Office of Small and Medium Enterprises (Public Services and Procurement Canada), the City of Surrey, and Export Development Canada (EDC) we would like to inform you about the 2018 Surrey SBIE lite - Build your Business
The 2018 Surrey SBIE - Build your Business (Surrey, Oct 2, 2018 from 9:30 am - 1:00 pm) at Surrey City Hall brings together subject matter experts from 25 government support programs and non-profit service providers that are here to help your business.
Along with a tradeshow the expo will host presentations on a number of interesting topics. Presentations will be held by subject matter experts from various industries.
SCHEDULE
9:30 am Trade Show Opens
10:00 am – 10:30am "Selling to Government" presented by:
- The Office of Small and Medium Enterprises
- City of Surrey Purchasing
11:00 am – 11:30 am "Access to Financing" presented by:
- Export Development Canada
- Royal Bank of Canada
- Futurpreneur
12:00 pm – 12:30 pm "Labor Market Possibilities" presented by:
- Neil Squire Society
- Employees Advisors Office
- Immigrant Employment Council of BC
1:00pm Trade Show Closes
This expo is free to attend!
Thank you!
Office of Small and Medium Enterprises
Pacific Region - Vancouver / Victoria
Toll free: 1-866-602-0403
Local : 604-619-9664
osme-bpme-pac@pwgsc-tpsgc.gc.ca
604-362-5344
Date and time
Location
Surrey City Hall
13450 104 Avenue
Surrey, BC V3T 1V8
Canada