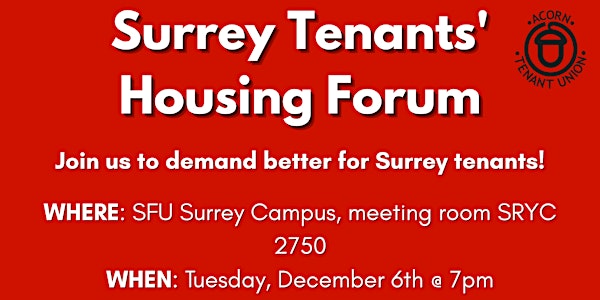 Surrey Tenants' Housing Forum
Join tenants and ACORN members for a free housing forum, by tenants, for tenants! Renters deserve to have their voices heard!
When and where
Location
Simon Fraser University - Surrey Campus 13450 102 Avenue #SRYC2750 Surrey, BC V3T 0A3 Canada
About this event
The City of Surrey is currently experiencing a major housing crisis -- skyrocketing rents, poorly maintained buildings, weak protections for tenants, the list goes on! ACORN is fighting to make it the LAW that the City stop demolishing apartment buildings with no plans for the tenants who live there, and STOP letting landlords ignore work orders and pest problems.
Developers and landlords have had their voices heard loud and clear for a LONG time in Surrey, and we think it's time for RENTERS to get together, be heard and fight back!
Join us for a FREE housing forum run BY and FOR tenants!
WHERE: SFU Surrey Campus, meeting room SRYC 2750.
WHEN: December 6th at 7pm.
It's right across the street from Surrey Central Skytrain station. After you exit the station, walk south down City Parkway, enter through the main doors of the SFU Surrey building, and take the escalator up to the second floor. You'll see signs and people in red ACORN t-shirts giving directions.