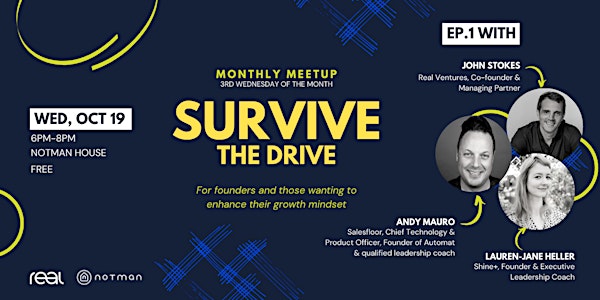 Survive the Drive
How can founders grow themselves faster than they grow their companies so that they don't become the limiting factor to their success.
When and where
Location
Notman House 51 Sherbrooke St O. Montreal, QC H2X 1X2 Canada
About this event
*Event in English*
Survive the Drive is a monthly meetup which will revolve around what founders can do in order to survive the challenges that often accompany the entrepreneurial drive.
Join John Stokes (Real Ventures, OSMO) and his guests every 3rd Wednesday of the month for a genuine and inspiring discussion on the challenges, and solutions to those challenges, that are faced by founders and those close to them as they build startups.
The goal is to get you to anticipate the emotional challenges that you will face so you are better prepared to navigate them and able to openly share your experiences with others.
When
Every third Wednesday of the month
First edition, Wednesday, October 19th, 6 to 8pm
For who?
Founders, coaches and others who have an interest in developing and enhancing their growth mindset
What?
The first episode is an "ice breaker" event in which people from different backgrounds will share their experiences as founders and/or VCs, the life challenges they faced, how they overcame them and answer questions on how these experiences and insights might help other founders.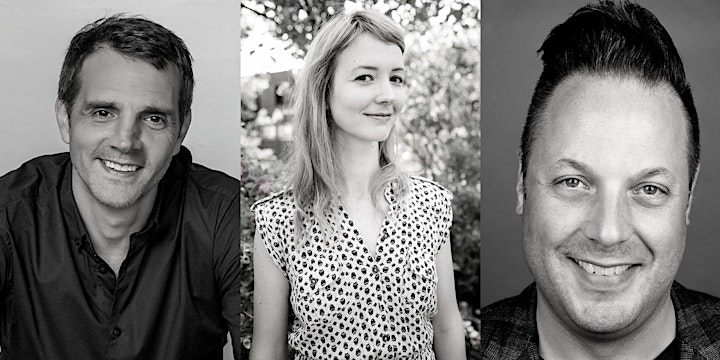 People who will be sharing their perspectives and insights on October 19th are:
John Stokes - Real Ventures, Co-founder & Managing Partner
Adopted by Montréal in 2007, John Stokes is the co-founder and co-Managing Partner of early-stage venture capital firm Real Ventures, a lead actor and major catalyzer of Canada's startup ecosystem. In 2018, L'actualité named him as one of the "100 most influential people in Quebec."
and he was also recognized by the Montreal Gazette as one of the "24 Quebecers we love" for his contributions to Montréal's entrepreneurship renaissance. In addition to co-founding Real Ventures, he is co-founder of the OSMO Foundation, the entrepreneurship-focused not-for-profit that acquired Notman House and St Margaret's Hospital and turned them into a vibrant startup campus. John knows first-hand that the path to success is uphill and it doesn't have many signposts, but that an inquiring mind, an ability to inspire, a strong compass and dogged determination can enable entrepreneurs to find success in places others didn't know existed.
Lauren-Jane Heller - Shine+, Founder & Executive Leadership Coach
Lauren Jane Heller has been involved in the Montreal startup community since 2015, including three years at Real Ventures where she led the firm's communications strategy with the founder community. Following her time at Real Ventures, and in the height of COVID, she founded and launched Shine+ Leadership, with the intent to help free ambitious leaders from the beliefs and behaviours that keep them small — and in order to help them realze outsized positive impacts on their organization, community and the world.
Andy Mauro - Salesfloor, Chief Technology & Product Officer, Founder of Automat & qualified leadership coach
Andy is the former founder and CEO of Automat (acquired by Salesfloor), and before that the global head of AI innovation at Nuance (acquired by Microsoft). He's been working on making computers talk for 21 years, but spent 2022 getting certified as a professional coach and thinks he might spend much of the next 21 years listening to and supporting founders instead.
Notman House
Notman House offers a vibrant and accessible environment that fosters collaboration and the transfer of knowledge and know-how between the various players in the Montreal startup community.
More than a technology campus, Notman is a third place, a strong anchor in its local community, which plays the role of a unique business hub, a unifying, prosperous and attractive living environment.
**
La Maison Notman offre un milieu vibrant et accessible à tous qui favorise la collaboration ainsi que le transfert des connaissances et du savoir-faire entre les différents acteurs de la communauté de startups de Montréal.
Plus qu'un campus technologique, Notman est un tiers lieu, un point d'ancrage fort dans sa collectivité locale, qui joue le rôle de pôle d'affaires unique, de milieu de vie rassembleur, prospère et attractif.
Real Ventures
Real Ventures is a pre-seed capital risk company which caters to entrepreneurs that dare to create thriving international companies. Real Ventures supports the entrepreneurs from day one and helps them grow their company and flourish at the same time.
**
Real Ventures est une société de capital risque de préamorçage qui s'adresse aux entrepreneurs qui osent créer des entreprises mondiales prospères. Real accompagne les entrepreneurs dès le premier jour et les aide à faire croître leur entreprise et à s'épanouir par la même occasion.