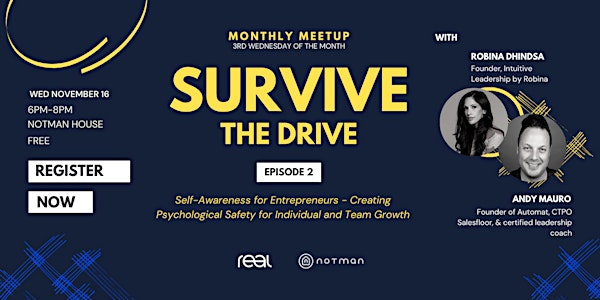 Survive the Drive
How can founders grow themselves faster than they grow their companies so that they don't become the limiting factor to their success.
When and where
Location
Notman House 51 Sherbrooke St O. Montreal, QC H2X 1X2 Canada
About this event
*Event in English*
EPISODE 2 : Self Awareness for Entrepreneurs - Creating Psychological Safety for Individual and Team Growth
Survive the Drive is a monthly meetup which will revolve around what founders can do in order to survive the challenges that often accompany the entrepreneurial drive.
Join us every 3rd Wednesday of the month for a genuine and inspiring discussion on the challenges, and solutions to those challenges, that are faced by founders and those close to them as they build startups.
The goal is to get you to anticipate the emotional challenges that you will face so you are better prepared to navigate them and able to openly share your experiences with others.
For who?
Founders, coaches and others who have an interest in developing and enhancing their growth mindset
People who will be sharing their perspectives and insights on November 16 are:
Andy Mauro Founder of Automat, CTPO Salesfloor, & certified leadership coach
Robina Dhindsa Founder, Intuitive Leadership by Robina
Notman House
Notman House offers a vibrant and accessible environment that fosters collaboration and the transfer of knowledge and know-how between the various players in the Montreal startup community.
More than a technology campus, Notman is a third place, a strong anchor in its local community, which plays the role of a unique business hub, a unifying, prosperous and attractive living environment.
**
La Maison Notman offre un milieu vibrant et accessible à tous qui favorise la collaboration ainsi que le transfert des connaissances et du savoir-faire entre les différents acteurs de la communauté de startups de Montréal.
Plus qu'un campus technologique, Notman est un tiers lieu, un point d'ancrage fort dans sa collectivité locale, qui joue le rôle de pôle d'affaires unique, de milieu de vie rassembleur, prospère et attractif.
Real Ventures
Real Ventures is a pre-seed capital risk company which caters to entrepreneurs that dare to create thriving international companies. Real Ventures supports the entrepreneurs from day one and helps them grow their company and flourish at the same time.
**
Real Ventures est une société de capital risque de préamorçage qui s'adresse aux entrepreneurs qui osent créer des entreprises mondiales prospères. Real accompagne les entrepreneurs dès le premier jour et les aide à faire croître leur entreprise et à s'épanouir par la même occasion.