Join us on June 16th to learn and discuss how our current sustainable revolution is making the next wave of innovation values-based.
About this event
Join our 45-minute roundtable with AMNIe's very own Irina Scarlete and Marko Tvrtkovic to learn about the current surge in sustainability and how the sustainability revolution is comparable to the digital revolution, due to it accelerating faster than companies anticipated, even in a year dominated by the global pandemic. Also, get the opportunity to discuss the growing and wide range of environmental and social issues that have created a sense of urgency for businesses to improve their sustainability credentials.
Zoom Link
https://us02web.zoom.us/j/85848475338?pwd=MVZFVVE5WWtyZmRmOUFLMTVmRlVCQT09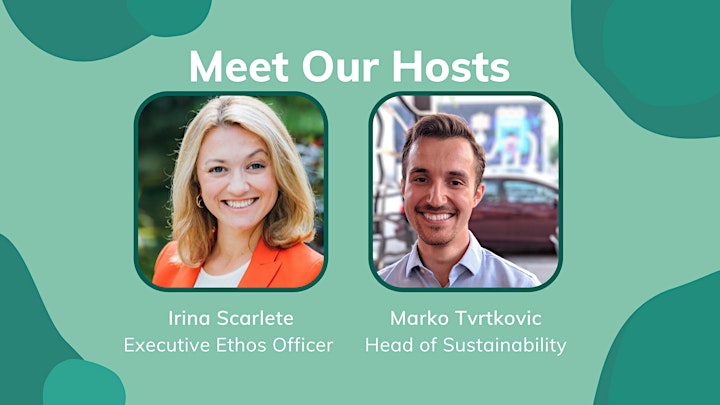 Irina Scarlete
Irina has spent nearly 13 years in management consulting, strategy, and operations. Irina showcased her experience while at Accenture by launching the Clean Innovation Community of Practice and helping launch two strategy practices, multiple service lines and co-leading the Vancouver Innovation Team. Now working as the CEO of AMNIe.org, she helps organizations establish sustainable end-to-end strategies and scale opportunities for impact across economic, environmental, and social outcomes. Passionate about climate, international development, and women's issues, Irina works extensively with entrepreneurs and intrapreneurs who focus on similar challenges and actions.
Marko Tvrtkovic
Marko has over 4 years of experience in management consulting, strategy, and operations. He specialized in sustainability consulting, supporting the creation of Development Partnerships in Canada, Social Innovation, and Clean Innovation Community of Practice while at Accenture. Marko has recently joined the AMNIe leadership team, as Head of Sustainable Operations: helping the end-to-end operations, strategy, and scaling opportunities for triple bottom line impact. He is focused on working across sectors to progress towards the SDGs through his passion for the environment and improving the lives of all citizens.