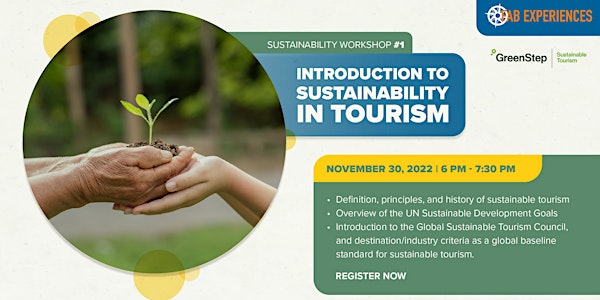 Sustainability Webinar #1 - Introduction to Sustainability in Tourism
Available to businesses in the Sustainable Tourism Program of Frontenac Arch Biosphere Greater Region.
About this event
ONLINE Webinar (1 of 4) Frontenac Arch Biosphere in partnership with GreenStep Solutions Inc.
Hello FAB Businesses! Welcome to the first Webinar in our series for the Sustainable Tourism Program! Those of you who participate in the 4 online Webinars in this series will be featured in the amazing Fabexperiences.ca travel guides! Let's learn more about sustainable practices in tourism as we place the FAB Region on the map as a leading Eco Destination in Canada!
In this initial workshop, we will break down the key aspects of sustainability in tourism to help create a common language and understanding before we dive into the rest.
We'll look at:
● Definition, principles, and history of sustainable tourism
● Overview of the UN Sustainable Development Goals
● Introduction to the Global Sustainable Tourism Council, and destination/industry
criteria as a global baseline standard for sustainable tourism
● The business case for sustainable tourism and the demand from both travellers and
employees