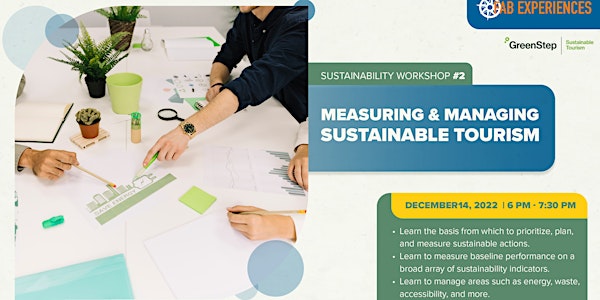 Sustainability Webinar #2 - Measuring and Managing Sustainable Tourism
Available to businesses in the Sustainable Tourism Program of Frontenac Arch Biosphere Greater Region.
About this event
This is the 2nd Webinar in a series of 4 by Frontenac Arch Biosphere in partnership with GreenStep Solutions Inc.
Measuring & Managing Sustainable Tourism:
What gets measured gets managed. This is the most important step on an organization's
sustainability journey, providing the basis from which to prioritize, plan, and measure
future actions. The measure step includes the following:
1. How to use the free Sustainable Tourism Score assessment (one for businesses and
one for destinations) to measure baseline performance on a broad array of
sustainability indicators in a way that is aligned with the Global Sustainable Tourism
Council criteria and SDGs, to provide a snapshot of sustainability performance, with
the potential to lead to certification
2. Other common ways of measuring baseline performance in areas such as energy,
waste, accessibility, and more.