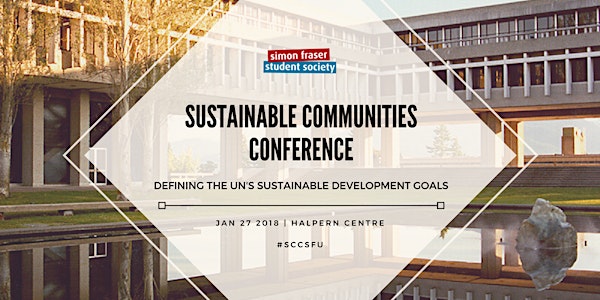 Sustainable Communities Conference
Location
Halpern Centre
Simon Fraser University
8888 University Drive
Burnaby, BC V5A 1S6
Canada
Description
Join the Sustainable Communities Conference to learn how to define and contextualize sustainable development and how to incorporate the Sustainable Development Goals (SDGs) into local projects to collectively create global impact.
WHERE: SFU Halpern Centre
WHEN:
January 27th, 2018
9:00am
Are you interested in peace and justice, climate action, eradicating poverty, clean energy, reducing inequalities, responsible consumption, or working for the United Nations? Do you want to get involved and become better informed to help make change both locally and internationally?
WE ARE EXCITED TO ANNOUNCE THE FIRST SUSTAINABLE COMMUNITIES CONFERENCE.
The Sustainable Communities Conference seeks to inspire and educate students about the UN Sustainable Development Goals. Meet and engage in dialogue with influencers and changemakers from the United Nations, the business world, and civil society who have implemented the SDGs in their practices and learn how you can use the SDGs to take action in your own life, your community, and in the world.
The term "sustainable development" represents an ideal in which growth, equity and the environment all play a part in creating a world in which everybody can thrive. The Sustainable Development Goals help articulate this ideal, while providing also a framework for how the different parts of society are interconnected and must work together.