Sustainable Development Goals Training - Thompson Rivers University

Thursday, 23 November 2017 from 5:30 PM to 9:15 PM (PST)
Event Details
UNITED NATIONS'
SUSTAINABLE DEVELOPMENT GOALS TRAINING
UNITED NATIONS COMES TO
THOMPSON RIVERS UNIVERSITY
Complete this training session to receive a Certificate of Training for Advocacy and Implementation of the United Nations' Sustainable Development Goals. Enjoy coffee & dessert while networking. Meet United Nations representative, Mary Kate Costello (The Hunger Project, specialist in Community Led Deveopment & a Senior Policy Analyst). Meet Steve Lee, a Top 30 Under 30 in Sustainability (Corporate Knights) & personally trained by Al Gore.
Attendees who are under thirty years old can enter to WIN a UN Experience of a lifetime including training, travel, accommodations, and a UN badge as an NGO delegate to the United Nations Headquarters in March 2018. We are grateful to our sponsors and partners who have heavily subsidized the ticket to make the Sustainable Development Goals (SDGs) more accessible for all. 
The Foundation for Environmental Stewardship (FES) has Consultative Status from the United Nations' Economic and Social Council. In partnership with United Nations entities, FES has curated high-level educational content on the 17 Sustainable Development Goals in order to provide this certification opportunity.
The 17 Goals include: No Poverty, Zero Hunger, Good Health & Well-Being, Quality Education, Clean Water & Sanitation, Affordable and Clean Energy, Decent Work and Economic Growth, Industry, Innovation and Infrastructure, Reduced Inequalities, Sustainable Cities and Communities, Responsible Consumption and Production, Climate Action, Life Below Water, Life On Land, Peace, Justice and Strong Institutions, Partnerships for the Goals. 
Who should attend?
This is an intergenerational event that welcomes people of all ages. Our specialization is youth engagement, so the majority of attendees are often students under thirty years old. That being said, Private Sector & NGOs/Not-For-Profit organizations benefit from the opportunity to learn about the Sustainable Development Goals, network with like-minded organizations, students and administrators (wither you are hiring or looking to learn about young people's perspectives), learn about the practical tools that young people are using to implement the SDGs locally. Our implmentation session is more specific to university and educational type communities, however, private sector can still learn and translate some concepts into their own organizations. The UN Speaker will talk about the SDGs and their work! You will develop a deeper understanding of the Sustainable Development Goals and be connected with organizations through which you can be the SDG Advocates.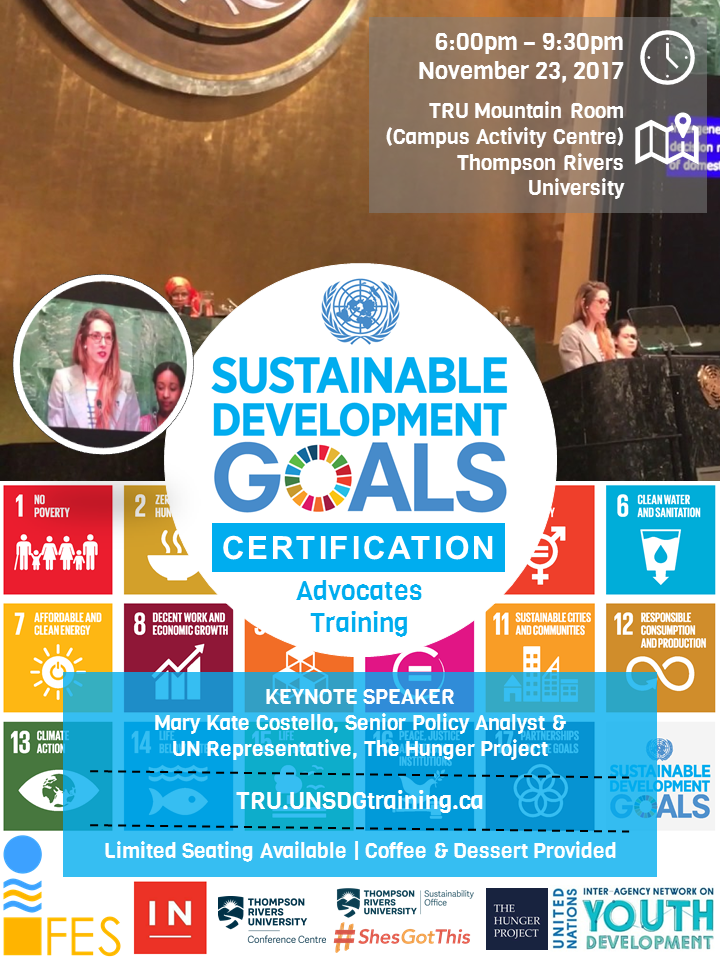 Who is the Foundation for Environmental Stewardship?
Foundation for Environmental Stewardship (FES) is a youth-led, youth-serving sustainable development organization. FES is a not-for-profit corporation whose registered charity number is 801430307 RR0001. FES is an accredited organization by the United Nations and has a special consultative status with the Economic and Social Council (ECOSOC) of the United Nations.
Our mission is to create a more inclusive, equitable, and sustainable future by empowering youth. We envision every young person who will grow to make their personal and professional choices to reflect the human impact on the environment for a sustainable future. 
Partnered with 23 United Nations entities, the SDGs Youth Training Canada mobilizes 10,000 Canadian youth to advocate and implement the SDGs through 100 local actions and 50 trainings in colleges and universities across Canada in 2017. 
Organizing Partner
TRUSU Lean In - Leadership for Gender Equality Club:
In their second year of existence, @trusuLeanIn is being noted on campus, in the community and internationally! We have hosted the 2017 TRU International Women's Day Empower Conference, sponsored the catering of the Kamloops Innovation Center's Women In Tech event (Sept 2017), hosted the first #ShesGotThis event in Canada (bringing it all the way from Norway this October 2017), and now they are excited to be hosting the Foundation for Environmental Stewardship (whom has Consultative Status with the United Nations Economic and Social Council) this November. 
As our club mandate includes providing self-development support, we are pleased to inform you of your opportunity to participate in order to obtain a certificate of training for advocacy and implementation of the United Nations' Sustainable Development Goals from the Foundation for Environmental Stewardship. You can expect to network with members of Thompson Rivers University, SD73 and region, and Kamloopsians of all ages. 
We are graciously accepting donations to the TRUSU Lean In - Leadership for Gender Equality Club. Your donations wil go towards helping to recruit new members/run the club, facilitate educational networking events where we tackle the unconscious gender bias (inviting all community members), and also go towards our long-term goal of raising $5,000 to implement our Empower Project in the community. This project will empower local underprivledged female youth and TRU students in financial need with self-reliant income, work experience and physcial activity by removing the financial barriers of becoming a referee in sport. Thanks to the support of the "Women of TRU" at the Empower Conference, we are so much closer to reaching our goal! As we think our progress is exciting, we will be releasing a financial report from last year leading up to this event too!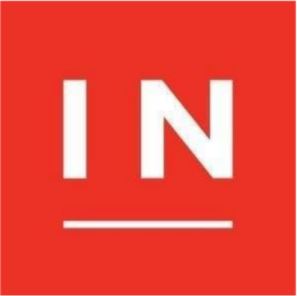 TRUSU Lean In - Leadership for Gender Equality Club also wishes to thank and acknowledge the financial support of the Thompson Rivers University Students' Union through the approval of a TRUSU Educational Event Hosting Grant. 
Schedule
5:30-6:00pm  Registration, Coffee, Desserts, Networking, #ShesGotThis Prompts

6:00-6:47pm  Welcome remarks & Session 1: SDGs Example

6:47-7:42pm  Session 2: United Nations Speaker + Q&A

7:32-8:32pm  Session 3: Skill Development

8:32-9:00pm  Session 4: Solution Design Session

9:00-9:15pm  Interactive Evaluation & Speed Networking Games & Photo Op

Use #CANYouth4SDGs to share your experience!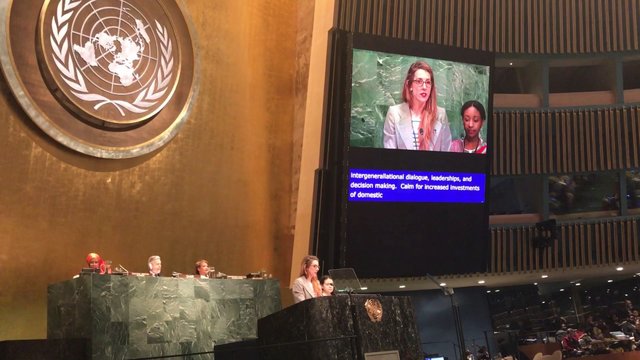 MARY KATE COSTELLO
Senior Policy Analyst & UN Representative, The Hunger Project.  
Mary Kate joined The Hunger Project family after working for the Alliance for International Youth Development – in partnership with InterAction – and as the Executive Program Director for Youth Futures International, Ghana. Her area of expertise includes WASH (water, sanitation, and hygiene), nutrition, youth development and women's empowerment, with a special focus on Sub-Saharan Africa. Mary Kate is responsible for The Hunger Project's global advocacy around local level, gender-focused strategies, as well as co-leading The Hunger Project's youth engagement strategy in determining best practices for integrating youth leadership in programming. As one of The Hunger Project's United Nations Representatives, Mary Kate is appointed to the United Nation's Inter-agency Network on Youth Development's Youth and Gender Equality Working Group and the co-chair of this working group's Task Force on Women's Economic Empowerment and Entrepreneurship.
Mary Kate holds a BA in Political Science and minors in Eastern European Studies, and Faith, Peace and Justice from Boston College in Massachusetts. She also studied Third World politics and ethics in government at the University of Cape Town in South Africa. Mary Kate is currently a candidate for a Masters in International Relations in the School of International Studies at American University.
The Hunger Project (main): @HungerProject
Movement for Community-led Development: @communityleddev
UN IANYD Youth & Gender Equality WG: @UNWomen4Youth
STEVE S.J. LEE
Youth are the key to implementing SDGs
How are youth implementing SDGs around the world? How can YOU do it too?
Steve Lee is a 24-year-old climate change activist, a policy advocate to the United Nations, and a global speaker. He is the Executive Director of Foundation for Environmental Stewardship (FES) whose 3% Project mobilizes 1,000,000 Canadian youth - that's 3% of Canada - through 5 national tours across 600 schools. It provides youth-friendly and holistic education on climate change and empowers them to take action on solving climate change in their local communities today.
A prolific global speaker, Steve has represented the Canadian youth on the issues of Climate Change, Sustainable Development, and Youth Empowerment at over a dozen international forums including G8 Summit, NATO, Facebook, UNEP, UNESCO, UNICEF, and World Bank.
Steve is a voice to the voiceless youth globally in policymaking as a member of World We Want 2030 Policy Strategy Group, UN Major Group Children and Youth, UNEP Tunza, UN Inter-Agency Network on Youth Development, Youth Commission on the Status of Women Taskforce, and more. He has moderated and drafted policy outcome documents, lobbied diplomats and businesses, and observed negotiations with many UN officials, heads of state, and industry leaders.
Steve is personally trained by Al Gore as a Climate Reality Leader, featured on news channels, blogs, and newspapers, and a University of Toronto graduate of Physiology and Human Biology.
An entrepreneur, Steve was the Partner of RevIT² Solutions, a market research consulting firm for private investment firms, and the CEO of Steve's Guidebook, a publishing company for university-level calculus and biology study guides.
Steve has lived in 4 countries, travelled to over two dozen nations, reads voraciously, plays the clarinet, volunteers at a mental health rehab centre, serves on the Board of HealthOutLoud, and is a follower of Jesus.
Use #CANYouth4SDGs to share your experience!
Updated on 17h59 9 October, 2017.
When & Where

Thompson Rivers University
805 TRU Way
Kamloops, BC V2C 0C8
Canada

Thursday, 23 November 2017 from 5:30 PM to 9:15 PM (PST)
Add to my calendar