Sustainable Development Goals Training- University of Prince Edward Island

Wednesday, 15 November 2017 from 6:00 PM to 9:00 PM (AST)
Event Details
UNITED NATIONS'
SUSTAINABLE DEVELOPMENT GOALS TRAINING
UNITED NATIONS COMES TO
THE UNIVERSITY OF PRINCE EDWARD ISLAND
In celebration of #Canada150, the SDGs Youth Training Canada mobilizes 10,000 Canadian youth to advocate and implement the SDGs through 100 local actions and 50 trainings in colleges and universities across Canada in 2017.
Interact with UN officials, policymakers, and civil society activists who identified, created, and are implementing the Sustainable Development Goals around the world.
You will receive a certificate for the training from the Foundation for Environmental Stewardship. 
Develop a deeper understanding of the Sustainable Development Goals and be connected with organizations through which you can be the SDG Advocates.
The UPEI International Studies Society is proud to announce that this training event will be open to all community members of all ages. We realize the amazing work that islanders are doing in our own community and in those abroad, and with this in mind, we eagerly invite all those who are passionate about sustainable development to participate in this event!
Who are we and why are we doing this?
Foundation for Environmental Stewardship Foundation for Environmental Stewardship (FES) is a youth-led, youth-serving sustainable development organization. FES is a not-for-profit corporation whose registered charity number is 801430307 RR0001. FES is an accredited organization by the United Nations and has a special consultative status with the Economic and Social Council (ECOSOC) of the United Nations.
Our mission is to create a more inclusive, equitable, and sustainable future by empowering youth. We envision every young person who will grow to make their personal and professional choices to reflect the human impact on the environment for a sustainable future. 
Partnered with 23 United Nations entities, the SDGs Youth Training Canada mobilizes 10,000 Canadian youth to advocate and implement the SDGs through 100 local actions and 50 trainings in colleges and universities across Canada in 2017.
EVENT SCHEDULE
*PLEASE NOTE THAT THE EVENT WILL BE HAPPENING FROM 6 - 9 PM, AND NOT FROM 4 - 7 PM*
5:00 pm - 5:45 pm: Registration

6:00 pm - 6:10 pm: Opening

6:10 pm - 6:47 pm: Session 1: SDGs Example

6:47 pm - 7:32 pm: Session 2: UN Speaker and Q&A

7:32 pm - 8:32 pm: Session 3: Skills Development

8:32 pm - 9:00 pm: Session 4: Solution Design Session & Closing Remarks
Use #CANYouth4SDGs to share your experience!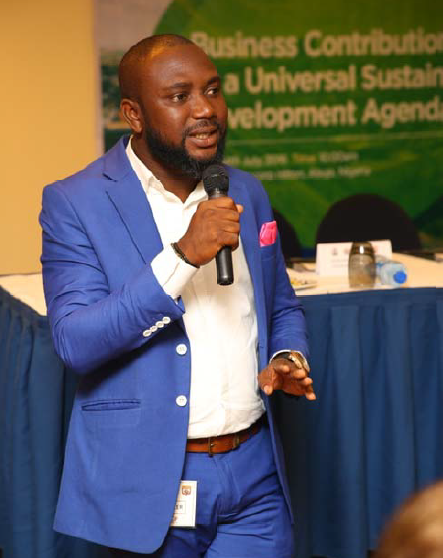 BABATOMIWA ADESIDA
UN for the most marginalized
How does UN serve the most marginalized: youth, women, children, and more? 
Babatomiwa is the Private Sector and Philanthropy Engagement Consultant for the Sustainable Development Goals Fund (SDG Fund), a United Nations mechanism; based in New York; that brings together UN agencies, national governments, academia, civil society and business to achieve SDGs. His role entails engaging the Private Sector to establish sustainable partnerships with the UN through the SDG Fund in numerous countries around the world.
He has over 15 years of Private Sector experience and has been involved in development, implementation and monitoring of projects and policies through the private sector in partnership with numerous governments in different countries some of which include Nigeria, Ghana, Cote d'Ivoire, Tanzania, Zambia, Switzerland, Singapore and U.A.E. His most recent Private sector role was with Sahara Group where he served as the Corporate Social Responsibility (CSR) Manager for Sahara Foundation; a subsidiary of Sahara Group Limited. 
Babatomiwa received a B.Sc with honours in Sociology from the University of Ibadan in Nigeria and MSc. in Public Policy from the University Of Bristol, U.K where he won a partial scholarship for international students. He is extremely passionate about Social Reconstruction particularly in developing nations and plays an integral role in promoting the welfare of the underprivileged in the society through partnerships with various organizations and like-minded individuals. He has been nominated for and also received several CSR awards some of which include the Future Awards Nigeria, the Nigeria CSR awards and the 100 most impactful CSR leaders (Global listing) in India.
As a motivational speaker and a firm believer in Africa's inherent greatness, he has travelled vastly delivering numerous papers to the continents' youth.
Babatomiwa is married with two children. He is an avid Manchester United fan and also enjoys swimming, table tennis and travelling.
STEVE S.J. LEE
Youth are the key to implementing SDGs
How are youth implementing SDGs around the world? How can YOU do it too?
Steve Lee is a 24-year-old climate change activist, a policy advocate to the United Nations, and a global speaker. He is the Executive Director of Foundation for Environmental Stewardship (FES) whose 3% Project mobilizes 1,000,000 Canadian youth - that's 3% of Canada - through 5 national tours across 600 schools. It provides youth-friendly and holistic education on climate change and empowers them to take action on solving climate change in their local communities today.
A prolific global speaker, Steve has represented the Canadian youth on the issues of Climate Change, Sustainable Development, and Youth Empowerment at over a dozen international forums including G8 Summit, NATO, Facebook, UNEP, UNESCO, UNICEF, and World Bank.
Steve is a voice to the voiceless youth globally in policymaking as a member of World We Want 2030 Policy Strategy Group, UN Major Group Children and Youth, UNEP Tunza, UN Inter-Agency Network on Youth Development, Youth Commission on the Status of Women Taskforce, and more. He has moderated and drafted policy outcome documents, lobbied diplomats and businesses, and observed negotiations with many UN officials, heads of state, and industry leaders.
Steve is personally trained by Al Gore as a Climate Reality Leader, featured on news channels, blogs, and newspapers, and a University of Toronto graduate of Physiology and Human Biology.
An entrepreneur, Steve was the Partner of RevIT² Solutions, a market research consulting firm for private investment firms, and the CEO of Steve's Guidebook, a publishing company for university-level calculus and biology study guides.
Steve has lived in 4 countries, travelled to over two dozen nations, reads voraciously, plays the clarinet, volunteers at a mental health rehab centre, serves on the Board of HealthOutLoud, and is a follower of Jesus.
Use #CANYouth4SDGs to share your experience!
Updated October 15, 2017.
When & Where

University of Prince Edward Island
550 University Avenue
MacMillan Hall, W.A. Murphy Student Centre
Charlottetown, PE C1A 4P3
Canada

Wednesday, 15 November 2017 from 6:00 PM to 9:00 PM (AST)
Add to my calendar
Organizer
The UPEI International Studies Society (ISS) is a student group at the University of Prince Edward Island dedicated to students interested in international affairs. The ISS has two projects on-campus, the first being the Model United Nations club of PEI, and the second being the Unity Project, an international development project which has partnered with the Unity women's village in Samburu, Kenya towards the objective of implementing literacy programs in the village.