Sustainable Development Goals Youth Training- Brock University

Saturday, 11 November 2017 from 10:30 AM to 5:30 PM (EST)
Event Details
UNITED NATIONS'
SUSTAINABLE DEVELOPMENT GOALS TRAINING
UNITED NATIONS COMES TO
BROCK UNIVERSITY
In celebration of #Canada150, the SDGs Youth Training Canada mobilizes 10,000 Canadian youth to advocate and implement the SDGs through 100 local actions and 50 trainings in colleges and universities across Canada in 2017.
Interact with UN officials, policymakers, and civil society activists who identified, created, and are implementing the Sustainable Development Goals around the world.
You will receive a certificate for the training from the Foundation for Environmental Stewardship. 
Develop a deeper understanding of the Sustainable Development Goals and be connected with organizations through which you can be the SDG Advocates.
Who are we and why are we doing this?
Foundation for Environmental Stewardship Foundation for Environmental Stewardship (FES) is a youth-led, youth-serving sustainable development organization. FES is a not-for-profit corporation whose registered charity number is 801430307 RR0001. FES is an accredited organization by the United Nations and has a special consultative status with the Economic and Social Council (ECOSOC) of the United Nations.
Our mission is to create a more inclusive, equitable, and sustainable future by empowering youth. We envision every young person who will grow to make their personal and professional choices to reflect the human impact on the environment for a sustainable future. 
Partnered with 23 United Nations entities, the SDGs Youth Training Canada mobilizes 10,000 Canadian youth to advocate and implement the SDGs through 100 local actions and 50 trainings in colleges and universities across Canada in 2017.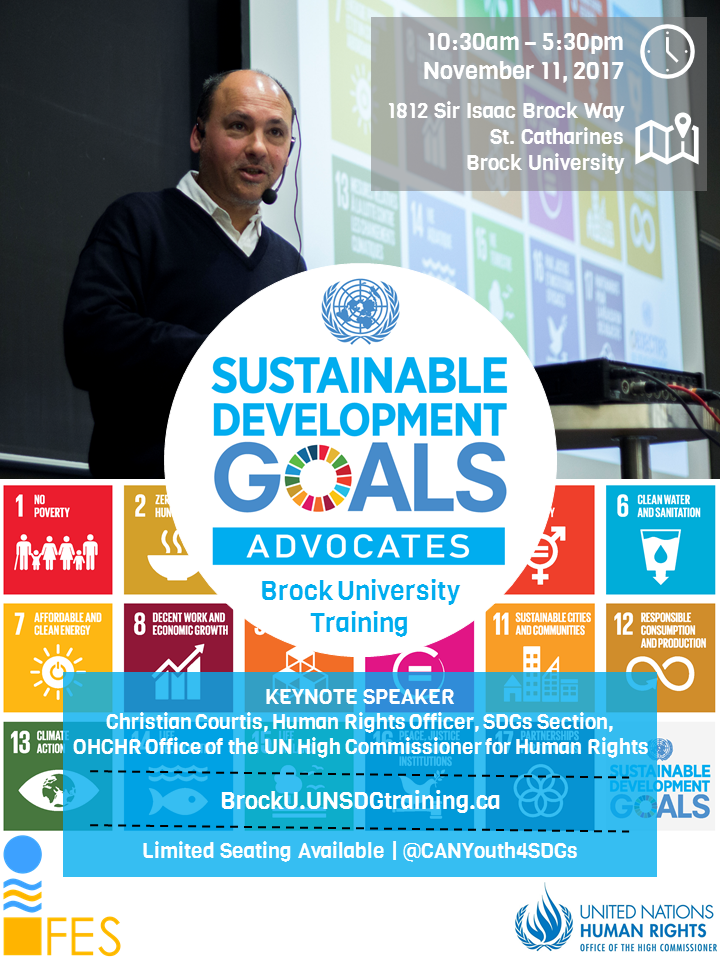 Organizing Partners
TBD


Schedule
09h30 – 10h30: Registration/Sign in and Coffee and Networking

10h30 – 11h20: Welcome remarks and Session 1: SDGs Examples

11h20 – 12h00: Session 2: UN Speaker and Q&A

12h00 – 13h00: Lunch, NGO Exhibit, and Networking

13h00

 – 14h30: 

Session 3: Skills Development

14h30 – 15h15: Session 4: Solution Design Session

15h30 – 16h45: Panel Discussion

 

Ana Sanchez, Brock University, Chair, Department of Health Sciences (Moderator)

Liette Vasseur, Brock University Biology Professor and UNESCO Chair in Community Sustainability

Irene Podolack, Action Africa Help International

James Reid, Director & Producer, Lillian Lincoln Foundation

Kathryn Baker-Reed, Skills for Change (SfC) of Metro Toronto

Ben Brisbois, Healthier Cities and Communities Hub, Dalla Lana School of Public Health, University of Toronto
16h45 – 17h00: Closing remarks/Sign out and Networking


17h30 - 19h00: Canadian Debut film screening of "Minutes to Die" Snakebite: The World's Ignored Health Crisis
 Following the event: 
Join us for the Canadian debut screening of Minutes to Die, Snakebite: The World's Ignored Health Crisis on Saturday Nov 11 from 5:30 – 7:00 p.m in DHOWES at Brock University.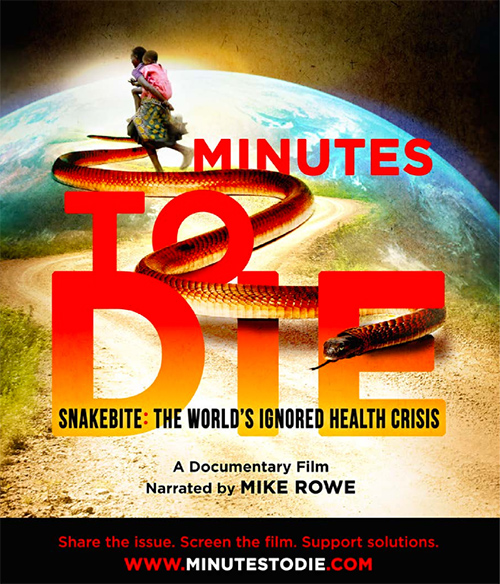 This event is FREE- donations are kindly accepted
Pizza will be provided
RSVP to the event at: https://www.facebook.com/events/127445004562806/ 

This documentary film takes viewers to the homes and hospital beds of snakebite victims, to labs where scientists are developing new, improved and cost-effective treatments, to a pivotal meeting of public health officials at the World Health Organization.

Unpacking the limitations of rural medical infrastructure, the economic challenges of anti-venom, and the financial devastation to the families of snakebite victims—who are mostly agricultural workers and children—the film makes clear that this health issue is also very much an issue of poverty, inequity, and social justice.

Watch the trailer 
https://www.youtube.com/watch?v=PfkwKEIdhUo

Following the film will be a special Q&A session with James Reid, Film Director & Producer, Lillian Lincoln Foundation and Brock University researchers.
Use #CANYouth4SDGs to share your experience!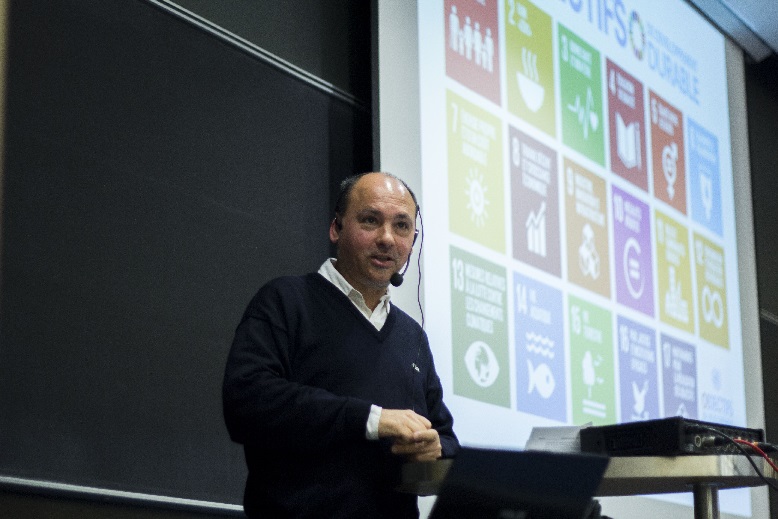 CHRISTIAN COURTIS
UN for the most marginalized
How does UN serve the most marginalized: youth, women, children, and more?
Christian Courtis is a Human Rights Officer with the Office of the UN High Commissioner for Human Rights, where he coordinates the working team on economic, social and cultural rights. He is a law professor at the University of Buenos Aires Law School and invited professor at ITAM Law School (Mexico). He has been visiting professor and researcher at different universities in Europe, Latin America and the United States. He has served as a consultant for the World/Panamerican Health Organization, UNESCO, the UN Department for Economic and Social Affairs (DESA), the Economic and Social Commission for Latin America and the Caribbean (ECLAC) and the Inter-American Institute for Human Rights. He was previously the director of the Economic, Social and Cultural Rights Project of the International Commission of Jurists (Geneva).
STEVE S.J. LEE
Youth are the key to implementing SDGs
How are youth implementing SDGs around the world? How can YOU do it too?
Steve Lee is a 24-year-old climate change activist, a policy advocate to the United Nations, and a global speaker. He is the Executive Director of Foundation for Environmental Stewardship (FES) whose 3% Project mobilizes 1,000,000 Canadian youth - that's 3% of Canada - through 5 national tours across 600 schools. It provides youth-friendly and holistic education on climate change and empowers them to take action on solving climate change in their local communities today.
A prolific global speaker, Steve has represented the Canadian youth on the issues of Climate Change, Sustainable Development, and Youth Empowerment at over a dozen international forums including G8 Summit, NATO, Facebook, UNEP, UNESCO, UNICEF, and World Bank.
Steve is a voice to the voiceless youth globally in policymaking as a member of World We Want 2030 Policy Strategy Group, UN Major Group Children and Youth, UNEP Tunza, UN Inter-Agency Network on Youth Development, Youth Commission on the Status of Women Taskforce, and more. He has moderated and drafted policy outcome documents, lobbied diplomats and businesses, and observed negotiations with many UN officials, heads of state, and industry leaders.
Steve is personally trained by Al Gore as a Climate Reality Leader, featured on news channels, blogs, and newspapers, and a University of Toronto graduate of Physiology and Human Biology.
An entrepreneur, Steve was the Partner of RevIT² Solutions, a market research consulting firm for private investment firms, and the CEO of Steve's Guidebook, a publishing company for university-level calculus and biology study guides.
Steve has lived in 4 countries, travelled to over two dozen nations, reads voraciously, plays the clarinet, volunteers at a mental health rehab centre, serves on the Board of HealthOutLoud, and is a follower of Jesus.
Use #CANYouth4SDGs to share your experience!
Updated on 17h59 8 September, 2017.
When & Where

Brock University
1812 Sir Isaac Brock Way
St. Catharines, Ontario L2S 3A1
Canada

Saturday, 11 November 2017 from 10:30 AM to 5:30 PM (EST)
Add to my calendar