Sustainable Development Goals Youth Training- St. Thomas University & University of New Brunswick

Saturday, 21 October 2017 from 9:00 AM to 5:00 PM (ADT)
Event Details
UNITED NATIONS'
SUSTAINABLE DEVELOPMENT GOALS TRAINING
Registration Closes Friday, October 13th at 12:00pm

UNITED NATIONS COMES TO
ST. THOMAS UNIVERSITY AND

THE UNIVERSITY OF NEW BRUNSWICK
In celebration of #Canada150, the SDGs Youth Training Canada mobilizes 10,000 Canadian youth to advocate and implement the SDGs through 100 local actions and 50 trainings in colleges and universities across Canada in 2017.
Interact with UN officials, policymakers, and civil society activists who identified, created, and are implementing the Sustainable Development Goals around the world.
You will receive a certificate for the training from the Foundation for Environmental Stewardship. 
Develop a deeper understanding of the Sustainable Development Goals and be connected with organizations through which you can be the SDG Advocates.
Who are we and why are we doing this?
Foundation for Environmental Stewardship Foundation for Environmental Stewardship (FES) is a youth-led, youth-serving sustainable development organization. FES is a not-for-profit corporation whose registered charity number is 801430307 RR0001. FES is an accredited organization by the United Nations and has a special consultative status with the Economic and Social Council (ECOSOC) of the United Nations.
Our mission is to create a more inclusive, equitable, and sustainable future by empowering youth. We envision every young person who will grow to make their personal and professional choices to reflect the human impact on the environment for a sustainable future. 
Partnered with 23 United Nations entities, the SDGs Youth Training Canada mobilizes 10,000 Canadian youth to advocate and implement the SDGs through 100 local actions and 50 trainings in colleges and universities across Canada in 2017.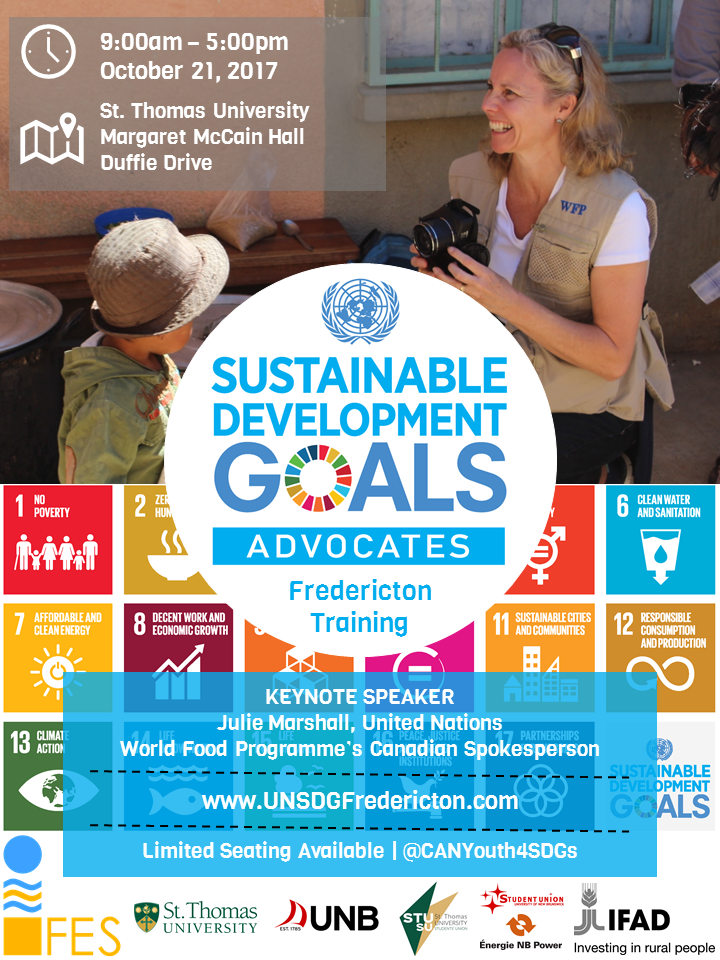 Organizing Partners
St. Thomas University, University of New Brunswick, NB Power & STU/UNB Student Unions STU, UNB and NB power are thrilled to collaborate on such an exciting opportunity for the community and its students.
Together we have joined forces to host the#CANYouth4SDGs movement through direct engagement with UN staff here on the STU/UNB campus.
Visit www.unsdgfredericton.com for more information on the event!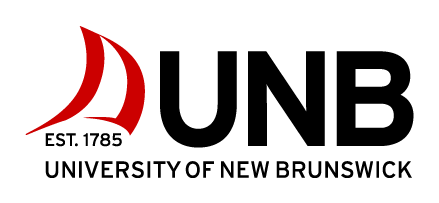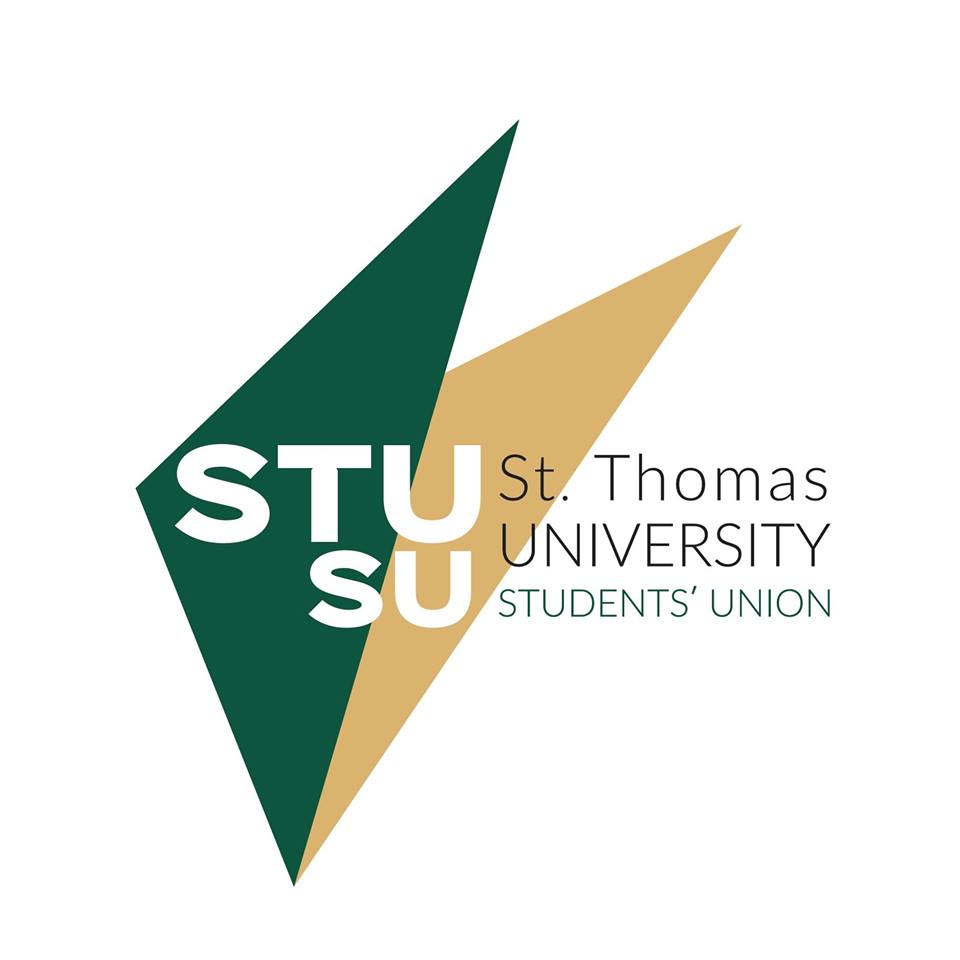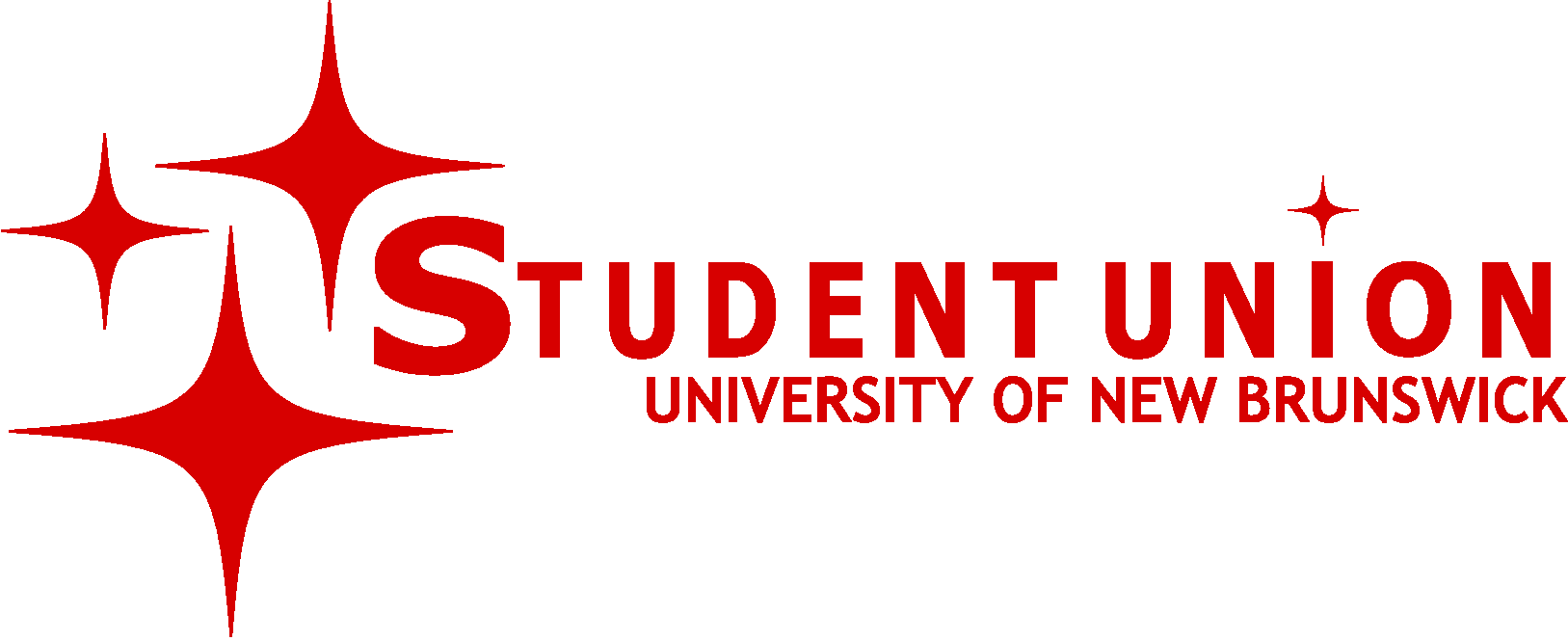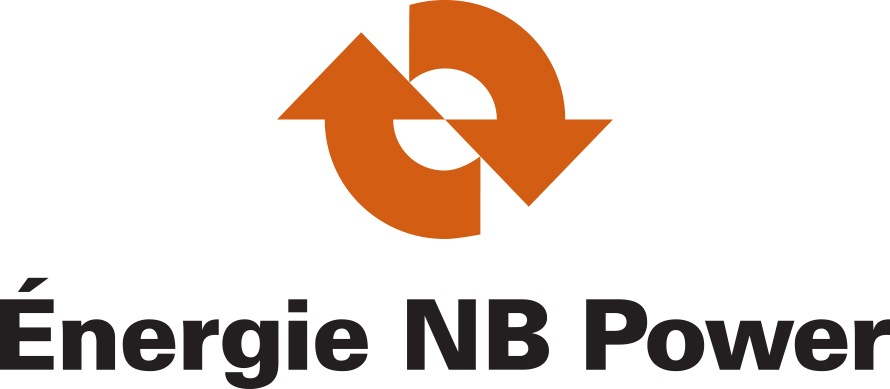 Schedule
08h45 – 09h30: Registration and Coffee and Networking

09h30 – 10h00: Welcome remarks and Session 1: SDGs Examples

11h20 – 12h00: Session 2: UN Speaker and Q&A

12h00 – 13h00: Lunch, NGO Exhibit, and Networking

13h00

 – 14h30: 

Session 3: Skills Development

14h30 – 15h30: Session 4: Solution Design Session

15h30 – 15h45: 

Closing ceremony and photo op

15h45 

– 16h30: Networking
Use #CANYouth4SDGs to share your experience!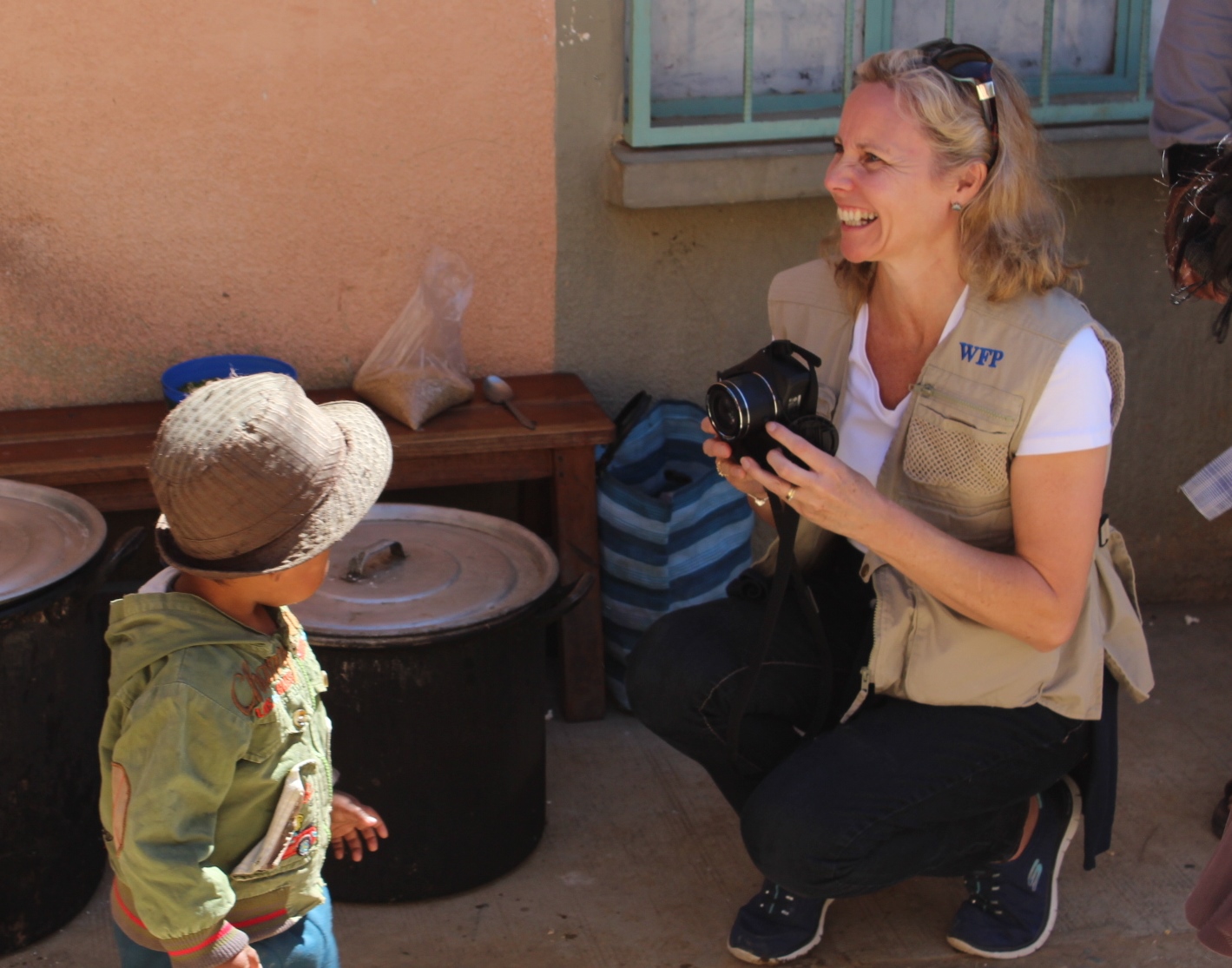 JULIE MARSHALL
UN for the most marginalized
How does UN serve the most marginalized: youth, women, children, and more?
Julie Marshall has been the United Nations World Food Programmes's Canadian Spokesperson in Canada, since September 2006. In this role, she regularly speaks to media, manages celebrity partners, handles visibility for government and private sector partners, manages social media channels, creates strategic campaigns, and develops educational and visibility resources for all audiences.
Prior to joining WFP, Marshall worked in public relations and marketing roles in both Canada and the UK and now lives in Stoney Creek, Ontario Canada.
Follow her on @WFP_Canada and @WFP_Students.
STEVE S.J. LEE
Youth are the key to implementing SDGs
How are youth implementing SDGs around the world? How can YOU do it too?
Steve Lee is a 24-year-old climate change activist, a policy advocate to the United Nations, and a global speaker. He is the Executive Director of Foundation for Environmental Stewardship (FES) whose 3% Project mobilizes 1,000,000 Canadian youth - that's 3% of Canada - through 5 national tours across 600 schools. It provides youth-friendly and holistic education on climate change and empowers them to take action on solving climate change in their local communities today.
A prolific global speaker, Steve has represented the Canadian youth on the issues of Climate Change, Sustainable Development, and Youth Empowerment at over a dozen international forums including G8 Summit, NATO, Facebook, UNEP, UNESCO, UNICEF, and World Bank.
Steve is a voice to the voiceless youth globally in policymaking as a member of World We Want 2030 Policy Strategy Group, UN Major Group Children and Youth, UNEP Tunza, UN Inter-Agency Network on Youth Development, Youth Commission on the Status of Women Taskforce, and more. He has moderated and drafted policy outcome documents, lobbied diplomats and businesses, and observed negotiations with many UN officials, heads of state, and industry leaders.
Steve is personally trained by Al Gore as a Climate Reality Leader, featured on news channels, blogs, and newspapers, and a University of Toronto graduate of Physiology and Human Biology.
An entrepreneur, Steve was the Partner of RevIT² Solutions, a market research consulting firm for private investment firms, and the CEO of Steve's Guidebook, a publishing company for university-level calculus and biology study guides.
Steve has lived in 4 countries, travelled to over two dozen nations, reads voraciously, plays the clarinet, volunteers at a mental health rehab centre, serves on the Board of HealthOutLoud, and is a follower of Jesus.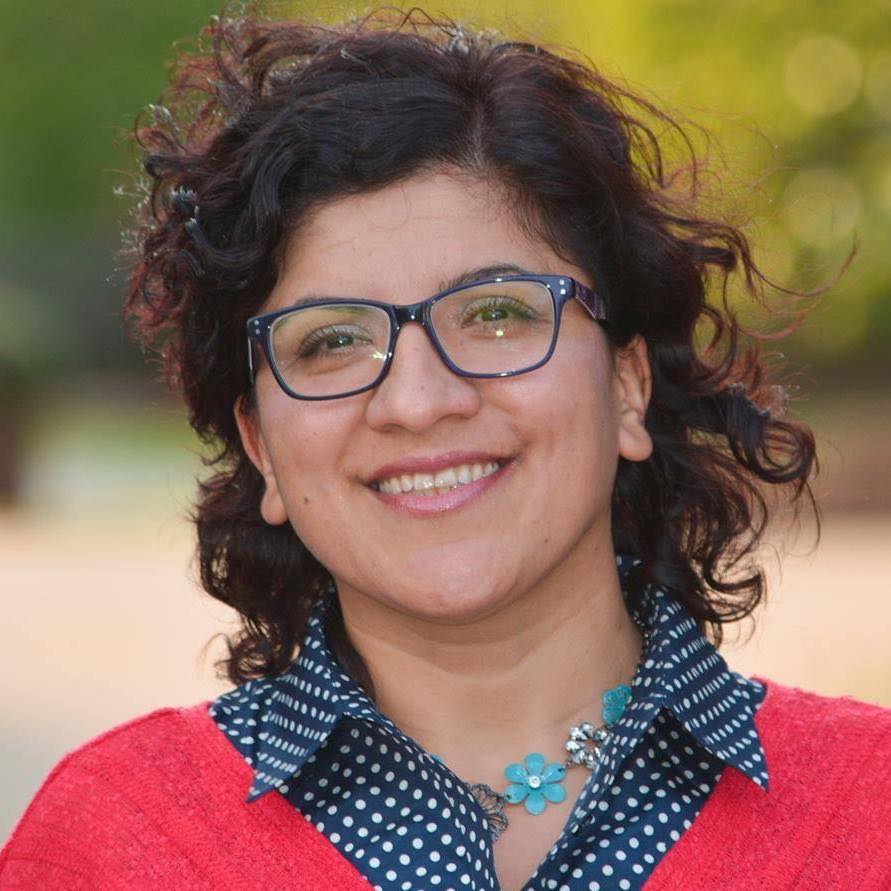 Gül Çalışkan
Gül Çalışkan is an associate professor at Department of Sociology, St. Thomas University, Fredericton, NB, Canada. Her research and teaching concentrate on the broad areas of citizenship (as a social practice) and global social justice within global and transnational sociology. In her research, she engages in postcolonial feminist and critical race literatures and narrative inquiry to examine the complex relations between global processes and everyday realities. Gül's teaching areas include Introduction to Sociology; Sociology of Globalization; Globalization and Gender; Social Movements; Racialization and Ethnicity; Global Justice; and Orientalism Islamophobia and Postcolonial Transgressions.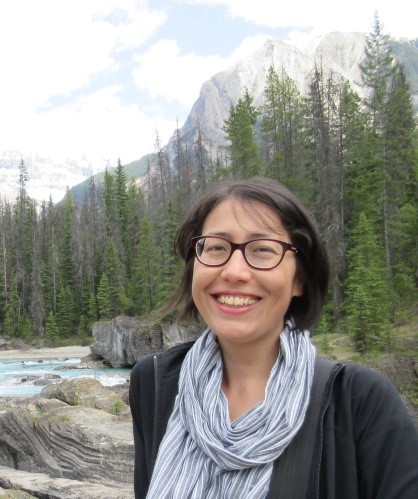 Tia Dafnos
Tia Dafnos moved to Fredericton from Toronto in 2015 to join UNB's Sociology Department. Tia is also the Coordinator of UNB's Law in Society Program, and a member of No One Is Illegal Fredericton. Her research interests focus on the roles of policing, security and pacification in colonialism, racism, capitalism, and patriarchy.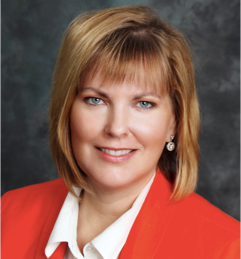 Heather-Anne (Heather) MacLean, MBA - MarComm Practitioner, Professor & Privacy Nut
Initially trained as a Political Scientist, Heather's fascination with why words matter and how to influence behaviour, was a natural progression to Marketing and Communications where she has lead marketing for industry leaders and one fortune 500!  Heather honed her digital marketing expertise heading the marketing team of Canada's first utility to use social media and while also working at Radian6 and Salesforce Marketing Cloud.  Heather has worked with LinkedIn, Facebook and Twitter staffers, as well as social media teams around the globe helping them become social enterprises. As CMO of TaylorMade Solutions, Heather focused on helping small, medium and not-for-profits leverage social media in order to protect their personal and professional brands while increasing sales.  
Heather has carried out extensive research in the field of Marketing & Communications and has been published in numerous PR News Guidebooks, Workplace Review and top Social Media Blogs as well as being a sought after speaker in the area of social media. 
Prior to the world of social media, Heather among many other things, designed and executed the marketing and communications plan for Canada's first Airline Travel BankTM.  In fact it was the only successful Airline Travel BankTM  in Canada and for her efforts, Heather was nominated and a finalist for Canada's Top 40 Under 40, was a New Brunswick Rising Star recipient as well as a CRTA Industry Person of the Year.  In addition to the utilities/energy and aviation industries, Heather has worked in the IT, e-learning, aerospace/defence, tourism and news media industries.
Other passions of Heather's include the advocacy of literacy as the foundation for community.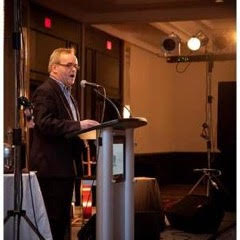 Rick Hutchins
Rick Hutchins has been an instructor in the Leadership Studies Program of Renaissance College for the last seventeen years.  Rick teaches courses in Community Problem Solving and Essential Skills for Leadership. Rick has over 30 years of experience in community development and volunteer management and has developed a number of workshops in Authentic leadership, Appreciative models for communication, Effective partnerships and Motivational skills.
In his spare time Rick is a musician and a Trustee for the Nature Trust of New Brunswick. Currently, Rick is the Executive Director of Autism Connections Fredericton and a consultant with his own practice
More breakout sessions and speakers will be confirmed and updated.
Use #CANYouth4SDGs to share your experience!
Updated on 17h59 4 October, 2017.
When & Where

Margaret McCain Hall
Margaret McCain Hall Duffie Dr, Fredericton, NB E3B 2Y3

Canada

Saturday, 21 October 2017 from 9:00 AM to 5:00 PM (ADT)
Add to my calendar