Sustainable Development Goals Youth Training- University of Calgary

Saturday, 30 September 2017 from 10:30 AM to 5:00 PM (MDT)
Event Details
UNITED NATIONS'
SUSTAINABLE DEVELOPMENT GOALS TRAINING
UNITED NATIONS COMES TO
THE UNIVERSITY OF CALGARY
 DUE TO HIGH DEMANDS LIMITED SEATS AVAILABLE. TICKETS ONLY AVALIABLE UNTIL SEPTEMBER 29th 11:59pm
In celebration of #Canada150, the SDGs Youth Training Canada mobilizes 10,000 Canadian youth to advocate and implement the SDGs through 100 local actions and 50 trainings in colleges and universities across Canada in 2017.
Interact with UN officials, policymakers, and civil society activists who identified, created, and are implementing the Sustainable Development Goals around the world.
You will receive a certificate for the training from the Foundation for Environmental Stewardship. 
Develop a deeper understanding of the Sustainable Development Goals and be connected with organizations through which you can be the SDG Advocates.
Who are we and why are we doing this?
Foundation for Environmental Stewardship Foundation for Environmental Stewardship (FES) is a youth-led, youth-serving sustainable development organization. FES is a not-for-profit corporation whose registered charity number is 801430307 RR0001. FES is an accredited organization by the United Nations and has a special consultative status with the Economic and Social Council (ECOSOC) of the United Nations.
Our mission is to create a more inclusive, equitable, and sustainable future by empowering youth. We envision every young person who will grow to make their personal and professional choices to reflect the human impact on the environment for a sustainable future. 
Partnered with 23 United Nations entities, the SDGs Youth Training Canada mobilizes 10,000 Canadian youth to advocate and implement the SDGs through 100 local actions and 50 trainings in colleges and universities across Canada in 2017.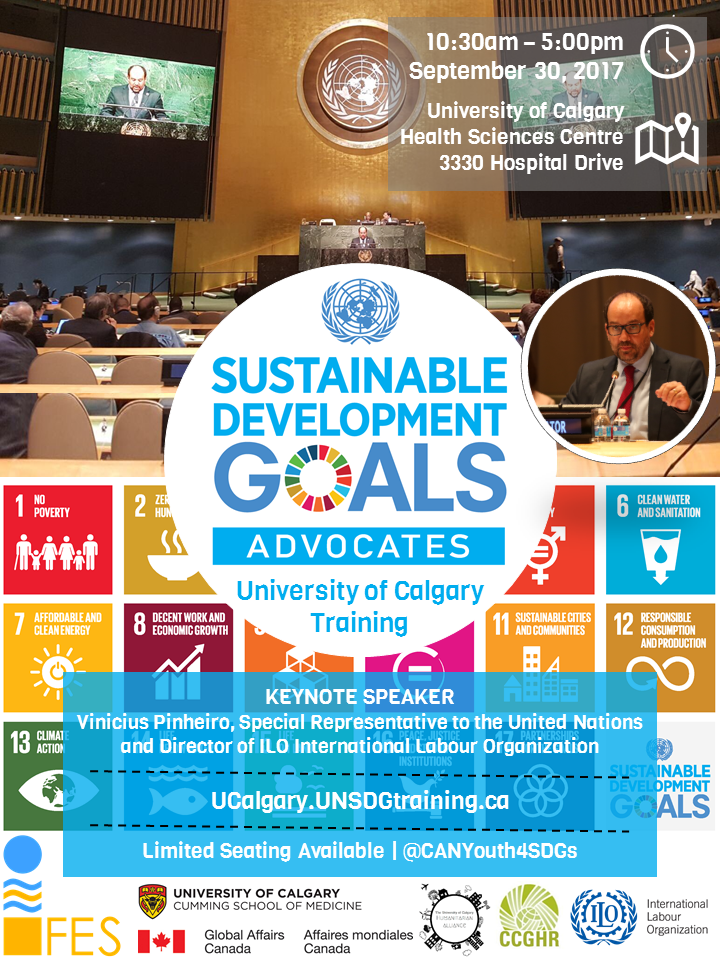 Organizing Partners
Canadian Coalition for Global Health Research (CCGHR) UCalgary Chapter CCGHR Student Chapter: 

The CCGHR is a student-led initiative designed to foster research, networking opportunities, and engagement in global health among University of Calgary students across all disciplines. Its goal is to bring together students interested in global health research and provide a collaborative environment to enhance learning through educational discussions, seminars, and social networking. The Humanitarian Alliance is a group of several different clubs at the University of Calgary, including the CCGHR, working together to educate, engage, and collaborate with students on humanitarian issues.
Humanitarian Alliance:
The Humanitarian Alliance represent a group of clubs that embody the sustainable pillars of environmental, economic, societal, and individual well being. Preparing the future leaders of tomorrow with guidance, knowledge, and a network of connections, the Humanitarian Alliance strives to create a brighter future. In a rapidly changing world, the CCGHR and Humanitarian Alliance will continue to pursue a deeper understanding of humanitarian issues, and develop new skills in order to take action, and look forward to collaborating to bring the SDG Days to the University of Calgary!
Strategic Partnership and Community Engagement (SPaCE):
Community partnerships are a key pillar of the Cumming School of Medicine. SPaCE works with the communities we serve to ensure responsive, accountable, and engaged partnerships locally and globally. Locally, we engage with communities that reach out to us to collaborate in initiatives that address their priority needs. Our global ties make for transformational experiences for students, trainees, and physicians worldwide. The Sustainable Development Goals Youth Training Day receives support from SPaCE through the Mama na Mtoto Project, with financial support from Global Affairs Canada (GAC).
Sustainability Resource Office University Of Calgary:
The Sustainability Office strives to make the campus a sustainable place through education, taking action, and empowering students to make a difference. Many of the office's initiatives are championed by student leaders who have a passion for sustainable living. The Sustainability Office's goal is to foster a culture of sustainability throughout the entire university community.
Schedule
09h30 – 10h30: Registration and Coffee and Networking

10h30 – 11h00: Welcome remarks

11h00 – 12h00: Session 1: UN Speaker and Q&A

12h00 – 12h30:

 Session 2: SDGs Examples

12h30

– 

13h30: Lunch, NGO Exhibit, and Networking
13h30

 – 14h30: 

Session 3: Skills Development

14h30 – 16h30: Session 4: Solution Design Session and World Cafe

16h30

– 17h00: 

Closing ceremony and photo op
Use #CANYouth4SDGs to share your experience!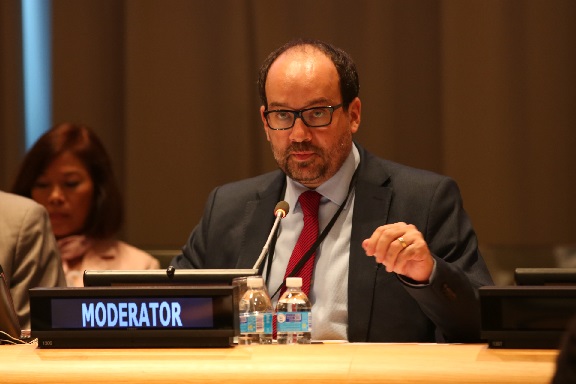 VINICIUS PINHEIRO
UN for the most marginalized
How does UN serve the most marginalized: youth, women, children, and more?
Vinicius Pinheiro is the Deputy Director of the International Labour Organization (ILO) Office for the UN (New York) and Executive Secretary of the Social Protection Interagency Coordination Board since October 2012. He is representing the ILO in the UN discussions related to the post-2015 development agenda, social protection, youth employment and migration.
Before, Mr Pinheiro served as senior social protection adviser to the ILO Director General in Geneva. From 2009-2013, he was part of the ILO Sherpa G20 Team and acted as Executive Secretary of the Social Protection Floor Advisory Group. He was also the focal point for the preparation of the UN Conference on Sustainable Development (Rio +20) and its follow up. Between 2002-2005, he worked in the Organization for Economic Cooperation and Development (OECD), in Paris and provided consultancy services for the Inter-American Development Bank (IDB) and to the World Bank for projects in Africa and Latin America. From 1999-2002, he was the National Secretary for Social Security of Brazil. In 2001, he was elected Vice-President of the Inter-American Social Security Conference (CISS), based in Mexico City.
Mr Pinheiro holds a Master's degree in Political Science from the University of Brasília and specializations in Public Administration and Public Policies (National School of Public Administration, Brasília); Evaluation of Social Programmes and Projects (ILPES-ECLAC, Santiago de Chile); Pensions Schemes (Harvard International Institute for Development, Cambridge) and Leadership in the Public Sector (Harvard Kennedy School of Government, Cambridge). He taught at the University of Brasília (1994 – 1996) and authored various articles in the area of pensions and social protection. 
STEVE S.J. LEE
Youth are the key to implementing SDGs
How are youth implementing SDGs around the world? How can YOU do it too?
Steve Lee is a 24-year-old climate change activist, a policy advocate to the United Nations, and a global speaker. He is the Executive Director of Foundation for Environmental Stewardship (FES) whose 3% Project mobilizes 1,000,000 Canadian youth - that's 3% of Canada - through 5 national tours across 600 schools. It provides youth-friendly and holistic education on climate change and empowers them to take action on solving climate change in their local communities today.
A prolific global speaker, Steve has represented the Canadian youth on the issues of Climate Change, Sustainable Development, and Youth Empowerment at over a dozen international forums including G8 Summit, NATO, Facebook, UNEP, UNESCO, UNICEF, and World Bank.
Steve is a voice to the voiceless youth globally in policymaking as a member of World We Want 2030 Policy Strategy Group, UN Major Group Children and Youth, UNEP Tunza, UN Inter-Agency Network on Youth Development, Youth Commission on the Status of Women Taskforce, and more. He has moderated and drafted policy outcome documents, lobbied diplomats and businesses, and observed negotiations with many UN officials, heads of state, and industry leaders.
Steve is personally trained by Al Gore as a Climate Reality Leader, featured on news channels, blogs, and newspapers, and a University of Toronto graduate of Physiology and Human Biology.
An entrepreneur, Steve was the Partner of RevIT² Solutions, a market research consulting firm for private investment firms, and the CEO of Steve's Guidebook, a publishing company for university-level calculus and biology study guides.
Steve has lived in 4 countries, travelled to over two dozen nations, reads voraciously, plays the clarinet, volunteers at a mental health rehab centre, serves on the Board of HealthOutLoud, and is a follower of Jesus.
VOLUNTEER OPPORTUNTIES: 
In order for U of C Sustainable Development Goals (SDGs) Youth Training Days (see below for event details) to go flawlessly, volunteers are required. The volunteers will help setup the event, register attendees, serve lunch, manage workshops, and take-down the event. Lunch will be provide and a certificate of participation will be given to volunteers from Foundation for Environmental Stewardship (FES). There is a MANDATORY training session on the evening of September 29, 2017 more information regarding the time and location of this session will be sent via email. If you are interested in volunteering, please take a moment to fill out the following form. If you have any questions or concerns, please email ucalgarysdg@gmail.com.
Volunteer Orientation Day: Friday, September 29, 2017
Where: Health Sciences Centre (Foothills Campus), University of Calgary
Why: Free food; Certificate from FES; Attending some sessions for free
Contact: ucalgarysdg@gmail.com for more information 
APPLY:  https://goo.gl/forms/JjwH5v8pLlsJhaaA3
Use #CANYouth4SDGs to share your experience!
Updated on 10h59 11 September, 2017.
When & Where

The Health Science Centre at Foothills Hospital
1403 29 St NW
Calgary, Alberta T2N 2T9
Canada

Saturday, 30 September 2017 from 10:30 AM to 5:00 PM (MDT)
Add to my calendar