Sustainable Development Goals Youth Training- University of Saskatchewan

Thursday, 12 October 2017 from 6:30 PM to 9:30 PM (CST)
Event Details
United Nations


SUSTAINABLE DEVELOPMENT GOALS




Youth Training Seminar
Do you want to help make the world a better place?
Are you interested in climate action, reducing inequalities, peace and justice, eradicating poverty, clean energy, responsible consumption, sustainable economic growth, or working for the United Nations? Do you want to get involved in locally or internationally implementing these sustainable changes to help make the world a better place?
The USSU Sustainability Committee and the USASK Model UN with the Office of Sustainability are excited to bring you a unique opportunity to explore the United Nations Sustainable Development Goals! In 2015, UN Member States unanimously adopted the 17 Sustainable Development Goals (SDGs) with 169 targets to frame their agendas and political policies over the next 15 years to e

nd poverty, protect the planet, and ensure prosperity for all.

At the very centre of this agenda are youth! The only way to achieve all 17 Goals is to inspire the next generation of leaders to take up the message and act proactively in their communities to create lasting and sustainable change. In cooperation with the Foundation for Environmental Stewardship, the U of S will be hosting a UN SDGs Youth Training Seminar led by UN officials and student leaders from around the country.

This event is open to all, and seeks to encourage Canadian youth to learn more about how to contribute to international development. This training seminar is targeted at Post-Secondary students, but High School students are also welcome!
Yo
u will receive a certificate for the training from the Foundation for Environmental Stewardship.
Who We Are
Foundation for Environmental Stewardship
Foundation for Environmental Stewardship (FES) is a youth-led, youth-serving sustainable development organization. FES is a not-for-profit corporation whose registered charity number is 801430307 RR0001. FES is an accredited organization by the United Nations and has a special consultative status with the Economic and Social Council (ECOSOC) of the United Nations.
Our mission is to create a more inclusive, equitable, and sustainable future by empowering youth. We envision every young person who will grow to make their personal and professional choices to reflect the human impact on the environment for a sustainable future. 
Partnered with 23 United Nations entities, the SDGs Youth Training Canada mobilizes 10,000 Canadian youth to advocate and implement the SDGs through 100 local actions and 50 trainings in colleges and universities across Canada in 2017.
University of Saskatchewan Students Union
Founded in 1909, the University of Saskatchewan Students' Union is the representative body for all University of Saskatchewan undergraduate, extension and certificate students. We are a non-profit corporation governed by an elected four-member student Executive and University Students' Council. The Students' Union represents student concerns to the University, city, provincial and federal governments, including concerns about sustainability.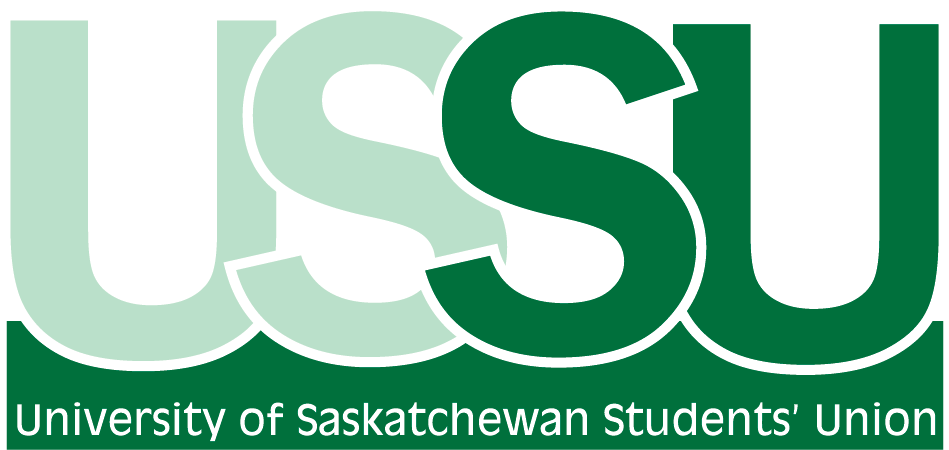 University of Saskatchewan Model UN
The USask Model United Nations is a model or simulation of the United Nations. We strive to engage students in debates and discussions on international issues in the form of an annual conference, which simulates the processes of the United Nations. Students represent a country of their choice, and study its policies and stances on international issues in order to participate in discussions with other "delegates." Preparation for the conference is given in the form of meetings and training sessions in order to familiarize students with the fundamentals of a Model U.N. debate, how to draft resolutions, and the proper procedures in a U.N. debate.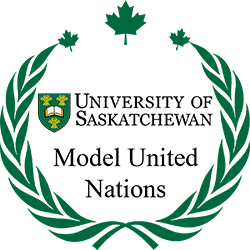 University of Saskatchewan Office of Sustainability
Our mission is to build a model sustainable campus through community engagement and collaborative action. We strive to foster growth of a culture of sustainability throughout all areas of campus life—education, research, operations, governance and community engagement.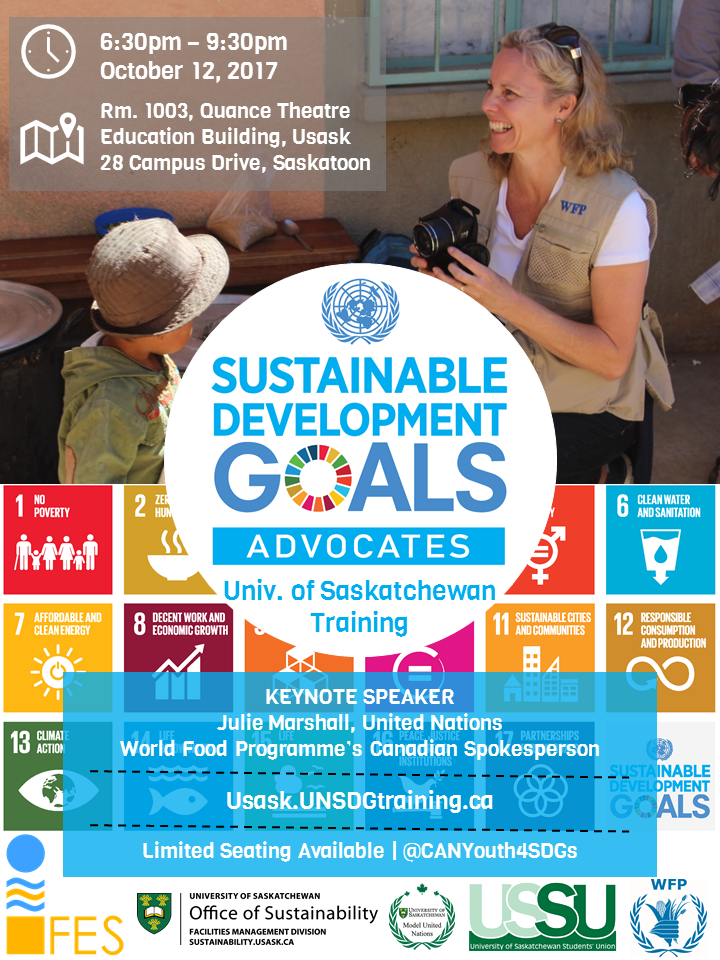 Schedule
4:00 pm – 6:00 pm: Career Meet Up w/ the Student Employment and Career Centre
5:30 pm – 6:30 pm: Registration
6:30 pm – 6:50 pm: Opening Remarks and Greetings from Dignitaries
6:50 pm – 7:10 pm: Session 1: SDGs Advocacy and Local Implementation
7:10 pm – 7:50 pm: Session 2: Julie Marshall
7:50 pm – 8:00 pm: Break
8:00 pm – 8:30 pm: Bonus Session: Jacqueline Ottmann
8:30 pm – 9:00 pm: Session 3: Skills Development
9:00 pm – 9:30 pm: Session 4: Solution Design
Use #CANYouth4SDGs to share your experience!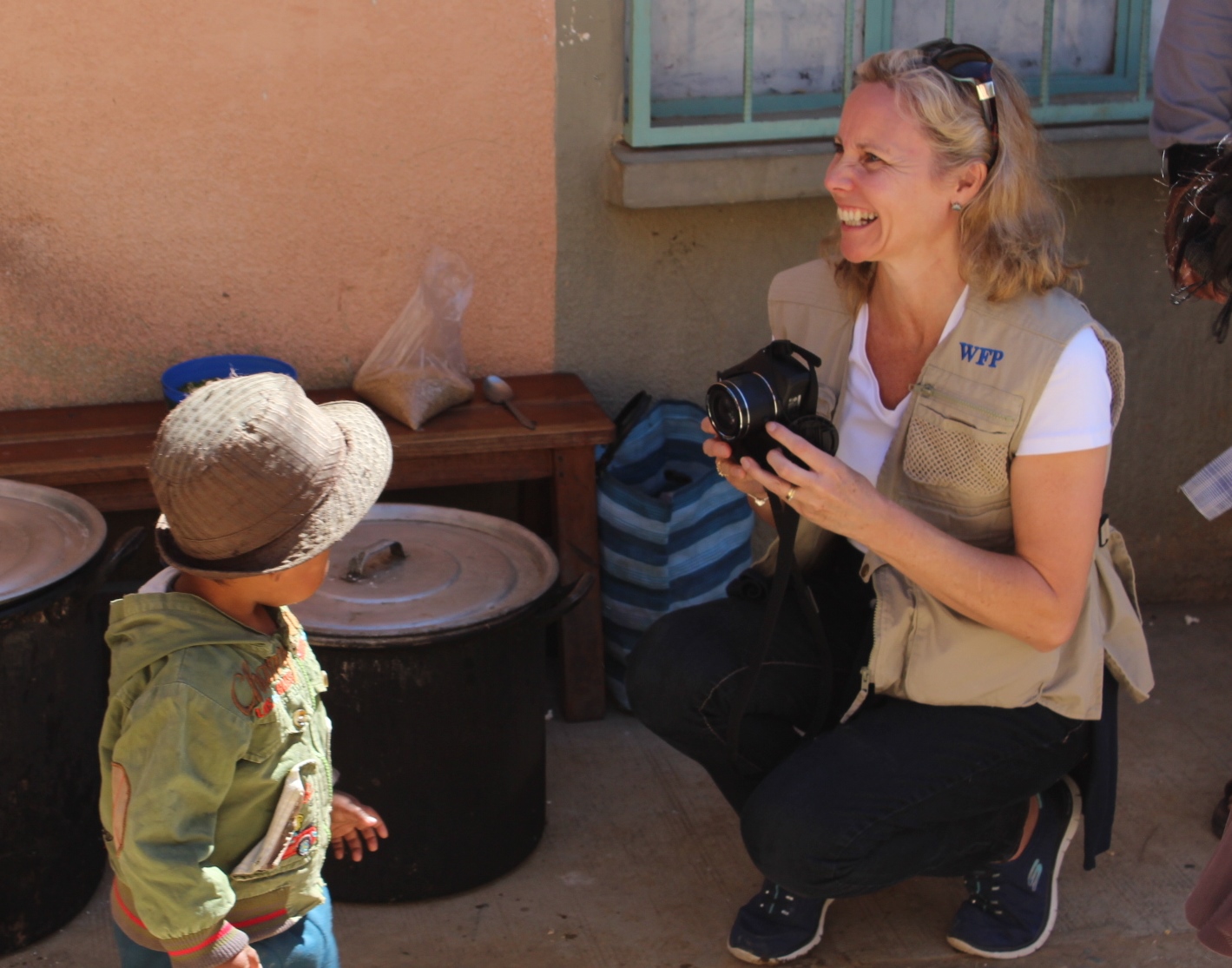 JULIE MARSHALL
UN for the most marginalized
How does UN serve the most marginalized: youth, women, children, and more?
Julie Marshall has been the United Nations World Food Programmes's Canadian Spokesperson in Canada, since September 2006. In this role, she regularly speaks to media, manages celebrity partners, handles visibility for government and private sector partners, manages social media channels, creates strategic campaigns, and develops educational and visibility resources for all audiences.
Prior to joining WFP, Marshall worked in public relations and marketing roles in both Canada and the UK and now lives in Stoney Creek, Ontario Canada.
Follow her on @WFP_Canada and @WFP_Students.

STEVE S.J. LEE
Youth are the key to implementing SDGs
How are youth implementing SDGs around the world? How can YOU do it too?
Steve Lee is a 24-year-old climate change activist, a policy advocate to the United Nations, and a global speaker. He is the Executive Director of Foundation for Environmental Stewardship (FES) whose 3% Project mobilizes 1,000,000 Canadian youth - that's 3% of Canada - through 5 national tours across 600 schools. It provides youth-friendly and holistic education on climate change and empowers them to take action on solving climate change in their local communities today.
An entrepreneur, Steve was the Partner of RevIT² Solutions, a market research consulting firm for private investment firms, and the CEO of Steve's Guidebook, a publishing company for university-level calculus and biology study guides.
When & Where

Quance Theatre (Room 1003)
Education Building, U of S
28 Campus Drive
Saskatoon, Saskatchewan
Canada

Thursday, 12 October 2017 from 6:30 PM to 9:30 PM (CST)
Add to my calendar