Sustainable Development Goals Youth Training- York University

Thursday, 26 October 2017 from 9:00 AM to 1:30 PM (EDT)
Event Details
UNITED NATIONS'
SUSTAINABLE DEVELOPMENT GOALS TRAINING
UNITED NATIONS COMES TO
YORK UNIVERSITY
In celebration of #Canada150, the SDGs Youth Training Canada mobilizes 10,000 Canadian youth to advocate and implement the SDGs through 100 local actions and 50 trainings in colleges and universities across Canada in 2017.
Interact with UN officials, policymakers, and civil society activists who identified, created, and are implementing the Sustainable Development Goals around the world.
You will receive a certificate for the training from the Foundation for Environmental Stewardship. 
Develop a deeper understanding of the Sustainable Development Goals and be connected with organizations through which you can be the SDG Advocates.
Who are we and why are we doing this?
Foundation for Environmental Stewardship Foundation for Environmental Stewardship (FES) is a youth-led, youth-serving sustainable development organization. FES is a not-for-profit corporation whose registered charity number is 801430307 RR0001. FES is an accredited organization by the United Nations and has a special consultative status with the Economic and Social Council (ECOSOC) of the United Nations.
Our mission is to create a more inclusive, equitable, and sustainable future by empowering youth. We envision every young person who will grow to make their personal and professional choices to reflect the human impact on the environment for a sustainable future. 
Partnered with 23 United Nations entities, the SDGs Youth Training Canada mobilizes 10,000 Canadian youth to advocate and implement the SDGs through 100 local actions and 50 trainings in colleges and universities across Canada in 2017.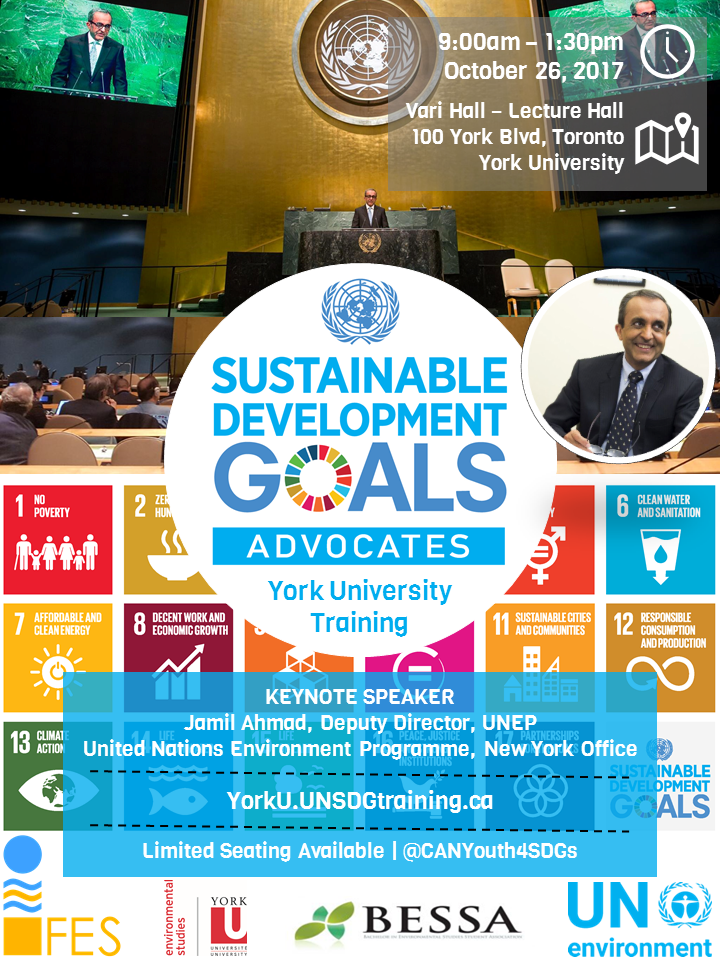 Organizing Partners
BESSA (Bachelor of Environmental Studies Student Association):
BESSA is the main student council for the Faculty of Environmental studies, representing all undergrad students by being on various committees within and outside the Faculty of Environmental Studies. We also try to create a more socially inclusive community within the faculty by hosting various events so students can get to know each other, learn more about the program, and become more aware and involved in environmental issues.

Schedule
8:30am-9:00am

- Registration
9:00am

 — Opening Remarks & Special Guest
9:20am

- Session 1: SDGs Advocacy and Local Implementation 
10:00am-10:33am

-Session 2: UN speaker
10:33am-11:00am

: BREAK/Networking
11:00am-12:30pm

: Session 3: Skills Development Awareness Campaign
12:00pm-1:30pm

 Session 4: Solution Design Session 
1:35pm

- Closing Remarks
Use #CANYouth4SDGs to share your experience!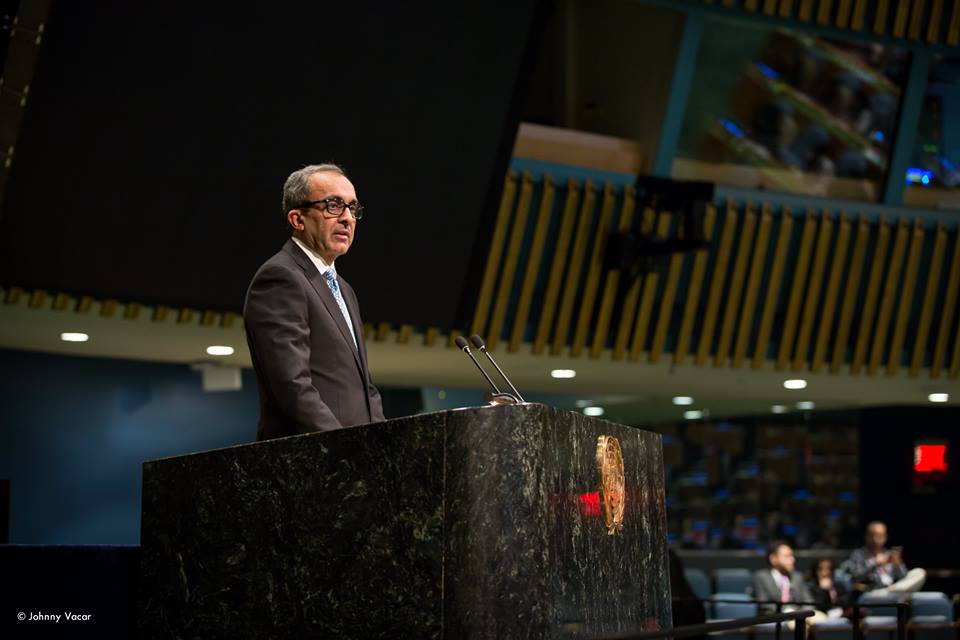 JAMIL AHMAD
UN for the most marginalized
How does UN serve the most marginalized: youth, women, children, and more?
Mr. Jamil Ahmad is the Deputy Director of the UNEP (United Nations Environment Programme) New York Office. Earlier, he was the Secretary for the Governing Bodies of UNEP based in Nairobi, Kenya (2008-14). He directed, managed and coordinated the work of the Secretariat, led the organization of the sessions of the Governing Bodies and was the focal point of UNEP's external relations.
As Deputy Director of the New York Office of UNEP, Mr. Jamil Ahmad, among other matters, focuses on liaising with the Permanent Missions to the UN in support of UNEP's policies and program.
A career diplomat, Mr. Jamil Ahmad joined the Foreign Service of Pakistan in 1986 and has worked in a number of different duty stations with rich experience of bilateral and multilateral affairs, including Acting Permanent Representative to the UN agencies in Rome and Deputy Permanent Representative to UNEP in Nairobi. He participated in numerous important UN and other intergovernmental meetings, including the World Summit on Sustainable Development (WSSD) in 2002, sessions of the UNGA, the Commission of Sustainable Development (CSD) and the Governing Councils of UNEP, UN-HABITAT and FAO. He was lead negotiator of the Group of 77 & China for Climate Change under Pakistan's chairmanship in 2007 culminating at COP13 to UNFCCC in Bali in 2007. He joined UNEP in 2008.
Mr. Jamil Ahmad holds a Master's Degree in Political Science.
Follow @UNEP on Twitter.
STEVE S.J. LEE
Youth are the key to implementing SDGs
How are youth implementing SDGs around the world? How can YOU do it too?
Steve Lee is a 24-year-old climate change activist, a policy advocate to the United Nations, and a global speaker. He is the Executive Director of Foundation for Environmental Stewardship (FES) whose 3% Project mobilizes 1,000,000 Canadian youth - that's 3% of Canada - through 5 national tours across 600 schools. It provides youth-friendly and holistic education on climate change and empowers them to take action on solving climate change in their local communities today.
A prolific global speaker, Steve has represented the Canadian youth on the issues of Climate Change, Sustainable Development, and Youth Empowerment at over a dozen international forums including G8 Summit, NATO, Facebook, UNEP, UNESCO, UNICEF, and World Bank.
Steve is a voice to the voiceless youth globally in policymaking as a member of World We Want 2030 Policy Strategy Group, UN Major Group Children and Youth, UNEP Tunza, UN Inter-Agency Network on Youth Development, Youth Commission on the Status of Women Taskforce, and more. He has moderated and drafted policy outcome documents, lobbied diplomats and businesses, and observed negotiations with many UN officials, heads of state, and industry leaders.
Steve is personally trained by Al Gore as a Climate Reality Leader, featured on news channels, blogs, and newspapers, and a University of Toronto graduate of Physiology and Human Biology.
An entrepreneur, Steve was the Partner of RevIT² Solutions, a market research consulting firm for private investment firms, and the CEO of Steve's Guidebook, a publishing company for university-level calculus and biology study guides.
Steve has lived in 4 countries, travelled to over two dozen nations, reads voraciously, plays the clarinet, volunteers at a mental health rehab centre, serves on the Board of HealthOutLoud, and is a follower of Jesus.
Use #CANYouth4SDGs to share your experience!
Updated on 09h59 20 September, 2017.
When & Where

Vari Hall - Lecture Hall
100 York Blvd, Toronto
Ontario
Canada

Thursday, 26 October 2017 from 9:00 AM to 1:30 PM (EDT)
Add to my calendar