Location
Mawi Ta'mk Society
33 Subdivision Road
Whycocomagh, NS B0E 3M0
Calling all Fibre & Textile Artists! Join us for a discussion on what a sustainable craft practice means to you & learn how to make cordage.
About this event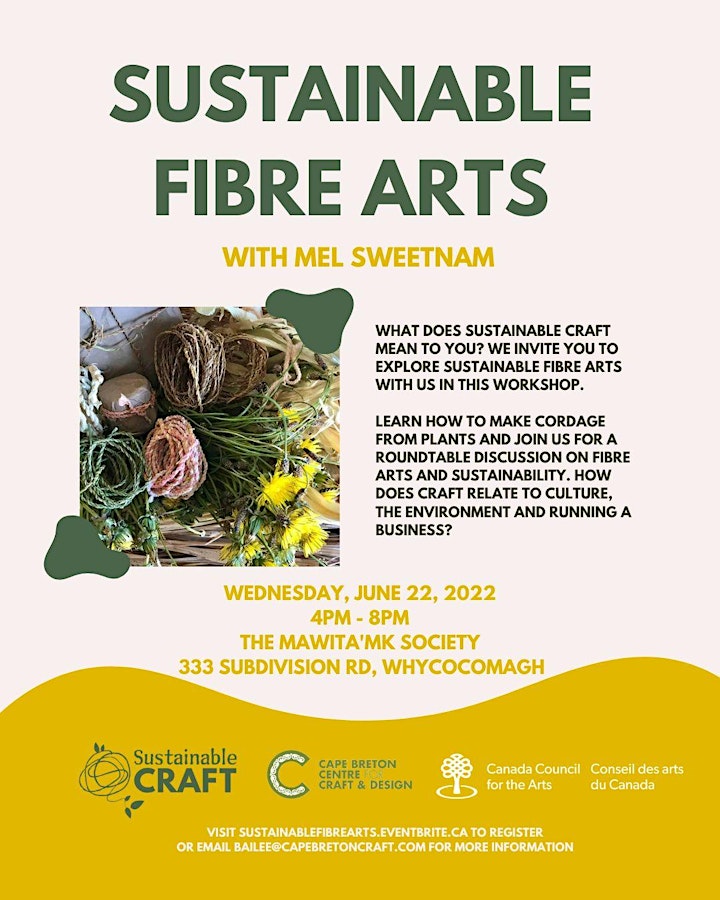 *Note - this event is in person, at the Mawita'mk Society (333 Subdivision Rd, Whycocomagh, NS, CA.)
Fibre and Textile artists,
Join us for a facilitated discussion on what a sustainable craft practice means to you and make cordage (one of humanity's oldest fibre arts) from plants!
Sustainability can be understood through several different lenses, like:
Business Sustainability: what does a sustainable business model look like to you?
Ecological/Economic Sustainability: how can fibre arts practices and business models minimize ecological harm and support regenerative, ecologically responsible economic activity?
Cultural Sustainability: how can culturally specific craft traditions be preserved and promoted through fibre arts?
While we chat, we'll make!
Learn to make cordage from plants, including invasive species, and from used paper, such as coffee filters, tea bags, newsprint, etc. Cordage making is humanity's oldest fibre art. It has been essential to human survival for hundreds of thousands of years. Cordage can be used for hundreds of everyday purposes, from wrapping presents, to basketry and more. We will make long fibres and various strengths of cordage from pre-loved papers. Participants: we invite you to bring your own pre-loved paper and if you know how to identify plants that are safe to handle, you are also welcome to bring your own long grasses. (Fallopia japonica/Japenese Knotweed is not permitted). However, there will be plenty of materials for use at the workshop.
Coffee, tea, and snacks will be provided. Keeping sustainability in mind, please feel free to bring your own mug.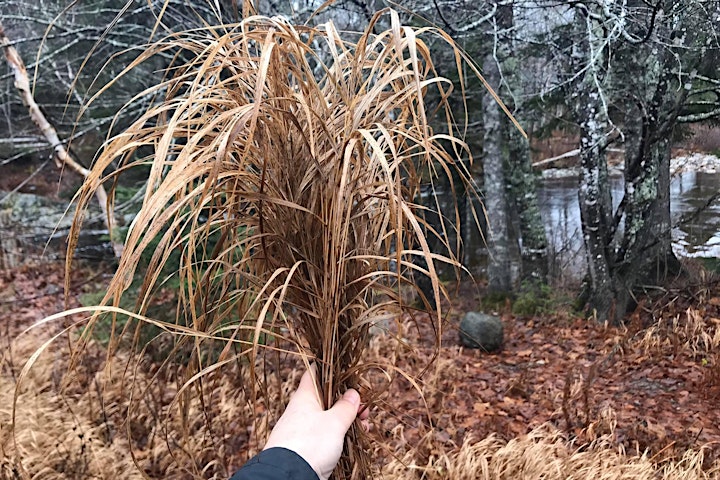 About The Facilitator:
Mel Sweetnam, of Mamie's Schoolhouse, is a world renowned natural dye educator and fibre artist. From her studio in St Ann's Bay, she supports tens of thousands of natural dye practitioners around the world, through her very popular Natural Dye Education Facebook Group, and her Guilded series of comprehensive online courses. Her work is grounded in ecologically sustainable methods and materials, the transmission of historically accurate natural dye knowledge to ensure its survival, and making the applied chemistry of natural dyeing understandable to everyone. She is regularly invited to speak at conferences around the world, and has contributed to several books on natural dyeing. She is particularly passionate about textile surface design with natural dyes, and weaving. Prior to focusing full time on her life-long fibre arts practice, she spent 20 years managing public science policy for various governments and non-governmental organizations in Canada and overseas.
Find her work at www.mamiesschoolhouse.com, https://stockholmleyden.com/about/, www.facebook.com/groups/naturaldyeeducation, and https://www.youtube.com/mamiesschoolhouse