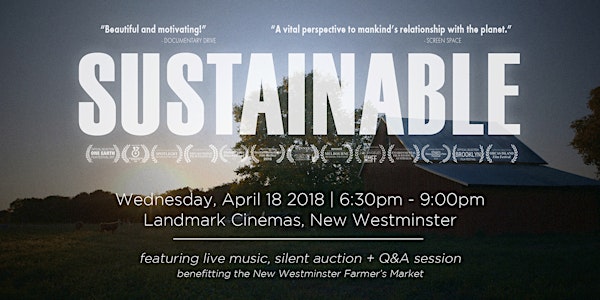 SUSTAINABLE: Film Screening benefitting the New West Farmers Market
When and where
Location
Landmark Cinemas 10 New Westminster 800 Carnarvon Street #390 New Westminster, BC V3M 1G2 Canada
Refund Policy
Refunds up to 7 days before event
Description
Join the New West Farmers Market for a screening event of the award winning documentary, Sustainable. Doors will open at 6:30pm with live music and an opportunity to bid on various silent auction items donated by community partners.
Sustainable is a vital investigation of the economic and environmental instability of America's food system, from the agricultural issues we face — soil loss, water depletion, climate change, pesticide use — to the community of leaders who are determined to fix it. Sustainable is a film about the land, the people who work it and what must be done to sustain it for future generations.
The narrative of the film focuses on Marty Travis, a seventh-generation farmer in central Illinois who watched his land and community fall victim to the pressures of big agribusiness. Determined to create a proud legacy for his son, Marty transforms his profitless wasteland and pioneers the sustainable food movement in Chicago.
Sustainable travels the country seeking leadership and wisdom from some of the most forward thinking farmers like Bill Niman, Klaas Martens and John Kempf – heroes who challenge the ethical decisions behind industrial agriculture. It is a story of hope and transformation, about passion for the land and a promise that it can be restored to once again sustain us.
The film will begin at 7pm and there will be a Q&A session after with partners of the Farmers Market where we will be able to speak more into how food sustainability affects us here in British Columbia.
This event is to raise funds for the New West Farmers Market's low cost produce stand which provides local produce to the community at a discounted cost, making wholesome produce accessible to those in need. We provide a selection of fresh-picked produce grown at a BC farm or community garden at very affordable prices alongside the typical food bank items. So far, the program has been very successful; many are thankful to have access to high-quality fruits and vegetables, and they appreciate their value. The act of choosing and purchasing produce has much more dignity than simply being handed a hamper.
"We're very grateful for the partnership with the New West Farmers Market to offer and ultra-low cost produce market to our members. Together, we're able to increase access to healthy, affordable, fresh produce for our members at the New West Food Hub as well as engagement opportunities around food."
—Zsuzsi Fodor, Community Partnership Manager, Greater Vancouver Food Bank