Join Cahdco & CSV Architects for a tour of two flagship sustainable housing communities of the Centretown Citizens Ottawa Corporation.
About this event
Sustainable Housing Tour
A unique opportunity to learn about two of Ottawa's most sustainable housing communities: Beaver Barracks, which was, in 2012, the largest residential geo-thermal system in Canada (and has several other community sustainability features) and a new 16-unit affordable passive house development on Arlington Ave. The Centretown Citizens Ottawa Corporation (CCOC) has a knack for building communities that are ahead of their time. Come learn from their experiences over the years in both building green and engaging tenants in these green buildings.
The tour is organized by Carbon 613 and will be led by CSV Architects, an Ottawa-based architectural practice focused on the sustainable design of institutional, commercial and multi-unit residential projects, and Cahdco, a sister non-profit to CCOC that develops affordable housing and social purpose real estate and has now developed several examples of Ottawa's greenest housing.
The tour will begin at Beaver Barracks, participants will then be led, on foot, to the new building site located at 143 - 153 Arlington Ave (20 minute walk).
Highlights include:
learning about green building projects in Ottawa, their successes and struggles
exploring passive house standards, geothermal energy, and district energy systems
Q & A with some of Ottawa's leading experts in sustainable and affordable building practices
learn about CCOC's tenant engagement work to support 'green' building performance and tenant satisfaction
Coffee and baked good will be provided. Try not to forget your reusable mug!
Speakers:
Graeme Hussey is the Director of Housing Development for CCOC and President of Cahdco. He is a board director for Housing Services Corporation and former board member of the Ottawa Alliance to End Homelessness. Graeme's educational background is in environmental engineering and project management, and he has 15 years' experience developing and managing social enterprises in the affordable housing, social investment, and food security sectors. Graeme's leadership has been recognized by the Maytree Foundation, Ontario Co-operative Association and Toronto Food Policy Council.
Anthony Leaning is the Principal at CSV Architects. He has more than 4½ decades of architectural education and work experience in Canada, England, and Sweden, Anthony has been architect, principal in charge and project manager for a wide range of residential, institutional, commercial, heritage, and government projects. He is considered a leader in sustainable design with more than three decades experience in green building and energy efficiency. He was one of the first architects in the city to obtain LEED accreditation, complete a LEED certified project, a building designed to the Passive House Standard and sustainability remains core to his work.
This tour is open to anyone with an interest in sustainable buildings & engagement; facility and operations managers, building professionals, architects, sustainability officers, non profit building owners and more.
Participants are encouraged to cycle, walk, or bus to this event.
This event is free for Carbon 613 members.
Carbon 613 is an EnviroCentre program that supports Ottawa enterprises looking to green their operations.
Please email carbon613@envirocentre.ca for the code or to learn more about Ottawa's business sustainability network.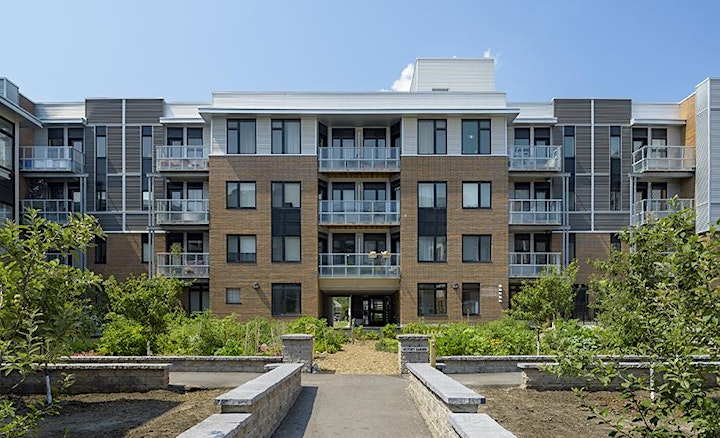 Organizer of Sustainable Housing Tour with Cahdco & CSV Architects