Location
Cape Breton Centre for Craft & Design
322 Charlotte St
Sydney, NS B1P 1C8
Canada
Explore environmentally, socially & economically sustainable jewellery and metalwork practices with Dorothée Rosen on July 6, 5-8:30 PM.
About this event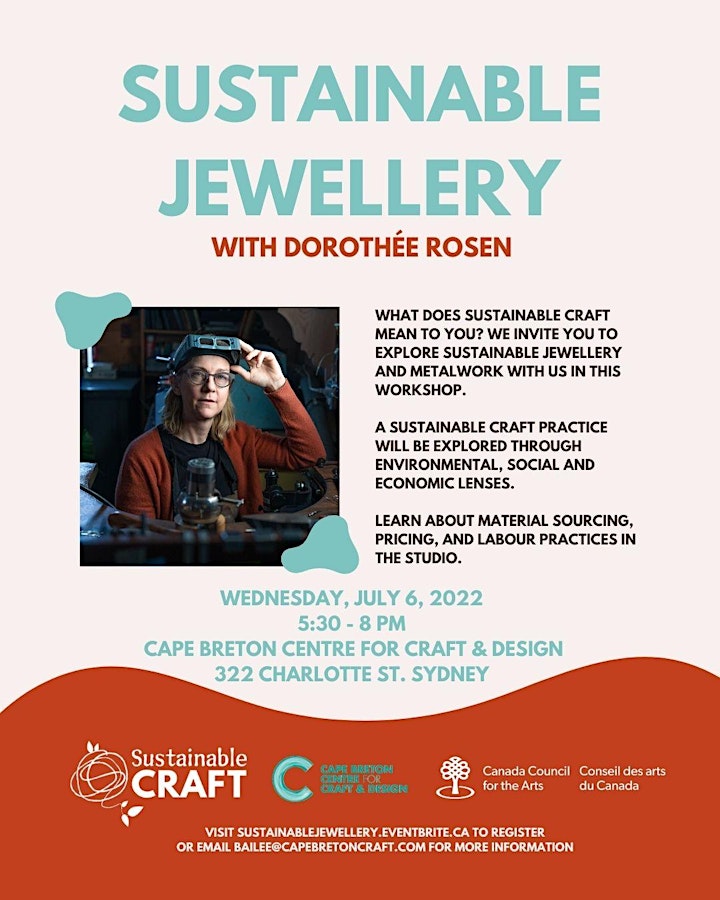 Sustainable Jewellery with Dorothée Rosen
Calling all jewellers and methalworkers! Join us on Wednesday, July 6th from 5:30-8pm at the Centre for Craft & Design in Sydney, NS. This workshop will address several components of sustainability including environmental, economic and social practices in jewellry. While the materials-section of the workshop will focus largely on precious metals, all jewellers are welcome.
Environmental sustainability will be explored through the lens of material sourcing: Where are your materials coming from? What environmental and social impact does this sourcing have? Dorothée will share her own journey, and point attendees to resources for sustainable jewellery practices.
Economical sustainability will be addressed by looking at the myriad factors which influence pricing our hand-crafted work. Topics will include how to price for wholesale and retail, and what impact our pricing has on other makers.
Lastly, social sustainability will look at labour practices in the studio: Is our studio practice safe? Are we taking care of our most valuable tool - our bodies?
For more information:
Contact Bailee Higgins, Sustainable Craft Coordinator, at bailee@capebretoncraft.com, by phone at 902-539-7491 ext 114.
or visit https://capebretoncraft.com/learn/sustainablecraft/
Dorothée Rosen is a full time goldsmith, and thus an entrepreneur in the arts. She graduated from Halifax's NSCAD University with a major in jewellery design and metalsmithing, and a minor in art history (focus craft) in 2005. Her studio is in Halifax. There, Dorothée creates ready-to-wear and custom work in gold and silver. Constantly striving to improve her sustainability practices, she has worked with Fairtrade and Fairmined metals. Both are assurance labels that certify gold from small-scale mining organizations embracing responsible practices. This has huge socio-economic and environmental impact for the gold miners and their communities.