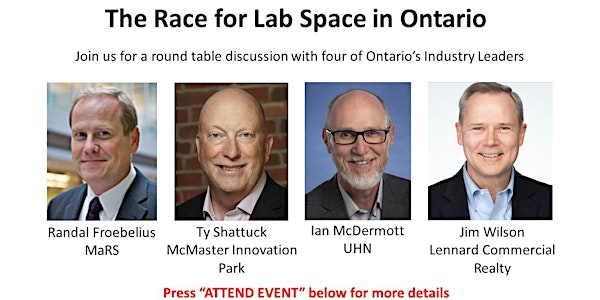 Sustainable Labs Canada - Toronto Chapter - Knowledge & Networking Event
Event Information
Location
The Albany Cub
91 King Street West
416-364-5471
Toronto, ON M5X
Canada
The Race for Lab Space in Ontario - discussion on the growing need for life science space . Press "ATTEND EVENT" for more details.
About this event
The Race for Lab Space in Ontario
COVID has illustrated a significant short-coming \in the availability of lab space that has had a remarkable impact on the Canadian Life Science sectors ability to conduct research. As an example of this impact, a Canadian COVID Vaccine was not able to be commercialized with significant advantages and efficacy over foreign vaccines due to an inability to access the appropriate facilities. Furthermore, the growing need for life science, the availability of funds in the sector, and the needs for space have grown and are projected to grow significantly over the next few years.
With an already crowded downtown core and no new lab space becoming available, how will the Toronto and Ontario market respond to increasing space needs in the Research, Manufacturing, Clinical Trials, etc. in the Life Sciences market with no new real estate assets becoming available?
Join Sustainable Labs Canada (SLCan) for a round table with four of Ontario's industry leaders to discuss the growing need for life science space and how industry leaders are meeting the needs.
Panellists:
Randal Froebelius , MaRS
Randal is part of the MaRS Centre real estate team, primarily responsible for property operations and overseeing the tenant coordination of the Phase 2 development. Randal has broad experience in the management, development and construction of industrial, commercial office, retail, institutional and residential properties. He has held project management positions in large general contracting firms and progressively senior management roles at Bramalea and Beutel Goodman Real Estate Group.
Prior to joining the MaRS team he was responsible for all property management and leasehold construction activities associated with the Kolter Property Company's six million square foot portfolio of assets in Toronto and Dallas.
Randal holds a BESc from the Western University, and an MBA from the Richard Ivey School of Business. He is a member of Professional Engineers Ontario (PEO), the Building Owners and Managers Association (BOMA) and the Association of University Research Parks. Randal was recently appointed to the Executive Committee of BOMA Canada.
Ty Shattuck, McMaster Innovation Park
Ty is the savvy business leader and innovation extraordinaire who heads the McMaster Innovation Park (MIP) in Hamilton, Ontario. His successes in technology and business are a telling tale that such an attribute is worth embracing.
As a professional Engineer, Ty is no stranger to analyzing solutions and developing new technologies to address emerging industry related problems that stagnate growth and business development. Throughout the years, much of his expertise has been dedicated to dissecting and reinventing varied sized organizations, guaranteeing them a competitive play in the global marketplace.
Ty is reputable for his achievements in business design and product development and is celebrated for being a trailblazer in commercializing technology and garnering venture capital; especially in his current position at MIP.
He is the past-Chair of the Board of Governors for Mohawk College and was a founding adjunct member of the Ontario College of Art and Design's Master in Strategic Foresight and Innovation program.
Ty holds a Bachelor of Computer Engineering from the Royal Military College of Canada, and a Masters in Business Administration from the University of Toronto's Rotman School of Management. He was also an officer in the Royal Canadian Air Force.
Ian McDermott, UHN
Ian McDermott is the Head of Planning and Integration (Space Management and Capital Project Planning) for all areas of the organization, and the Senior Director of Research Facilities at the University Health Network (www.UHN.ca) in Toronto. He is the Past-President of SLCan (www.SLCan.ca) and VP of the Toronto Chapter of SLCan. Ian has been a member of the Senior Management Team for Research at the UHN for the last 21 and is also a member of the Senior Management team of UHN Facilities Maintenance – Planning, Redevelopment and Operations (FM-PRO).
Ian and his team are project, space and scientific interpreters, translating needs and concepts between the all the users and the design/operational teams. He is also responsible for the Facility Maintenance and Operations of both the Princess Margaret Cancer Research Tower (MaRS) and the Krembil Discovery Tower.
Ian holds a Specialist Degree in Molecular Genetics and Molecular Biology from the University of Toronto.
Jim Wilson, Lennard Commercial Realty
With more than 30 years of experience Jim Wilson still believes in challenging the status quo and thinking differently. The way he challenges the commercial real estate status quo is by focusing exclusively on Occupier Services in Office Leasing, Biotech and Life Sciences where he helps Occupiers understand how space can be used most effectively to generate more value per square foot from fewer square feet. He delivers solutions that integrate space design, employee services and technology solutions to help improve employee
engagement and business performance. The process Jim employs is research based, open book and ideal for Occupiers who are renewing, relocating or restructuring their lease and biotech companies looking for the first or next wet lab facility.
Mr. Wilson was the first sales representative in the Toronto commercial real estate industry to focus on biotech and life sciences where his knowledge and relationships are now a valued resource in the Toronto Life Sciences
community. Jim has worked with biotech companies in the MaRS Discovery District, "Pill Hill" in Mississauga and McMaster Innovation Park in Hamilton and he also advises medtech startups in the Toronto-Waterloo Corridor.
Jim spent the first 32 years of his career working at the two largest commercial real estate brokerage firms in the world and joined Lennard Commercial Realty in January 2021.
SLCan presentations are eligible as a directed training activity.
If this event has to be cancelled because of a COVID resurgence, your fee will be reimbursed less the Eventbrite processing fee.
Timelines
5:00 pm to 6:00 pm - Cocktails, Networking & Exhibitor's Tables
6:00 pm to 6:30 pm - Service of the Meal (please email john.alberico@rwdi.com with any dietary restrictions)
6:30 pm to 7:30 pm - Presentation and Service of Dessert
7:30 pm to 9:00 pm - Networking
Cost (no payment at the door)
Attendance:
SLCan Member: $ 80
Non Member:    $100
Exhibitor's table:
SLCan Member: $200 including meal for 1 person
For any questions, you can contact us at: toronto@slcan.ca
Date and time
Location
The Albany Cub
91 King Street West
416-364-5471
Toronto, ON M5X
Canada
Refund policy